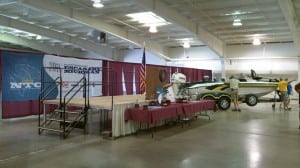 29 Walleye Federation Teams have registered and are eligible for the TWF Living the Dream Package. If a TWF team wins the tournament, they will be awarded the TWF 'Living the Dream' prize package that consists of fully paid entry fees into their choice of the regional MWC division, (three events), as well as a travel stipend of $500 for each event.  TWF will provide custom TWF Living The Dream jerseys and use of a TWF Living The Dream wrapped Ranger 600 series boat for the winning team to compete in for the season.
After the first day, TWF active team members Wayne Van Dyke -Spruce, MI and Bruce Mueller -Ann Arbor, MI (Boat 148) are in 1st place with a 5 fish limit weight of 36.10 pounds. TWF members and local husband/wife team Glenn and Carol Chenier from Gladstone, MI are in close contention with 29.55 lbs and are currently in 6th place. In 12th place are TWF team members Dan Johnson and Larry Rhoads of Ohio with 21.66 lbs. TWF Team Randy Gaines (Mt. Vernon, WA) and Mike Rhoades (South Bend, IN) are sitting in 15th place with a 5 fish limit that weighed 19.84 lbs. TWF members Jason Schine and Eddie Michniiwicz of Illinois, weighed in 4 fish for 17.89 lbs and that puts them in the 21st slot, and not out of contention at all.
Tune in to the final day live weigh-in on WalleyeFederation.com or walleyefederation.ihigh.com. Begins approximately 4:15 EST.
For more information on how to join TWF, register your club online at www.walleyefederation.com or feel free to call our office at 580.765.2319.