2016 Cabela's National Team Championship
Set For Michigan's Bays de Noc May 19-21
Presented by Cabela's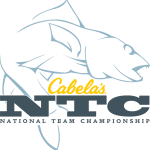 Ponca City, Okla.—May 9, 2016—North America's top grassroots walleye anglers will battle for bragging rights and thousands in cash and prizes when the 2016 Cabela's National Team Championship comes to Lake Michigan's legendary Big and Little Bays de Noc out of Escanaba and Gladstone, Michigan, May 19-21.
Considered the walleye world's premier grassroots championship, the Cabela's NTC is comprised of teams that qualified through competition in local tournaments organized by walleye clubs sanctioned by The Walleye Federation (TWF).
The 2016 event marks the 15th edition of the prestigious championship, which annually draws hundreds of avid walleye anglers from across the U.S. and Canada.
Long a favorite destination of serious walleye fans, the Bays de Noc fishery is known for world-class action. In 2011, the last time the Cabela's NTC visited this Upper Peninsula paradise, two-person teams from Arizona to New Jersey and everywhere in between competed for the title.
In the end, Derek Navis and Korey Sprengel took home the crown by bringing in a 10-fish, two-day limit weighing an impressive 64.41 pounds. With the 2016 NTC Championship set to run for three days, the total will no doubt climb even higher.
The Cabela's NTC offers a lucrative payback of more than 400 percent; the 190 qualifying teams will vie for more than $249,000 in cash and prizes, plus 50 custom Cabela's All-American rings, trophies, plaques and more.
First place alone pays more than $95,000 including $25,000 in cash plus a brand-new, Evinrude-powered Ranger boat rigged with a Power-Pole shallow–water anchor. A second Ranger-Evinrude-Power-Pole combo will be awarded through the Ranger Cup contingency, meaning the champions could take home more than $165,000 in cash and prizes.
"Cabela's, The World Foremost Outfitter, shows its unprecedented support of walleye anglers across North America each year by hosting this one-of-a-kind event for them," says Dan Palmer of The Walleye Federation.
The entire field will compete the first two days. Each team will be allowed to bring their best five fish to the scale each day. Competition will be fierce, as only the top 25 teams advance to the final round on day three.
Weigh-ins begin at 3 p.m. daily at the Upper Peninsula State Fairgrounds, and walleye fans of all ages are invited to watch the action unfold and cheer for their favorite teams. Adding to the excitement, the event will be streamed live online at cabelas.com/ntc and walleyefederation.com, and also filmed for national television on "Americana Outdoors" on NBC Sports, the Pursuit Channel and other regional networks. Exact dates and airtimes will be announced at walleyefederation.com.
On the family front, a Kid's Fishing Clinic will be held immediately following the day one weigh-in. Youngsters will get to meet NTC competitors and the first 100 kids will receive free rod-and-reel combos courtesy of Cabela's and The Walleye Federation.
As a bonus to Cabela's NTC competitors and their families, the local community is decidedly fishing and family friendly, and has a long tradition of rolling out the red carpet for visiting walleye hunters and their companions. "We're extremely honored to be selected for this prestigious event and can't wait to welcome the anglers back," said Vickie Micheau of the Delta County Chamber of Commerce.
Micheau said the chamber will work collectively with the official site host—the Bays de Noc Convention and Visitors Bureau—along with the cities of Gladstone and Escanaba, local businesses and community organizations such as the Great Lakes Sportfisherman Club to ensure everyone involved in the event enjoys a great Delta County welcome.
"Cabela's is thrilled for the 2016 Cabela's NTC to return to Bays de Noc. The waters provide wonderful opportunities for walleye anglers and the surrounding communities are outstanding hosts," said Christine Wamsley, Director of Communication and Partnerships for Cabela's. "The event was a great success when it was hosted at Bays de Noc in 2011 and this year's competition promises to be even better."
2016 Cabela's NTC sponsors include Cabela's, Ranger Boats, Pepsi, Evinrude, Ram, Power-Pole, Delta County Chamber of Commerce and TWF. The Walleye Federation, based in Ponca City, Oklahoma, manages the qualifying process and co-produces the event alongside the Cabela's Corporate Brand Partnership Team. For details on qualifying for the Cabela's NTC, visit walleyefederation.com, or call (580) 765-9031.