For Immediate Release
2022 Ohio Walleye Federation
Qualifier #1 Mosquito Lake
The Ohio Walleye Federation held their first tournament of the year on 4/10/2022 at Mosquito Lake. Teams were faced with an early April cold front while trying to find the spawning and post spawn walleye that inhabit Mosquito Lake. All teams were faced with a variety with weather conditions during the pre-fish. With weather in the 60s early in the week leading up to the tournament, and a cold front moving in on the Friday before the event. Saturday, while teams were making last minute preparations on the water teams were faced with a cold rain and snow, with pictures going around of competitors boats covered in snow from passing showers while on the lake.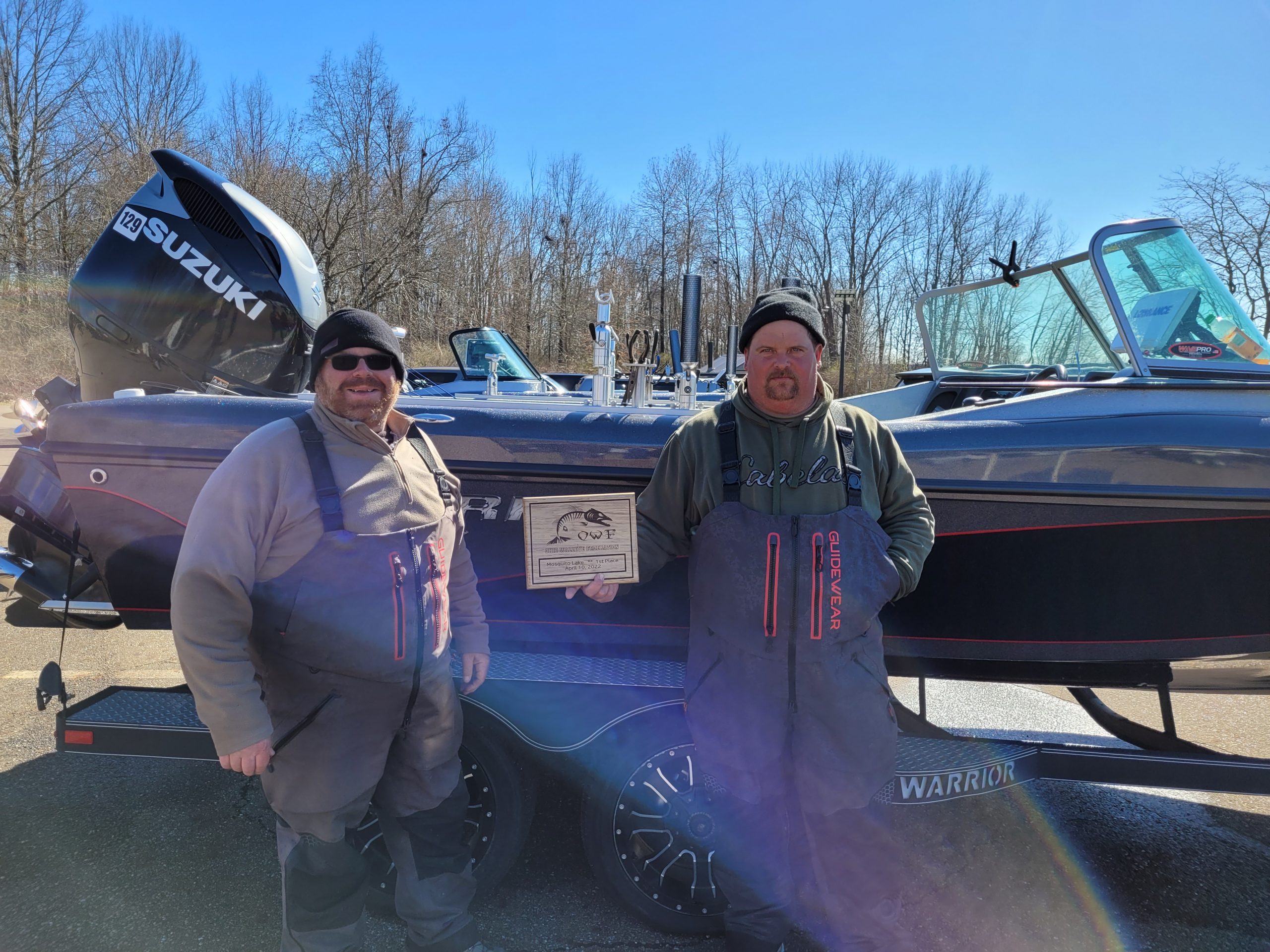 With the cold weather and fish in a post spawn pattern, many teams were reporting tough conditions and very few fish caught while pre-fishing. The team of Jim Gwynn and Matt Whitacre powered their Erie Marine Sales, the OWF's title sponsor, Warrior boat to the top of the weigh-in list with a 5 fish limit of 17.02 pounds, good for 1st place plaques and $2300. Jim and Matt reported that they caught there fish using a couple of different jigging techniques, 2 of their fish were reported to come vertical jigging deep water with blade baits while the other 3 came with a jig and a minnow in 2-5 fow.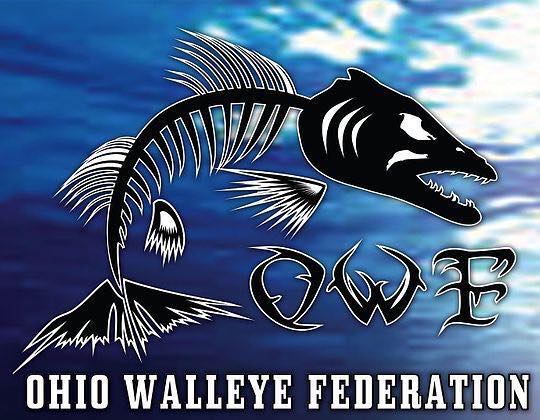 The 2nd place team of Matt Cook and Ron Wachter trolled leadcore in 16-19 fow to pull in a 5 fish limit that weighed 15.91 pounds good for 2nd place plaques and $1200. Matt and Ron reported pulling #7 flicker minnows with green baits being their best colors.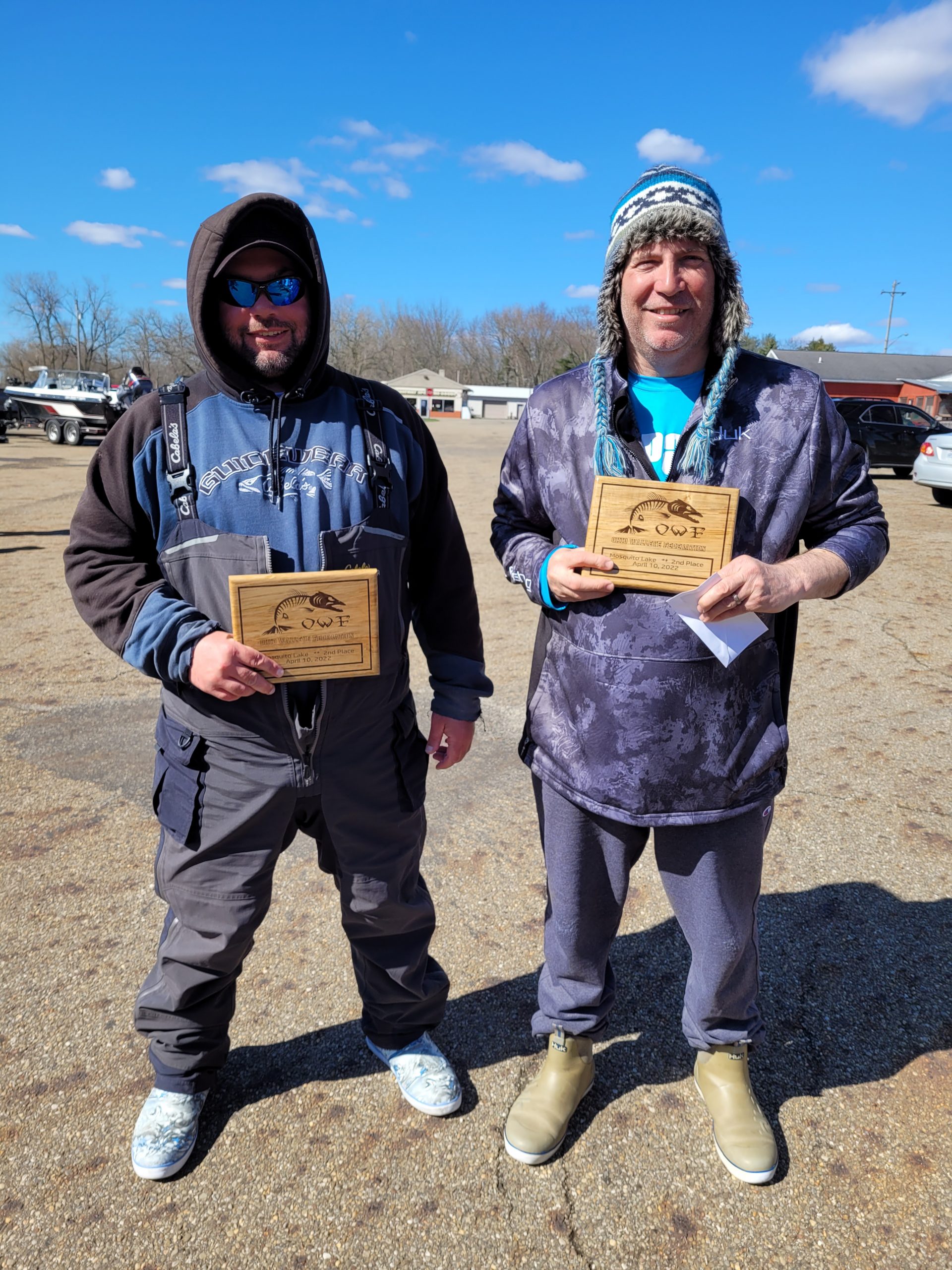 In 3rd place, that paid out $900 was the team of Jim Leigh and Shane Doughty with 4 fish that weighed 14.59 pounds. Jim and Shane were also fishing in an Erie Marine Sales, Warrior boat and caught there fish trolling leadcore in 18-22 fow. They used a green jointed flicker shad and also a purple and gold to do all of their catching.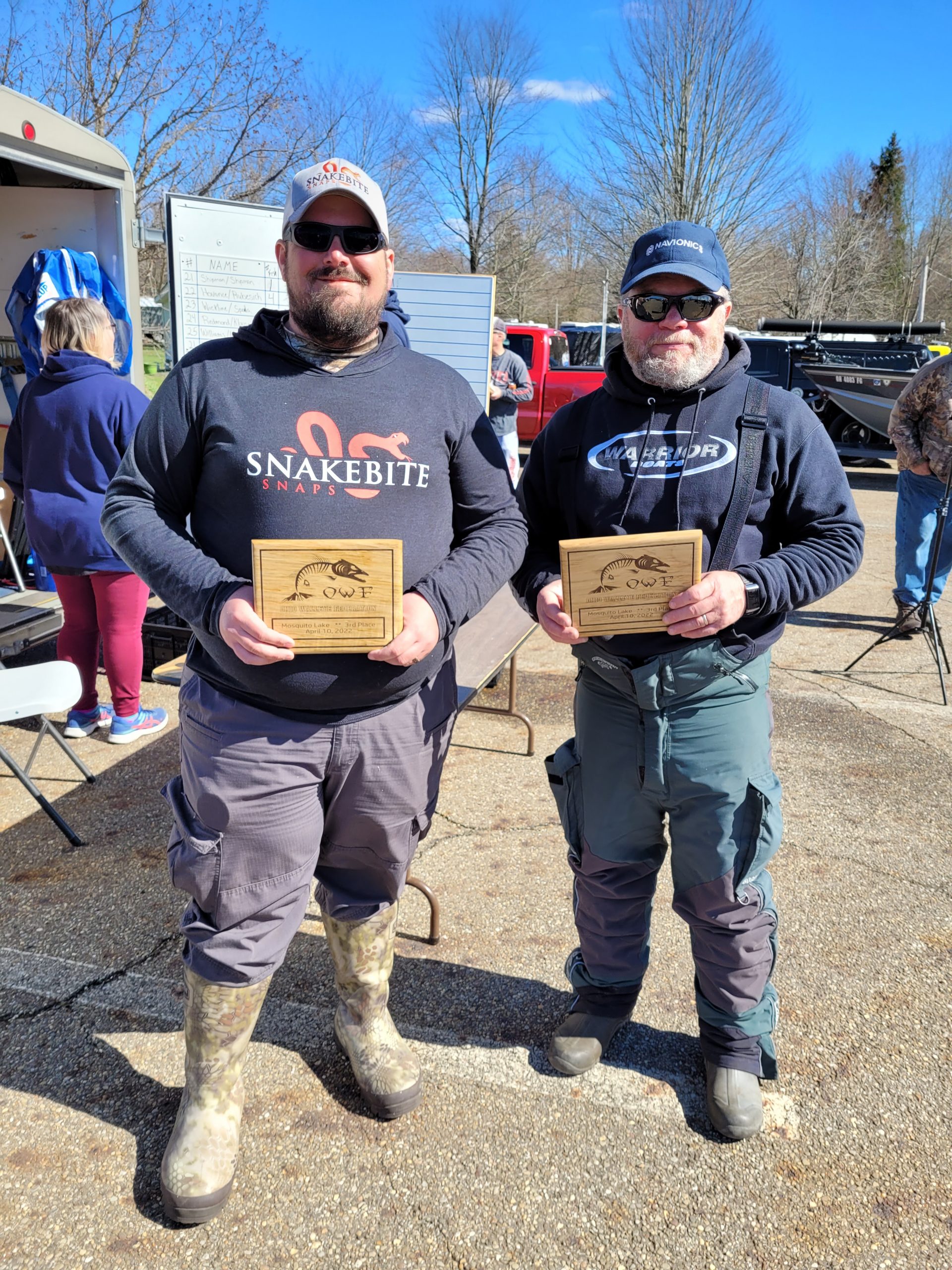 In 4th place with 3 fish for 12.88 pounds was Mitch Shipman and Rick Mulraney, they won $700 and had 2nd big fish honors which won them a $50.00 FishUSA gift card. They also reported trolling leadcore in 18-22 fow with green as a hot color for them.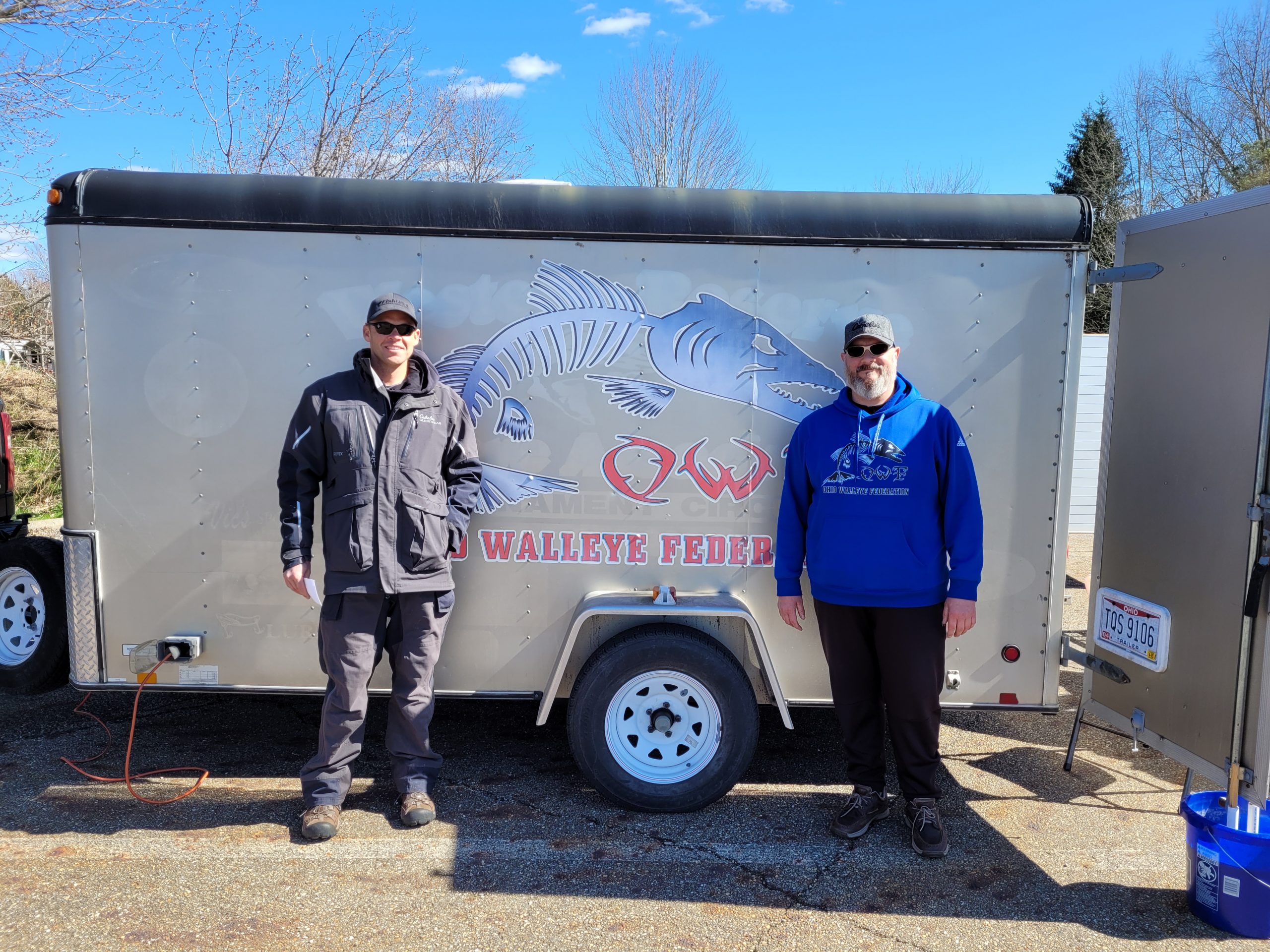 Rounding out the top 5 was Anthony Naples and Christopher Durkin with 5 fish for 11.65 pounds good for $500. They reported catching all of their fish jigging in shallow water anywhere from 1.5 to 6 feet of water.
Big fish honors with a check for $400 went to the team of Brian Davies and PJ Kerr with a 5.21 pound Mosquito Walleye that they caught early in the morning vertical jigging blade baits in 25 feet of water.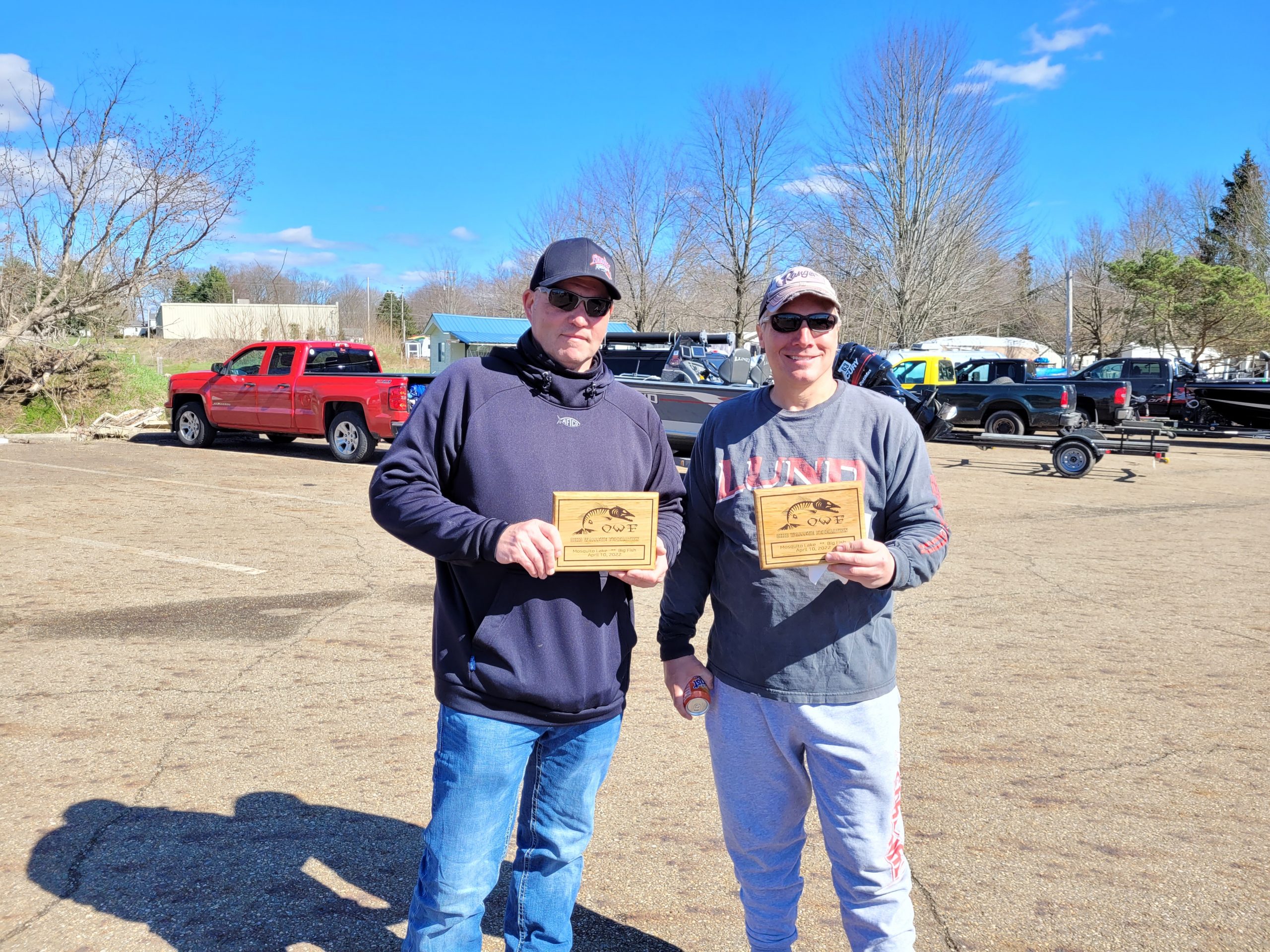 The OWF season is in full swing with our 2nd qualifier right around the corner on May 1st at Pymatuning Lake. The tournaments at Pymatuning Lake usually include lots of fish to be caught and big bags to win. Don't miss out on the chance to fish with us.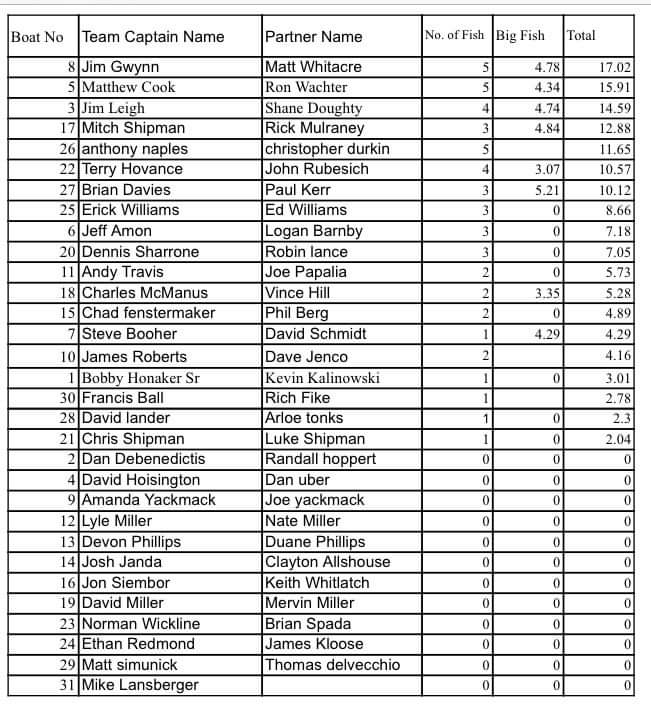 The Ohio Walleye Federation would like to thank our title sponsor Erie Marine Sales for all of the support that they provide to us. If it weren't for them we wouldn't be able to provide 100% payout at all tournaments. We are also very grateful to be associated with sponsors like, Whitetails Unlimited, Snakebite Snap Weights, World Wide Marine Insurance, Sydmor's Jewlery, RS Nets. Please support those whom support the club.
For additional information or to sign up for an event please check us out on Facebook – Ohio Walleye Federation or on our website; www.ohiowalleyefederation.com.