For Immediate Release
2022 Ohio Walleye Federation
Qualifier #2 Pymatuning
The Ohio Walleye Federation held their second tournament of the year on 5/1/2022 at Pymatuning Reservoir. 27 teams were faced with a late April cold front that took temperatures from the 80s the weekend before the event to lows in the 20's in the week leading up to the event. The teams had nice weather for a Friday and Saturday prefish, but weren't so lucky on tournament day. Heavy rain and thunderstorms moved into the area around 8:00 a.m. and stuck around most of the day making the competitors as wet as the fish that they were chasing.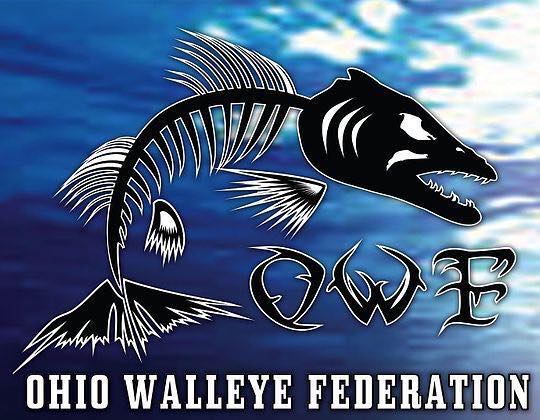 The big fish at Pymatuning seemed to be in a tough spawn pattern with the sublegal 13-14 7/8ths fish being on the chew on the regular from what was reported during prefish. Many teams reported having an issue getting a solid pattern together as the fish were biting 1 way at one time and on something different at others. The Pennsylvania team of Andy Travis and Joe Papalia, last year's Pymatuning champions were able to repeat there finish from a year ago and won it this year with a weight of 21.68 good for $2700 and some awesome plaques. Andy and Joe credit their teammates for finding the fish that they caught during prefish on the south end of the lake in 22-25 fow. Joe reported that they caught all of their fish on leadcore and they had a particular shad dancer that they "couldn't keep in the water."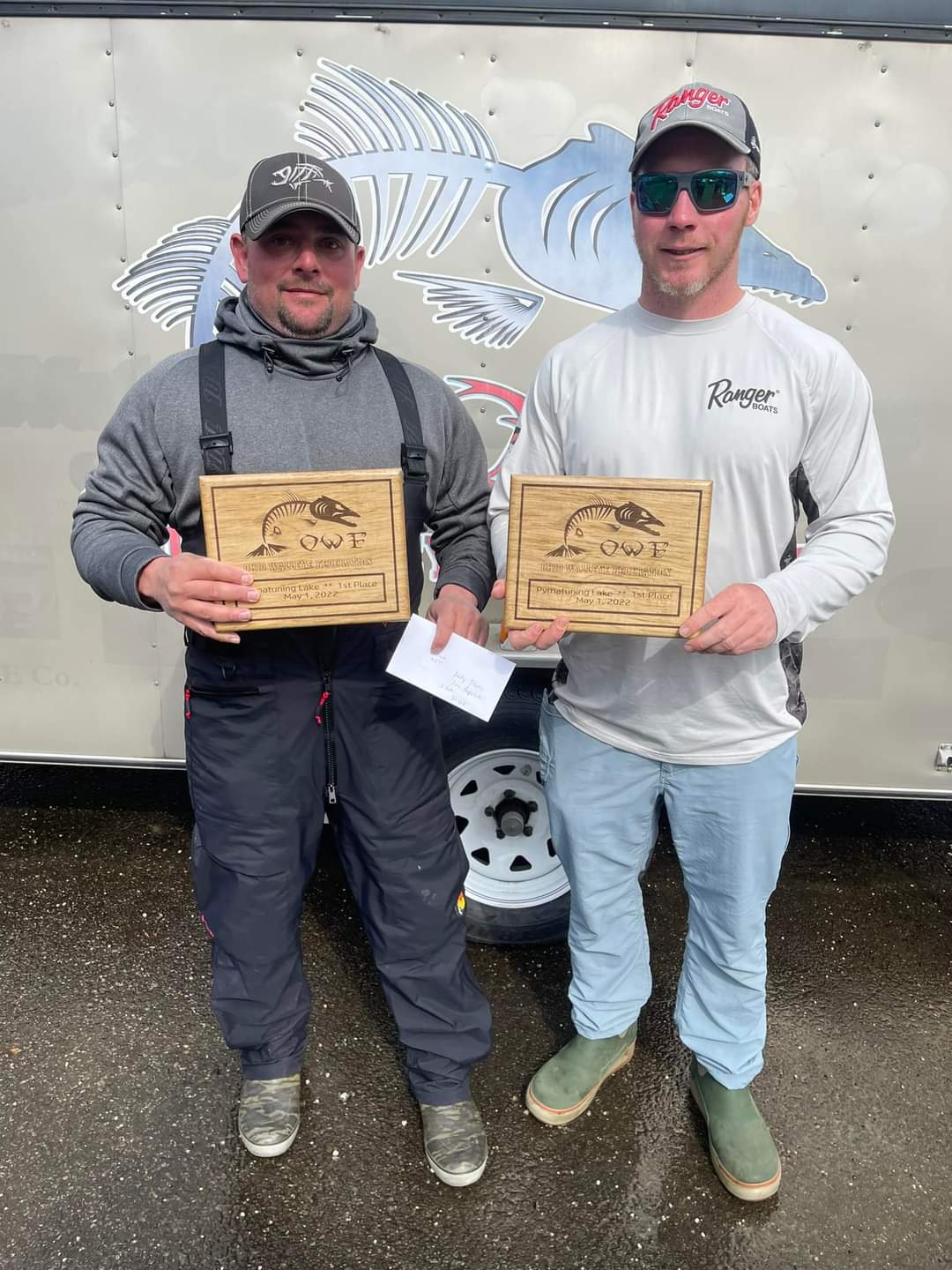 The 2nd place team of Erick and Ed Williams trolled leadcore in 16-18 fow to pull in a 5 fish limit that weighed 20.04 pounds good for 2nd place plaques and $1350. Erick and Ed reported pulling  leadcore and planer boards with #7 flicker shads with fire tigers and purple's as their best baits throughout the day.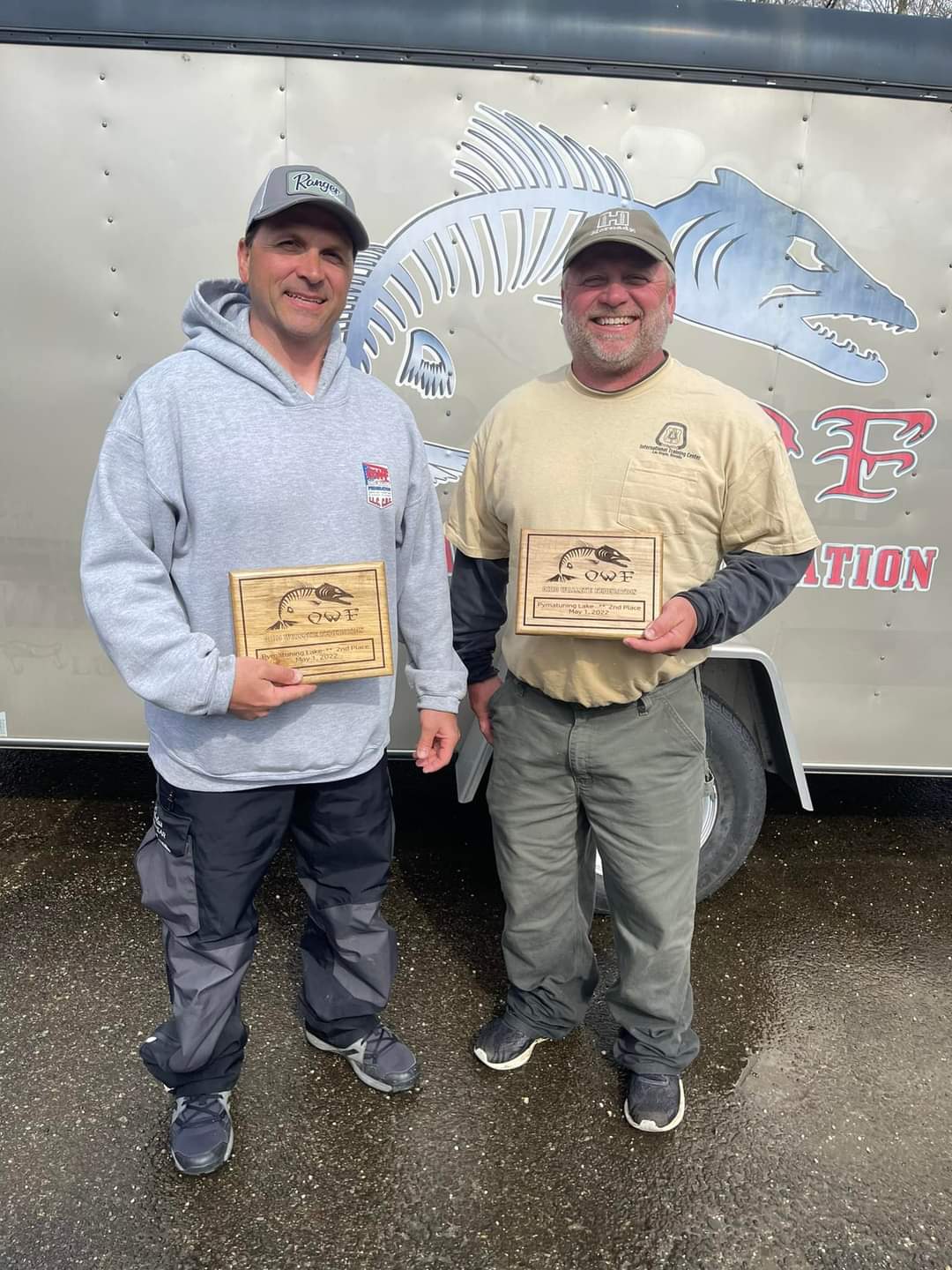 In 3rd place, that paid out $1000 was the team of Anthony Naples and Chris Durkin with 5 fish that weighed 16.99 pounds. Chris reported catching all of their fish in 3-6 fow with a jig and a minnow or a jig and a crawler. Chris said jig color did not matter, they started with 1/16th oz jig and moved to a 1/8th oz when the wind and rain picked up.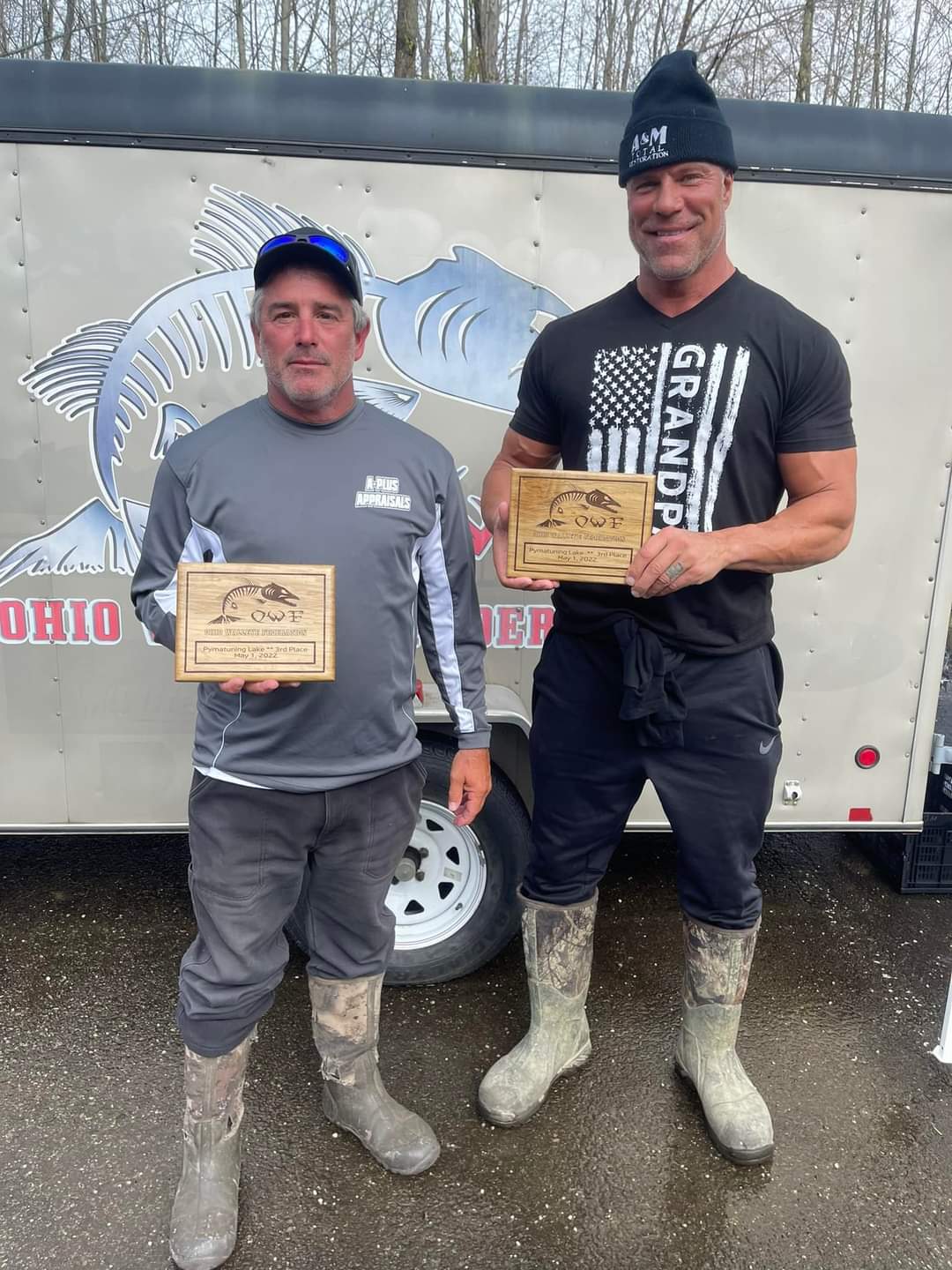 In 4th place with 5 fish for 16.61 pounds was the brother team of Chad and Justin Fenstermaker they won $700. They stated that they caught their fish on a combination of leadcore and boards in 16-18 fow with purples also good for them throughout the day.
The 5th place team of David Lander and Arloe Tonks won $550 with a 5 fish limit weighing 15.84 pounds. They also reported catching their fish with leadcore and Jr. Thundersticks in 16-18 fow.
Rounding out the top 6 was the team of James Roberts and Dave Jenco with a 5 fish limit of 14.89 pounds. James stated that they slid into the 12-14 fow range in order to get their fish to bite. He stated that they started the day pulling planer boards with #7 flicker shads but made an adjustment to pulling leadcore in the afternoon and caught there fish that way.
Big fish honors with a check for $400 went to the team of Matt Cook and Ron Wachter with a 7.29 pound Pymatuning monster, caught trolling worm harness 6 feet down in 16 fow.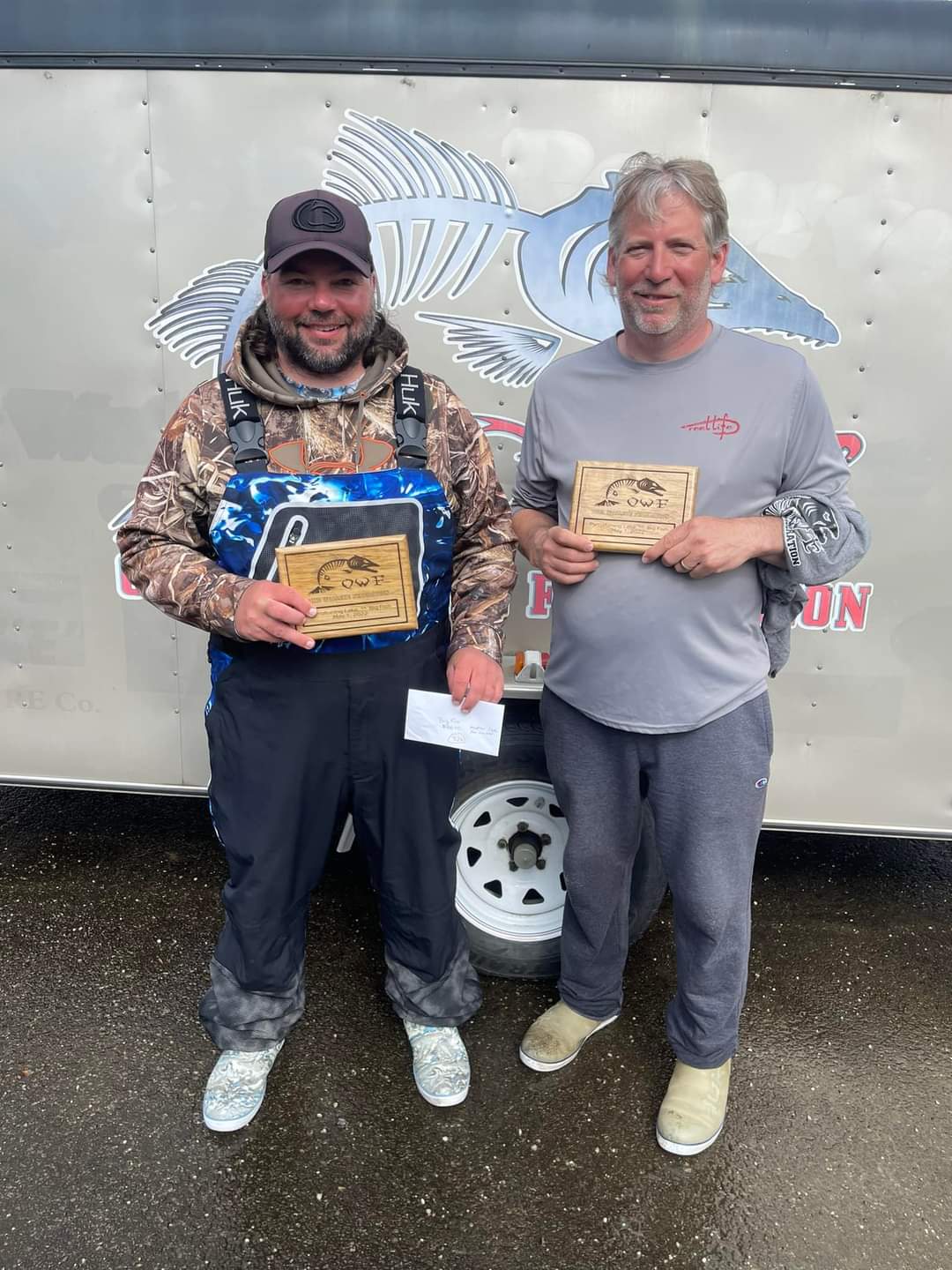 2nd big fish honors good for $50.00 FishUSA gift card with a 6.67 pound walleye was the team of Bob Honaker and Kevin Kalinowski. Their fish came on a custom painted #7 flicker shad 13 feet down on a planer board in 16 fow.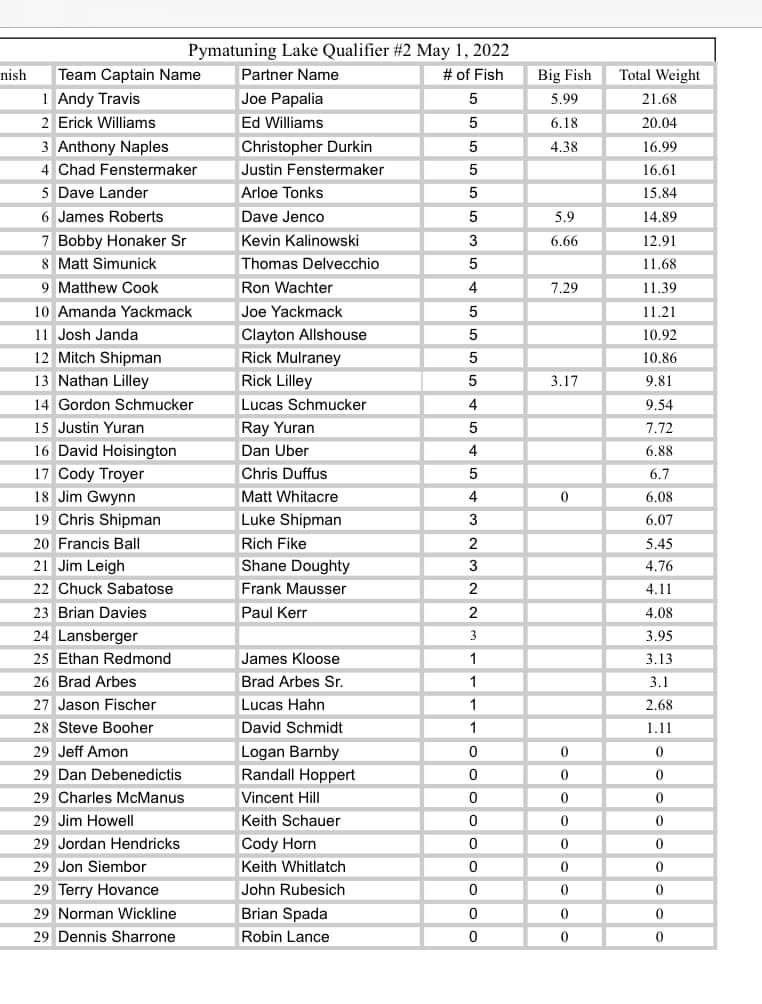 The OWF season is in full swing with our 3rd qualifier in 2 weeks on May 15th at Lake Milton. After a year away from Lake Milton, the reports are already coming in that the fishing is good with lots of fish to be caught on the lake. Don't miss out on the chance to fish with us.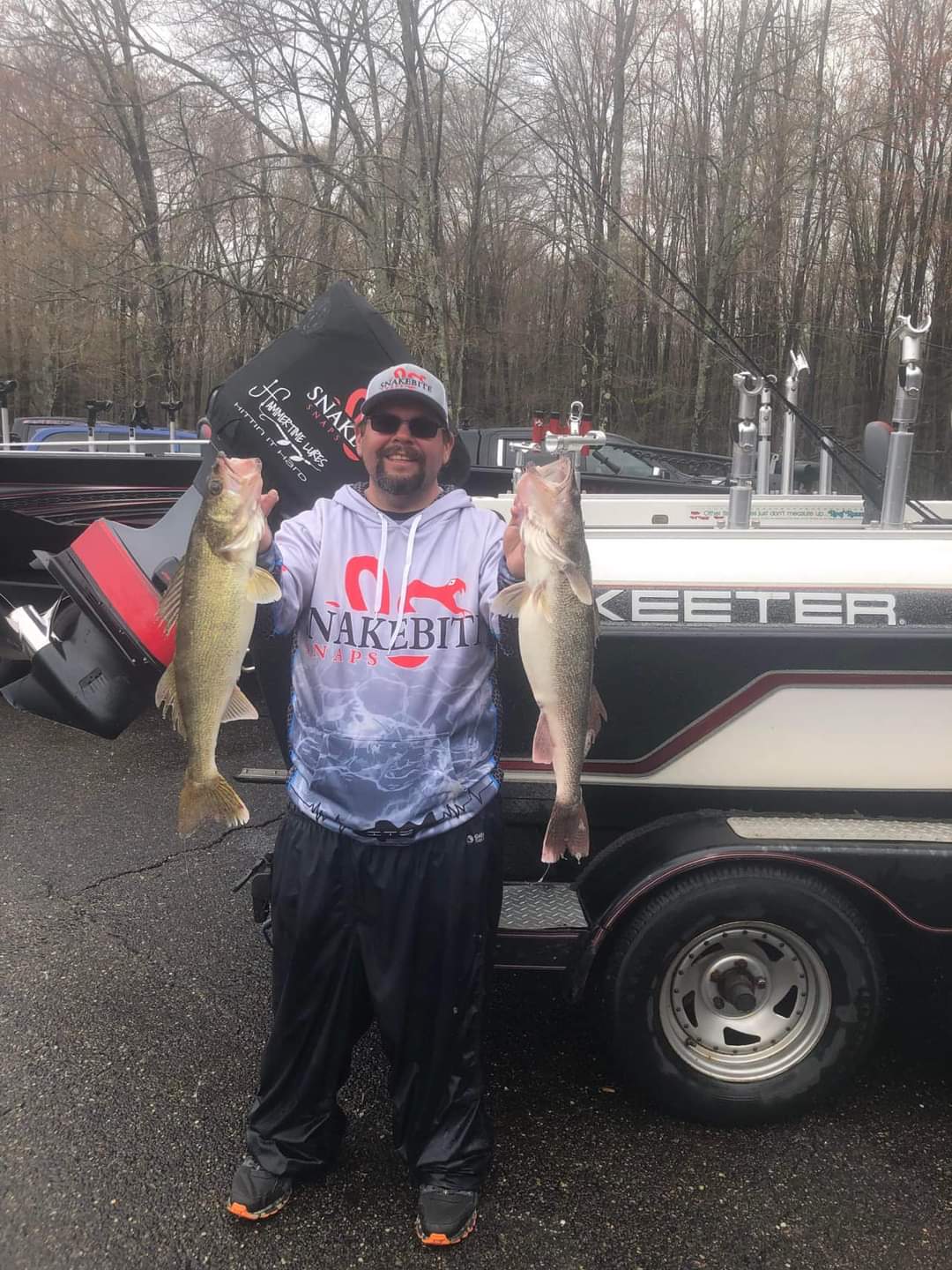 The Ohio Walleye Federation would like to thank our title sponsor Erie Marine Sales for all of the support that they provide to us. If it weren't for them we wouldn't be able to provide 100% payout at all tournaments. We are also very grateful to be associated with sponsors like, Whitetails Unlimited, Snakebite Snap Weights, World Wide Marine Insurance, Sydmor's Jewlery, RS Nets. Please support those whom support the club.
For additional information or to sign up for an event please check us out on Facebook – Ohio Walleye Federation or on our website; www.ohiowalleyefederation.com.