A whopping 105lbs, 10 oz of Green Bay walleye propels Rohloff and
Busse to over $125,000 in cash and prizes in their wire to wire win
Marinette, WI – June 4th , 2023 – One variable that cannot be changed when planning a event, no
matter the location, is the weather, it always comes into play. Traveling to the Great Lakes for a
tournament means the possibility of some wind and waves that must be planned for. Fortunately,
for this field of 278 teams from 18 states across the country that earned a spot in the 2023 Bass
Pro Shops and Cabela's National Team Championship (NTC) in Marinette, WI, mother-mature
played nice most of the week allowing nearly perfect boating conditions allowing angler to scour
every inch of the Bay of Green Bay looking for walleye and boy did they see some walleyes.
Along with light winds, high skies, and lack of precipitation, another variable came in to play
that many anglers found both challenging and intriguing at the same time. These conditions for
days on end made for some of the clearest water conditions you'll ever see on the waters of
Green Bay allowing anglers to actually see "pods" of walleye, lots of walleye, that simply would
not bite. For some, watching walleyes follow their bait for yards without striking was very
frustrating but also allowed for a learning experience not often seen first-hand with the naked
eye. The fish are there, they just would not bite.
Scott Rohloff (Watertown, WI) and Lance Busse (Freedom, WI) traveled far and wide across the
bay and finally learned what it takes to trigger the big, shallow walleyes to eat. On day 1 they
decided to target walleyes about as far away as their Mercury powered Ranger boat would take
them into big Bay De Noc. A 70-mile run one way and 70 miles back to Marinette was a gamble
but it paid off with day one big basket of 5 fish for 39lbs 10oz. A basket of fish like that also
forced them to take the same gamble and "make the run" on day 2 which rewarded them with
33lbs-11oz. Their two-day tournament limit sat at 73-05 an easily kept them in first place going
into the All-American Top-25 third and final day of the NTC.
Scott and Lance learned that because the fish were very finicky, they needed to change things up
slightly to catch them. Rohloff said, "It seemed like most other teams we saw were targeting the
top of rock piles and boulders. The fish were there but they wouldn't commit for us so we
pushed just off the structure and made casts around the edges from a distance in deeper water in
10-15 feet. I think that with these fish being so tight-lipped around the boats in shallow water
with flat conditions our decision to push into deeper water onto the transitions from rock to sand
made the difference." "We kept it simple. Purple hair-jigs caught all of our fish."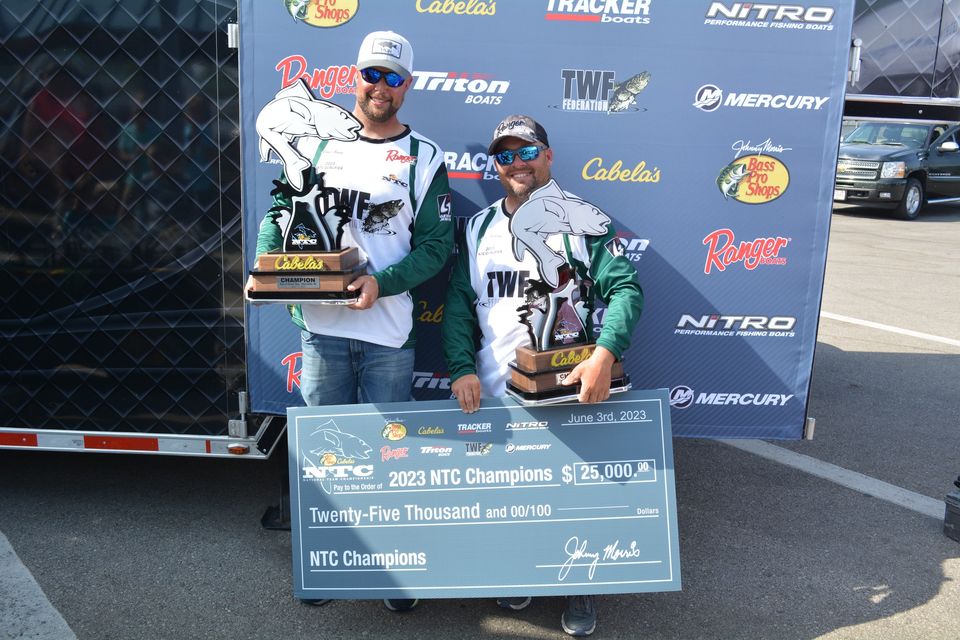 All-American Top 25
There is a reason why the All-American Top 25 teams, all 50 anglers who make it to the final-
day earn custom made rings signifying their accomplishment. It is very hard to get to the final
day the stakes are high and every decision counts big. On day three, the All-American Top-25
teams were greeted with the wind that some were looking for to help the fishing conditions. With
a steady breeze from the north, teams had to make some decisions on how far they were willing
to travel. After about 10-miles of travel toward their tried-and-true spot that had gotten them into
the number one spot up in Big Bay De Noc, Rohloff and Busse had to make the decision that that
with the extra wind and slower travel they wouldn't be able to make it there and back with
enough time to catch their fish they had go to plan B and fish "memories" near Cedar River. It
was a hard decision calling a last minute audible but it proved to be the right decision. With
spinning rods in hand, the Wisconsin team rose to the top in a field of the best grass roots
walleye club anglers from across the nation and managed to post another large bag of 32lbs-
05oz. pushing their three-day total weight to 105-10 lbs. This monster bag rewarded them with a
huge pay-day totaling over $125,000 that included a brand-new Ranger 620 Pro with Mercury
250hp ProXS, $25,000 cash, $8,000 Ranger Cup Bonus, $250 BPS/Cabela's gift card for the
day-1 biggest basket, coveted 1st place trophies, event jerseys, and All-American Rings.
Here is a look at how the rest of the top five teams finished:
2nd Christopher Bartsch and Mario Nanna 84-13, $10,000 cash
3rd Steve Labs and Luke Cieslewicz 80-13, $8,000 cash
4th Andrew and Jacob Hugo 80-08, $6,000
5th Josh and Don Wiesner 79-13, $5,000 cash
The total payout in cash and prizes for the 2023 Bass Pro Shops and Cabela's National Team
Championship was $276,910.64. Nearly 333% total payback on entries in cash and prizes was
awarded to teams from 18 states. The largest sack during the championship was 40-15 lbs. wascaught by Jake Becker and Tyler Mueller earning day 2 big basket award of $250 gift card from
Mercury Outboards. The heaviest walleye was caught on day 1 was a 10-03 walleye caught by
James Miron and Jacob Lanning earning them a $250 gift card from Bass Pro Shop s and
Cabela's. Day 2 big fish was 11-3 walleye earning a $250 Bass Pro Shops gift card from The
Walleye Federation for John Gillman and Kal Ustishen.
The staff and anglers would like to thank the "Fish City", Marinette, WI for rolling out the red
carpet this past week. The out-pouring of support from the city, its workers, citizens, the Moose
Lodge and other volunteers proved vital in making an event of this magnitude go off without a
hitch. Thank you for the support!
Walleye Federation clubs across the country can now look ahead at 2024. The announcement has
been made that the 2024 Bass Pro Shops and Cabela's NTC is headed to the south shores of Lake
Erie out of Lorain, OH in May 2024!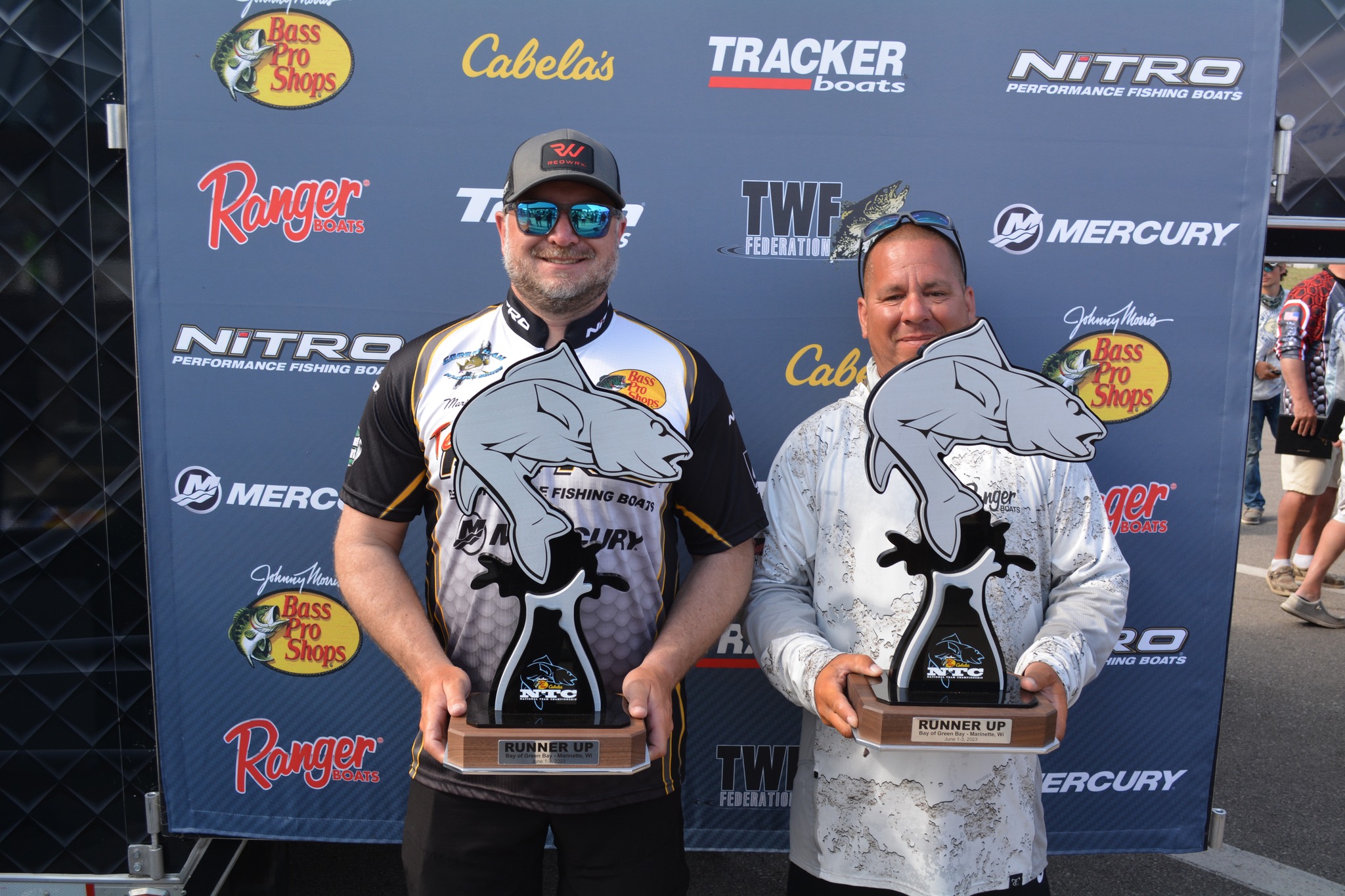 The Walleye Federation, based in Ponca City, Oklahoma, manages the qualifying process via
TWF sanctioned walleye clubs all across the US and Canada and co-produces the event
alongside the Bass Pro Shops and Cabela's Marketing Sponsorship Team. Qualifying is going on
now, for details on how to earn a spot in the 2024 Bass Pro Shops and Cabela's NTC or to get
your walleye club signed up, visit walleyefederation.com, or call (580)765-9031
###