Presented by Ranger Boats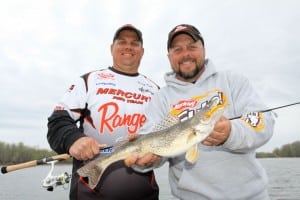 For Immediate Release –
Ponca City, Okla.—March 19, 2013—More than 260 anglers from across the Midwest will compete for over $67,000 in cash and prizes March 23-24 when the Cabela's Masters Walleye Circuit kicks off its 29th season on the fish-rich waters of the Illinois River at Spring Valley, Illinois.
The tournament marks the 27th consecutive time the Cabela's MWC has opened its season on the iconic Illinois, which offers winter-weary anglers a wealth of walleye and sauger opportunities. And with 130 two-person teams signed up, the payout is sitting at over $67,000 in cash and prizes and nearly $18,000 in cash and prizes for the first place.
Sponsor bonuses including Cabela's Angler Cash, Ranger Cup, Lowrance HDS Gen2/Elite-7, Berkley Baits and Optima True Blue add thousands in cash and prizes to the total. Plus, anglers have the option of participating in the MWC Big Fish Pot, which could add up to $6,600 to the tally. As an added incentive, the first-place team wins a $1,000 Cabela's National Team Championship Prize Package including paid NTC entry, travel stipend, team jerseys and plaques.
One of competitive fishing's longest-running rites of spring, the MWC Spring Valley tournament is eagerly awaited by walleye and sauger fans from across the Midwest. "With cool water temperatures and the river falling below flood stage, the fishing should be fantastic," predicts Circuit veteran Kevin Dahl, of Muskego, Wisconsin.
"Conditions are shaping up for one of the best bites in recent years," added Tournament Director Dan Palmer, who predicts that limit catches will be the rule, not the exception. "If the water clears up enough, crankbaits could be a factor, too," he noted, with a tip of the cap toward Tom Brunz and Mark Meravy's 24.05-pound trolling victory in 2011.2013 marks Dahl's 15th Spring Valley MWC tournament. In 2010, he and teammate Steve Stack won the event with 25.55 pounds on the wings of a stellar jigging performance, and Dahl expects a solid jig bite to prevail this season as well. Without giving away his game plan, he admits his favorite combo is a 3/8-ounce leadhead sweetened with a Berkley Ripple Shad.
The public is invited to the weigh-ins, which begin at 3 p.m. daily at Barto Landing in Spring Valley. The Cabela's MWC, National Professional Anglers Association, Pure Fishing and Zippo Outdoor Brands will present a Youth & Family Fishing Clinic immediately after Saturday's weigh-in. The first 50 youths will receive rods and reel combos courtesy of the NPAA.
For a complete entry list click here.
IF you are a angler entered into this event or family comign with an angler the community of spring valley is rolling out the red carpet for you with Walleye bucks! The local comminuty has some special discounts and offers just for MWC anglers and families, you can find them by clicking this link. http://spring-valley.il.us/recreation/MWCfishermen.htm
This is the first of 10 Cabela's MWC qualifying tournaments in 2013. The remaining schedule includes the Detroit River at Trenton, Michigan, April 12-14; Lake Pueblo at Pueblo, Colorado, May 17-19; Lake Erie at Huron, Ohio, May 17-19; Green Bay of Lake Michigan at Oconto, Wisconsin, May 31-June 2; Lake Oahe at Spring Creek, South Dakota, June 7-9; Lake Winnebago at Oshkosh, Wisconsin, June 28-30; Devils Lake, North Dakota, August 2-4; the St. Mary's River at Sault Ste. Marie, Michigan, August 22-23; and Cass Lake, Minnesota, out of Stony Point Resort, Sept. 13-15.
Cabela's, the World's Foremost Outfitter for hunting, fishing and outdoor gear, is entering its 11th season as title sponsor of the MWC. Official sponsors include: Berkley Gulp!, Lowe Equipment Attachments, Lowrance, Mercury Marine, MotorGuide, Ranger Boats, The Walleye Federation and Zippo Outdoor Brands. Associate sponsors include: Berkley Trilene, Church Tackle, Optima Batteries, O2 Marine Technologies and Sea Grant.
Based in Ponca City, Oklahoma, the Cabela's MWC is oldest running national walleye circuit in America. Cabela's MWC is owned by The Walleye Federatoin and is open to two-person teams regardless of club or sponsor affiliation. Entry fees are $650 per tournament, of which more than 100 percent is returned to anglers at the qualifiers, World Championship and Team of the Year races. Registration remains open through the Sunday night prior to each tournament. For more information, visit masterswalleyecircuit.com, email info@masterswalleyecircuit.com, or call (580) 765-9031.