Presented by Zippo Outdoors
For Immediate Release –
Ponca City, Okla.—April 8, 2013—Trophy walleyes and hefty payouts will be at hand April 12-14 when the Cabela's Masters Walleye Circuit visits the Detroit River and western Lake Erie at Trenton, Michigan.
With 122 two-person teams signed up, the payout is sitting at more than $62,000 in cash and prizes. Sponsor bonuses including Cabela's Angler Cash, Ranger Cup, Lowrance HDS Gen2/Elite-7, Berkley Baits and Optima True Blue add thousands more in cash and prizes to the total. Plus, the MWC Big Fish Pot could add up to $6,600 to the tally. As an added incentive, the first-place team wins a $1,000 Cabela's National Team Championship Prize Package including paid NTC entry, travel stipend, team jerseys and plaques.
Besides the great payouts, Tournament Director Dan Palmer predicts Cabela's MWC teams will enjoy world-class walleye action, as schools of spawn-run walleyes flood western Lake Erie and the legendary Detroit River. "A late warm-up will allow for more fish still carrying egg weight, so we could easily see the biggest bags ever in walleye fishing, anywhere," he said.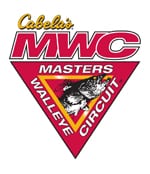 Longtime MWC competitor and Zippo pro Doug Yohe agrees. "It should be a great big-fish bite," he said. "It wouldn't surprise me at all if we see some MWC records go down in Detroit."
Given the Circuit's rich history of fishing top destinations at peak times—since its origination in 1984—the predictions are testaments to the system's incredible fishery. Currently, the MWC's all-time big fish record stands at 13.25 pounds, set by the father-son team of John and John Murphy, of Imlay, Michigan, on Day Two of the 2011 Lake Erie qualifier. But the Detroit River has already proven itself capable of raising the bar even higher, after yielding a 14-pound behemoth for Ohioans Ryan Buddie, of Lakewood, and Mike Knippenberg, of Hiram, during prefishing at the 2011 MWC Detroit tournament.
The Circuit's single-day basket benchmark (five fish) is 48.95 pounds, held by Jason Kopf, of Avon Lake, Ohio, and Mike Miller, of Brunswick, Ohio. The two-day (10 fish) basket record is 86.38 pounds, claimed by Denny Lantzy, of Warren, Michigan, and Steve Vande Mark, of Linwood, Michigan.
The public is invited to the weigh-ins, which begin at 3 p.m. daily at Elizabeth Park in Trenton, Michigan. Teams are scheduled to fish 7 a.m. to 3 p.m. Friday and Saturday, with Sunday reserved in case foul weather causes a cancellation on either of the first two days. The Cabela's MWC, National Professional Anglers Association, Pure Fishing and Zippo Outdoor Brands will present a Youth & Family Fishing Clinic immediately after the first day's weigh-in. The first 50 youths will receive rods and reel combos courtesy of the NPAA.
This is the second of 10 Cabela's MWC qualifying tournaments in 2013. The remaining schedule includes Lake Pueblo at Pueblo, Colorado, May 17-19; Lake Erie at Huron, Ohio, May 17-19; Green Bay of Lake Michigan at Oconto, Wisconsin, May 31-June 2; Lake Oahe at Spring Creek, South Dakota, June 7-9; Lake Winnebago at Oshkosh, Wisconsin, June 28-30; Devils Lake, North Dakota, August 2-4; the St. Mary's River at Sault Ste. Marie, Michigan, August 22-23; and Cass Lake, Minnesota, out of Stony Point Resort, Sept. 13-15.
Cabela's, the World's Foremost Outfitter for hunting, fishing and outdoor gear, is entering its 11th season as title sponsor of the MWC. Official sponsors include: Berkley Gulp!, Lowe Equipment Attachments, Lowrance, Mercury Marine, MotorGuide, Ranger Boats, The Walleye Federation and Zippo Outdoor Brands. Associate sponsors include: Berkley Trilene, Church Tackle, Optima Batteries, O2 Marine Technologies and Sea Grant.
Based in Ponca City, Oklahoma, the Cabela's MWC is oldest running national walleye circuit in America. Cabela's MWC is owned by The Walleye Federation and is open to two-person teams regardless of club or sponsor affiliation. Entry fees are $650 per tournament, of which more than 100 percent is returned to anglers at the qualifiers, World Championship and Team of the Year races. Registration remains open through the Sunday night prior to each tournament. For more information, visit masterswalleyecircuit.com, email info@masterswalleyecircuit.com, or call (580) 765-9031.