CEDAR RAPIDS AND IOWA CITY WALLEYE CLUB 2021 SEASON REPORT
The Cedar Rapids and Iowa City Walleye Club completed their first full season of events after starting in 2020 with only 1 event due to COVID.   The "CRANDIC" Club grew to over 40 members this year.  The Club conducted monthly meetings, participated in 4 tournaments that ended with 4 different winning teams.  The Club also conducted an August youth event in cooperation with the local Boys & Girls Clubs of the Corridor at the Fish-O-Rama derby on Robins Lake in Cedar Rapids.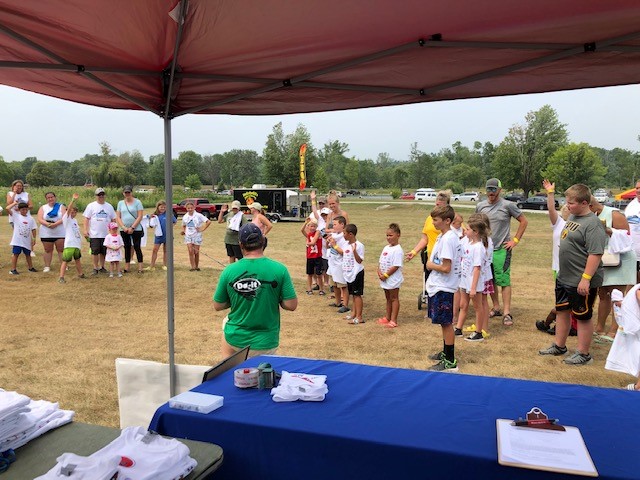 The Cedar Rapids and Iowa City Walleye Club, LLC is a non-profit 501(C)(3) organization dedicated to the education of our members/the angling public and conservation of our fishing and natural resources.
Lake McBride-May 2nd.  CRANDIC Clubbers started their season on the club's home lake after being blown out of their planned kick off event at Pleasant Creek.  Members Ethan Trimble and Matt Troendle were the winners with a 5 fish limit weighing 5.9 lbs.  2nd Place and Big Fish went to Chris Staebell and Cooper Jaycox for a 2.12 lber.  Jigs and leeches were the winning combo.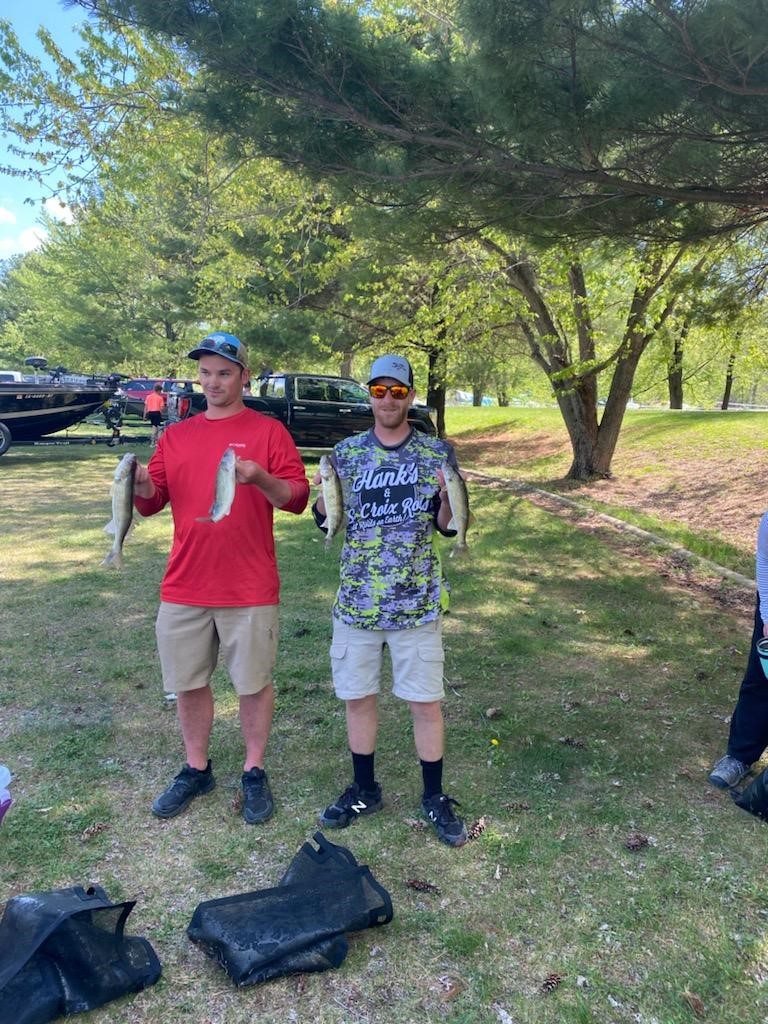 Mississippi River-Pool 11  June 6th.  The Mississippi River has a healthy population of walleyes and also develops some of the best anglers in the world.  The Dubuque team of Dave Flury & Jamie Strief ran away with the event putting a 5 fish limit with over 30lbs in weight.  They also caught over 20 fish during the course of their day.  Simply an incredible performance.  Second Place went to the team of Trumblee/Troendle/Troendle who also weighed a 5 fish limit.  Big Fish went to Flury-Strief for their 28" winner.
Lake McBride-September 26th.  CRANDIC Walleye Club teams launched onto Lake McBride and every participant knew they were in for a long, tough day of fishing.  All prefishing reports were pretty dismal at best and the anglers were faced with a lake in which the thermocline was starting to break up and the food chain was full of young of the year plus a significant shad population…on top of an always finicky resident walleye population.  It was a day made for "grinders" as many in the CRANDIC Club consider themselves.  At the end of the day "Catfish Larry" Nichols (Team Nichols/Hora/Nichols) stuck a 25″, 6lber at around 8:30 in the morning and that fish held up to take Big Fish and overall winner for the day.  Team of the Year contenders Ethan Trumblee and the Troendle brothers (Matt & Mike) managed a 16.5″, 1.69lber for 2nd place.  The Nichols fish came on a gold 1/8th oz jig head tipped with a leech and fished as the top jig in a 2-jig set. up.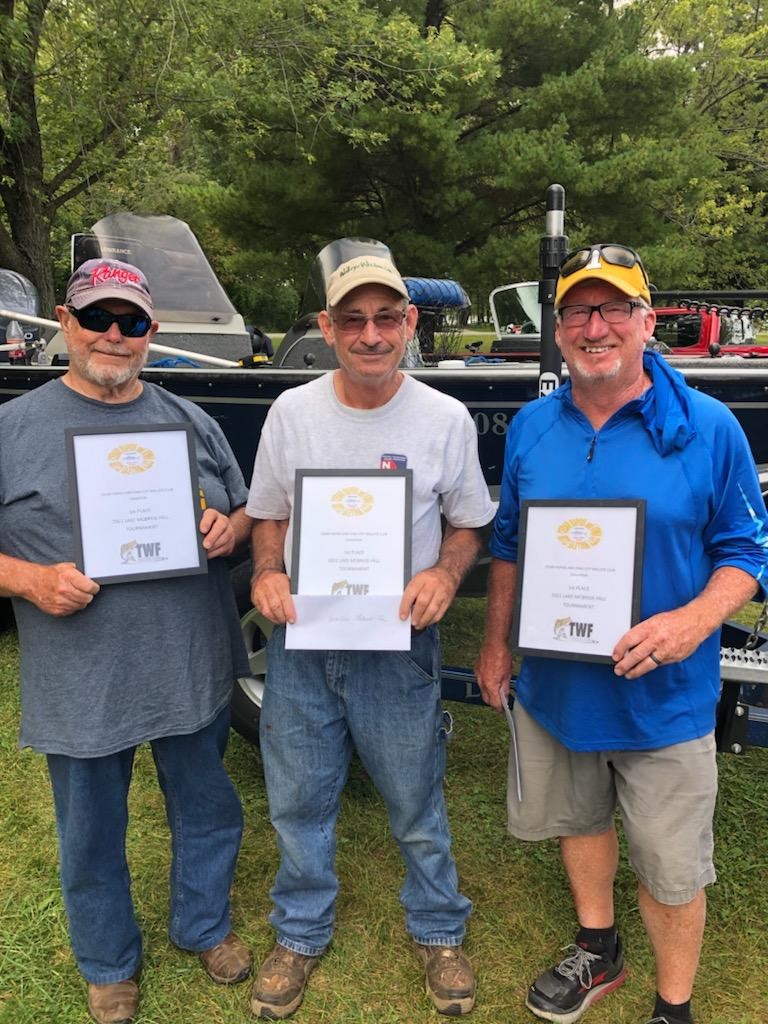 Mississippi River-Pool 9.  October 16 &17:  The final event of the season was a CPR event with over 50 fish caught by 7 teams in 2 days.  Winners were Taylor & Connor Steffan with over 34 lbs followed closely by Jeremy Geisler and Mike Goltz with 33 lbs.  The 2021 Team of the Year was Ethan Trumblee/Matt & Mike Troendle and they finished 3rd with a solid 30 lb bag.  The big river was at low flow and presented some challenges to the participants but hair jigs and one-eyes were popular baits and the winners did most of their damage at or near lock & dam 8 in Genoa.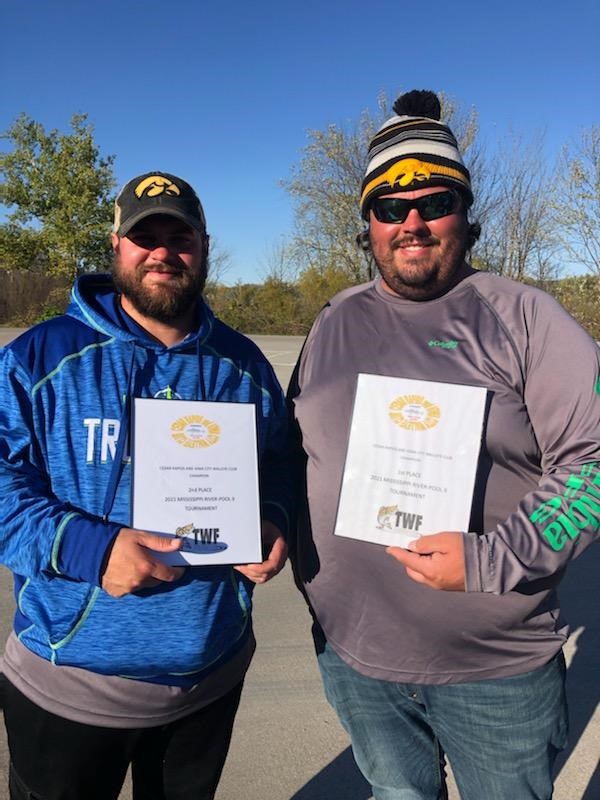 The CRANDIC Walleye Club has a 2022 schedule in place and will start the year with the Winter Fishing Academy and Swap meet in cooperation with the Linn County Conservation Commission on January 15 & 16 at the Wickiup Learning Center.  This event will also host the club's winter awards dinner and will feature well known guide & national fishing educator, Lance Valentine.
The Club will also organize, staff and run a June 5th fishing derby to benefit Camp Courageous in cooperation with NGR Media and local radio stations 1540 AM; 105. FM & 108 FM.  The Club will also participate in the Boys & Girls Clubs of the Corridor annual Fish-O-Rama event.  The Club's 2022 tourney schedule is:
April 10                      Pleasant Creek
May 1                        Lake McBride
June 12                     Mississippi River Pool 10-Marquette/McGreagor
June 25                     Lake Rathbun-Honey Creek
October 8 & 9           Mississippi River Pool 13 Bellevue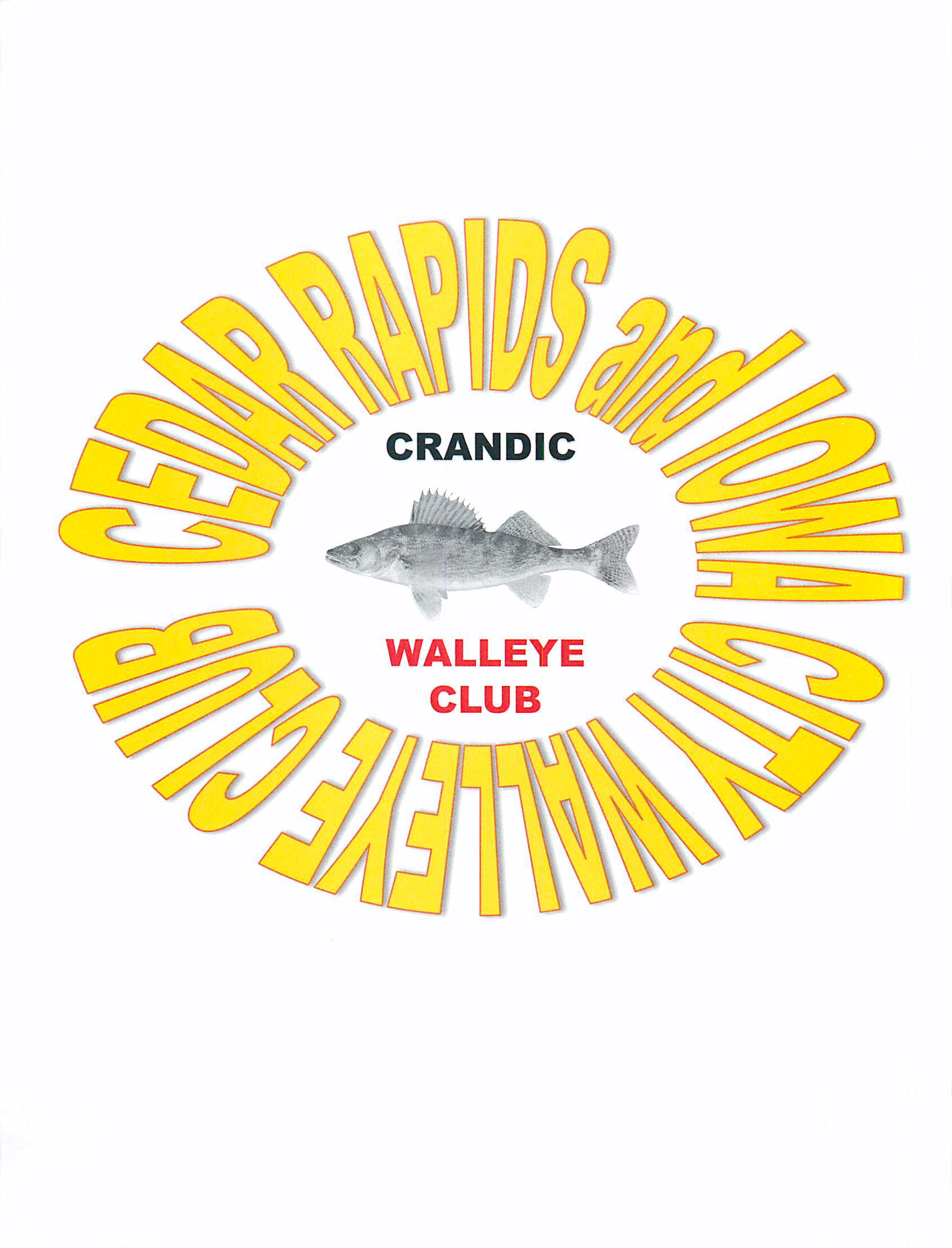 *Walleye Art courtesy of State Historical Society of Iowa and Iowa Department of Natural Resources. Artist: Maynard Reece.