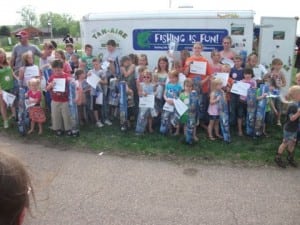 The Nebraska Walleye Association Kids Fishing Clinics Charity, Inc. held the 1st & 2nd tournaments of 2013 on May 18 & 19 at the Lewis & Clark Reservoir near Crofton, Nebraska. The 3rd & 4th tournaments of the year will be held on July 13th & 14th at the Harlan County Reservoir near Republican City, Nebraska.
This organization is a 501 (c) (3) public charity that promotes fishing education and conservation in Nebraska.  Fishing is Fun! is the catch phrase used to conduct 15-20 kids fishing clinics across the state.  Each participant receives hands on fishing instruction from state certified volunteers and is given a free rod/reel/tackle box combination to take fishing.  At least two of these clinics are held for special needs youth and their families.  Approximately 2000 youth annually participate in these clinics which are at times held in partnership with other outdoor youth organizations.  These kids clinics began over twenty years ago by the Nebraska Walleye Association, a members organization.  In 2012 the NWA Kids Fishing Clinics Charity was formed as a separate organization to provide a greater opportunity in obtaining funds for the kids clinics. 
With being a member club of The Walleye Federation, NTC slots are awarded if qualifying tournaments are held.  As a non-profit group the NWA Kids Fishing Charity is limited in fundraising activities.  So an idea was presented to make this a free monetary entry tournament format.  The NWA members organization had tournaments scheduled for Lewis & Clark and Harlan County Reservoirs. The NWA Kids Fishing Charity scheduled Fishing is Fun! kids clinics at the same locations during those weekends.  Any team from the NWA members tournament that volunteered to assist at the Fishing is Fun! clinic on those weekends was automatically entered in the NWA Kids Fishing Charity Tournaments.  A total of 20 teams signed up and participated.  This is a win-win for everyone.  The kids get hands on teaching from persons who love and are experienced in fishing.  The tournament teams get another opportunity that is free to qualify for the NTC.  Sometimes it pays to volunteer.  As an added bonus this year, Nebraska youth ½ price lifetime hunt/fish permits are being given away to some of the lucky clinic participants.
All four tournament scores will be used to compile the final standings. However this is how they rank after two tournaments; 1st Dennis Kallhoff & Dan Kallhoff, 2nd Jason Hettler & Brandon Shada, 3rd Mike Means & Chad Warriner.
Remember- Fishing is Fun!