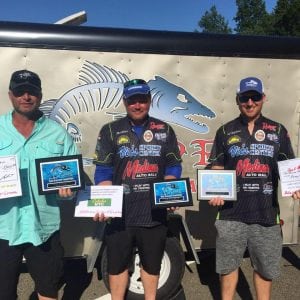 Geneva, Ohio -The Ohio Walleye Federation hosted the much anticipated 2nd Annual Vic's Challenge sponsored by Vic's Sports Center in Kent, Ohio.   The event, held on Saturday July 16th, attracted fisherman from Ohio, Pennsylvania and Michigan.  A sold out field of 50 boats, competing in 2 to 5 person teams, looked for active schools of walleye from Fairport, Ohio to Conneaut, Ohio hoping to win a share of the $13,000 in prize money.
The trio of Paul Holzheimer, Dave Weightman and Mark Wilmot, earned the victory with 5 fish weighing in at 35.57 lbs.   The winning team ran 24 miles north of Geneva, Ohio, an hour and half run on choppy water, to grind out 9 walleye bites all day.  Paul Holzheimer of Grafton, Ohio stated, "There were many good marks and a lot of bait, but you were not getting the bites you would expect to.  We were able to hook up and we were lucky enough to get everything into the back of the boat."  Running a combination of Dipsy and Magnum Dipsy Divers with spoon harnesses targeting suspended fish at 50-55 feet in 65 feet of water proved to be the winning the ticket.  Bites came in short flurries.
The team reported catching 3 fish at the start of the morning within 20 minutes, and then 5 fish from 12:30 to 1:00 pm, trolling outside the pack of boats.  The hot color of the day was "anger management".  Their efforts earned them $5000 for 1st place plus an additional $250 for the Vic's Ranger/ Starcraft Bonus.  The victory also earns team members Mark Wilmot of Tallmadge, Ohio and Dave Weightman of Stow, Ohio, an automatic entry into the 2017 Cabela's NTC Championship (details can be found at walleyefederation.com) being held in Lorain, Ohio June 8th thru June 11th.  19 teams competed in this side pot for this opportunity. 
Second place honors good for $2500 were awarded to Bob McLuckey, Ryan Beran and Ryan Presutti with 35.15 lbs.  Third place prize money of $1800 went to the family team of Frank Burkhart, Brycen Burkhart, Joe Bird and Joey Bird landing a creel of 34.59 lbs.  Burkhart and Bird also won the Vic's Family Team Bonus of $150. Scott Geitgey,  Dan Paul, and Andy Christofaris took home a fourth place check for $1400 with 34.39 lbs. and also won a $100 Traxstech gift card for 2nd Big Fish of the day weighing in at 9.60 lbs.  Fifth place of $1000 went to Tim Heslop, Xavier Heslop, Tim Foster, Matt Baird and Aaron Craig at 32.51 lbs. 6th place good for $600 was awarded to "Team Lucky Strikes Trio" consisting of Francis Ball, Charlie Robinson, and Tom Nordyke with 31.15 lbs.
The $250 Vic's Big Fish was landed by the team of Michael Daugherty, Dana Daugherty, and Jeff Amon with a staggering weight of 10.44 lbs.  To keep anglers on their toes and to have fun, the $150 Big Sheephead Award went to Rico Mixon, Dave Horschler and Eric Horschler measuring 24 1/2 inches in length(See below for complete standings).
The OWF concludes its season by honoring the 2016 Ohio Walleye Cup Champions.  This award is presented to the team who fishes both the OWF Inland Lake Circuit and the Vic's Lake Erie Challenge tournaments.   Points over 5 tournaments are tallied and the team with highest points earns $250, two Ohio Walleye Cup trophies,  two OWF sweat shirts,  and their names are engraved on the club plague.  The team of Mitch Shipman of Kent, Ohio and Rick Mulraney of Cleveland, Ohio can proudly proclaim the 2016 title.
The OWF promotes "Fishing, Family, Friends and Fun!"   Come fish with us in 2017.  Join us at our weigh ins for food, drinks and raffle prize opportunities.  The general public is welcome.   For more information please visit www.fishowf.club or e mail fishowf@gmail.com.  Check us out on FACEBOOK- Ohio Walleye Federation.
The OWF events are possible because of our sponsor support.  Without the support and vision of Tom and Vic Vatalaro at Vic's Sport Center in Kent, Ohio, this event could not be possible. Vic's Sports Center is"Your Ranger, Starcraft & StarWeld Family Fishing Boats Dealer".
Special Thanks to all of our sponsors:
Vic's Sports Center-Lake Erie Title Sponsor
Ravenna Marine-ILC Title Sponsor
Haines Marine
Worldwide Marine
Goschinski's Fin, Feather & Fur
Cisco
Canyon Cooler
Reef Runner
Church's Tackle
Traxstech
Mepps
Fish USA
Redneck Outfitters
Rodmaker's Shop
BayRat Lures
RS Nets
Kames
Les's