Presented by Bass Pro Shops and Cabela's
AuSable/Oscoda, Mich.—July 27, 2021—The one constant while fishing the great lakes is that the weather will dictate everything you do, including the ability to hold an event. Fortunately for the anglers at the 2021 Bass Pro Shops and Cabela's National Team Championship (NTC), the two days of fishing they were able to complete was a wild success for many. Most especially for the duo of Matthew Dubs (Auburn, MI) and Jason Trapp (Pinconning, MI). As dawn broke on the third and final scheduled day, it was clear to all involved that no one was leaving the shoreline, with swells of up to 10 ft and winds gusting to 30 mph, organizers made the call based on safety to cancel and finalize results as they stood.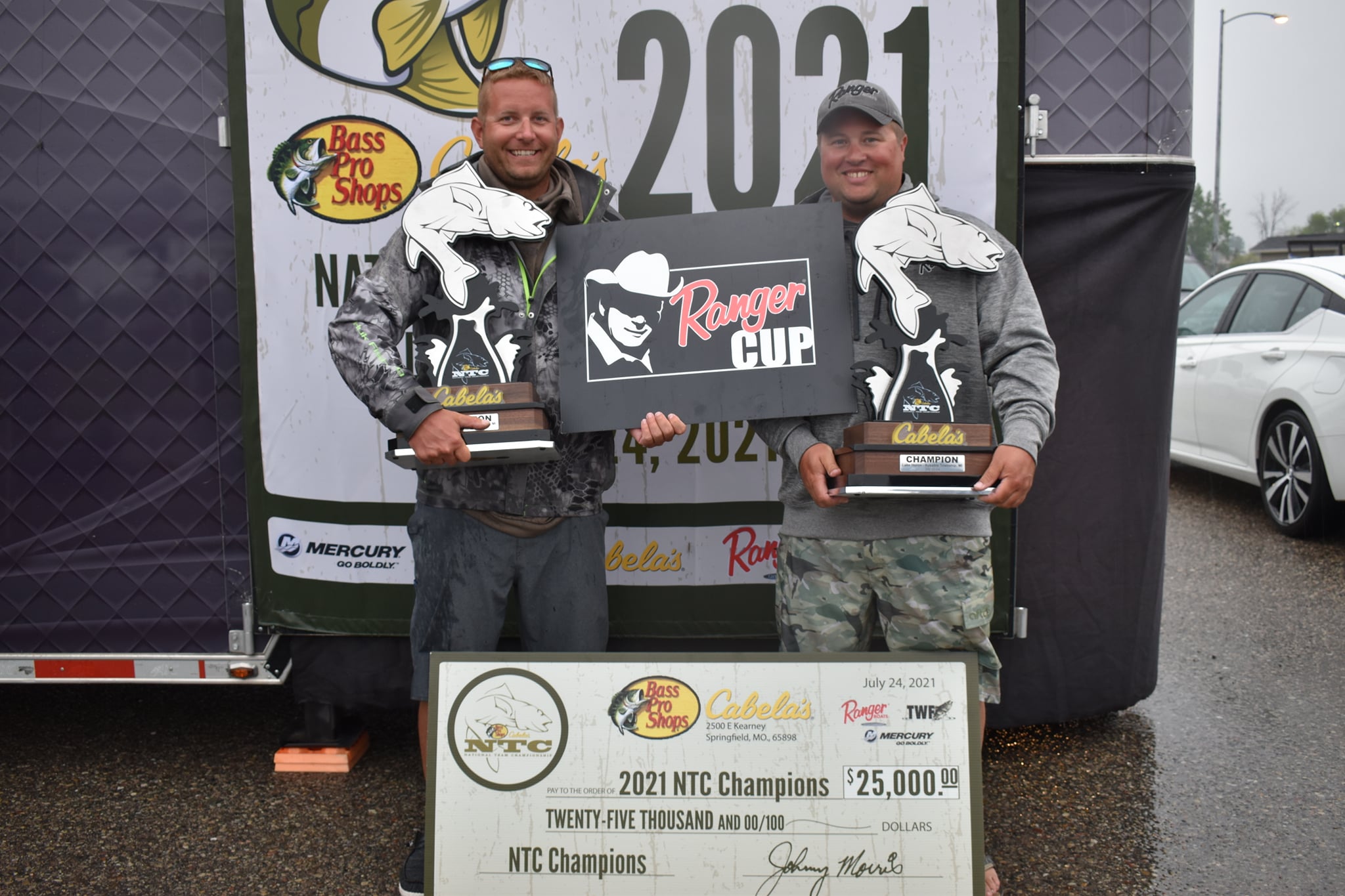 As members of the Saginaw Bay Walleye Club, Dubs and Trapp have grown to know lots of places that fish will hide come mid-summer. "We fished memories, which sometimes will burn you, but this time, we hit enough places to get the bites we needed." commented Mathew. The pair were one of the many teams that decided to fish north of the AuSable River launch location. Jason spilled the beans on stage on how the winning bags were caught. "We found some rock humps about 35 miles north and used purple stick baits to catch our fish."
Tournament director Jeff Kelm knew that the field would be split, some anglers headed south and some north. "The fish to the north seemed a bit bigger, but if they didn't bite, then it would be a numbers game, and that's a south bite." The All-American to 25 teams that were set to compete on the third and final day were mixed in their plans and directions that got them to that successful position. "It played a bigger role than we even anticipated. If the teams could have fished on Saturday, the outcome could have been entirely different, based on many factors, including programs teams ran."
The 20th Bass Pro Shops and Cabela's NTC was welcomed with open arms in to the lakeside vacation townships of AuSable/Oscoda, with the local community doing all they could to provide an unforgettable experience to anglers, whether it was their first NTC or their 15th. With coffee and donuts each of the first two mornings and homemade breakfast burritos for the Top 25 teams on the last day, it's no surprise that anglers sang the praises of the community over the treatment they received. Long-time anglers and 23rd place team Wayne Butz (Abrams, WI) and Scott Cisewski (Stevens Point, WI) had great things to say while receiving their plaque on Saturday. "We have been doing this a long time and this is something you just don't see anymore; you don't get this level of involvement. I really hope we come back again soon."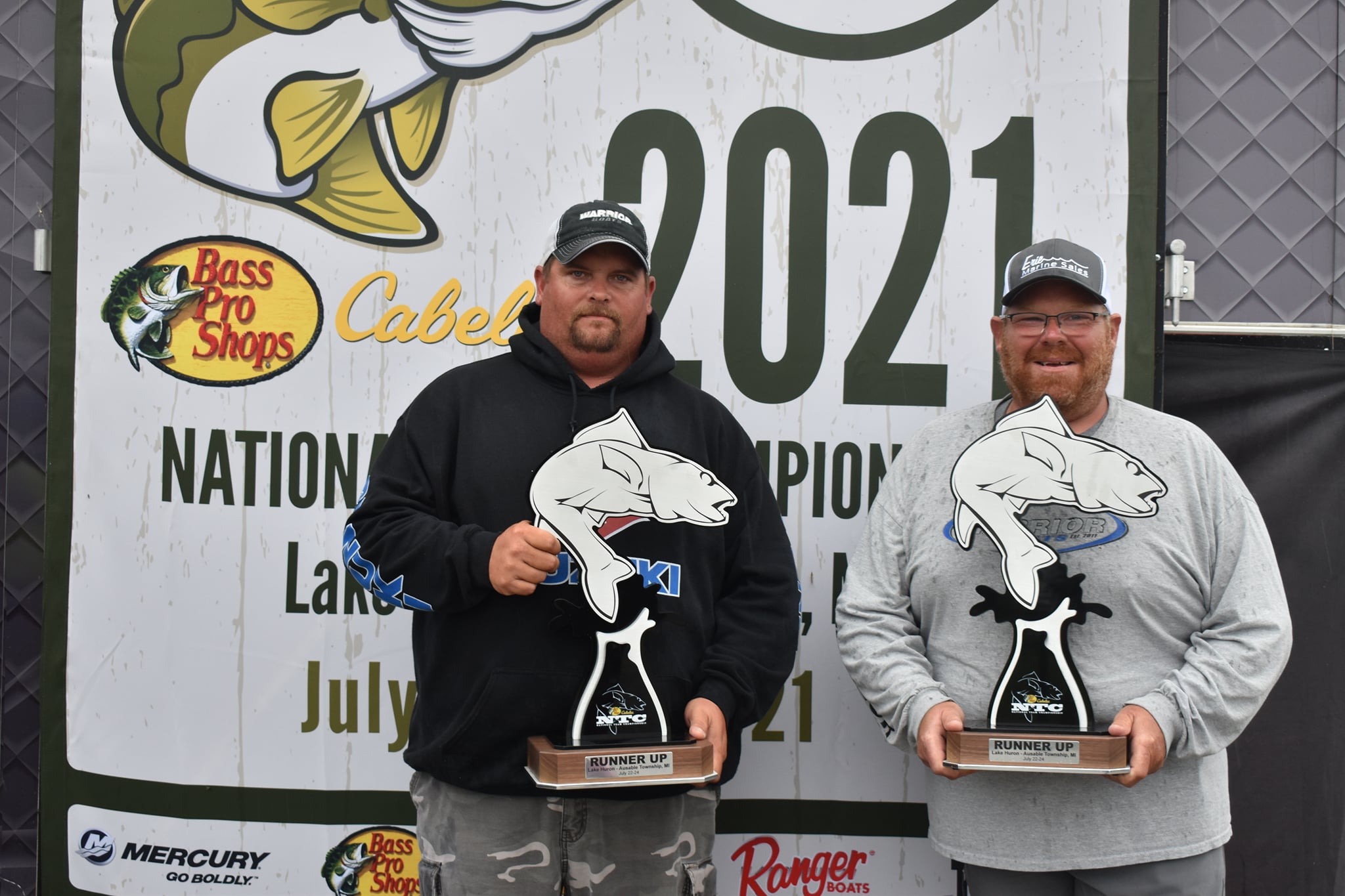 After two full days of 219 teams on the great Lake Huron, it took 44 lbs. 4 oz. to walk away with the top prize, a brand-new Ranger 620 paired with a Mercury 250 and $25,000 in cash, $101,295 in cash and prizes. In addition to the event winnings, the team was the highest qualified Ranger Cup team, cashing in on the new Ranger Cup program here in 2021.
It was clear after just the first day of fishing this was going to be a tight race between teams hailing from the area and teams that picked up the skill needed to compete over, the days they pre-fished. Second place team of Matt Whiteacre (Oakland, MN) and Jim Gwynn (Bentleyville, PA) aren't exactly from around these parts. "We ran the same program we do on Erie here." Jim announced on stage while accepting the runner-up trophy. "We ran #11 Flicker Shads on snap weights in 25 feet of water and found our fish that way." When the final day had to be canceled due to the weather, it became bitter sweet for the team. "I don't know that we would have even made it to our fish today," said Jim "we had a back-up plan, but we are still pretty proud to be here."
Ultimately, the purse for the 2021 Bass Pro and Cabela's NTC had a 270% payback with $242,781.12 in cash and prizes. All anglers went home with a shirt, gift cards or a check and the satisfaction of competing in one of the highest levels of competition the fishing world.
Let's take a look at how the top 5 teams did:
1st: Mathew Dubs & Jason Trapp – 44-04 – $101,295 (Ranger 620/Mercury 250 + $25,000), $250 Day 2 "Big Fish", $250 Day 2 "Big Basket"
2nd: Matt Whiteacre & Jim Gwynn – 43-03 – $10,000 cash
3rd: Andrew & Jacob Hugo – 42-03 – $8,000 cash, $250 Day 1 "Big Basket"
4th: Ben Spriks & Bryant Dault – 39-01 – $6,000 cash
5th: Ted & Trent Webster – 36-11 – $5,000 cash
Day 1 "Big Fish" was a tie at 6 lbs 13 oz. between Erich Carlson & Andrei Sawruk and Wayne Prokosch and Tim Adams. $250 in Bass Pro Shops and Cabela's gift cards was awarded to each team for their efforts.
Anglers registered 1,312 walleyes for 3988 lbs. and 10 oz. at this summer's event.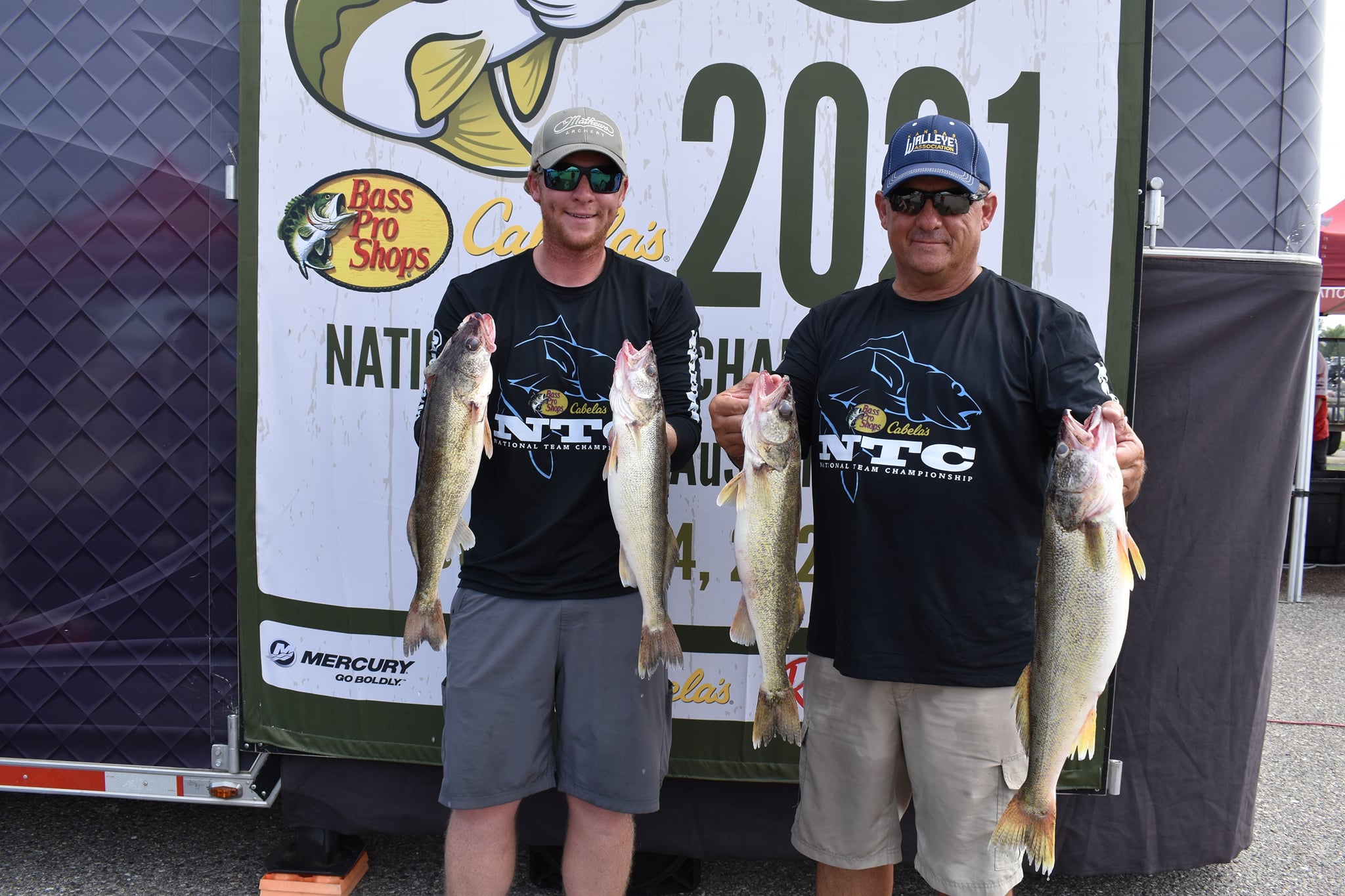 Walleye Federation clubs across the country can now look ahead at 2022. The announcement has been made that the next Bass pro Shops and Cabela's NTC is headed West! Mobridge, South Dakota and the famed waters of Lake Oahe is set to host another event after last doing so nearly a decade ago. Make plans now to attend!
The Walleye Federation, based in Ponca City, Oklahoma, manages the qualifying process via TWF sanctioned walleye clubs all across the US and Canada and co-produces the event alongside the Bass Pro Shops and Cabela's Marketing Sponsorship Team. Qualifying is going on now, for details on how to earn a spot in the 2021 Bass Pro Shops and Cabela's NTC or to get your walleye club signed up. Visit walleyefederation.com, or call (580)765-903
###