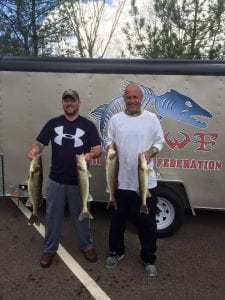 BERLIN CENTER, Ohio -The Ohio Walleye Federation held its second tournament of the 2016 season on Sunday May 1st at Berlin Lake. Thirty teams scoured the water from the main lake through the river looking for the bites that would win $4500 in prize money.
The team of Kevin Kalinowski of Akron, Ohio and Michael Porter of Stow, Ohio had five key bites that netted them 1st place with a big bag weighing 19.73 lbs, including big fish of the day at 5.85 lbs. Michael Porter stated "Our four biggest fish of the day were caught in the first 20 minutes of the tournament in a 30 yard stretch of shoreline willows. We knew this bite would not last long". In fact, the duo had to run between spots all day to fill their 5 bag limit, but their efforts earned them $2000 in prize money.
Second place honors were earned by Sam Capelli and Ted Jackson with 11.41 lbs. Third place went to Jeremiah James and Adam Momirov with a creel of 11.00 lbs. The teams of Jim Gwynn and Matt Whitacre 10.20 lbs. and Bret Berkey and Nate Arnold 9.23 lbs. rounded out the top five. The second big fish of the day belonged to Sam Capelli and Ted Jackson weighing in at 5.58 lbs.
Most anglers experienced a difficult week of prefishing due to the unstable weather and colder temperatures. Anglers were met with a mix of weather on tournament day as a northbound warm front brought light drizzle and overcast skies in the morning, followed by temperatures rising into the sunny 70 degree mark by midday. Teams searched for light biting fish and reported only maybe having several bites in a day. Fish caught in a spot the day before, were nowhere to be found the next day.
The top five teams reported catching their fish finesse jigging in 2 to 6 feet of water, targeting willows, brush and points near deeper water. 1/8 oz. and 1/4 oz. Northland's Fireball jigs tipped with crawlers won the day. Some teams reported catching fish on crankbaits. Select competitors jigged one spot all day hoping for two or three big bites. Only two teams had a five fish limit. Bites were not easy to come by, but top weights prove that Berlin is truly one of Ohio's finest inland lakes.
The Ohio Walleye Federation will hold its next event on Lake Milton May 22nd at Pointview Ramp. The OWF events are possible because of our sponsor support from Ravenna Marine, Vic's Marine, Haine's Marine, Worldwide Marine Insurance, Canyon Cooler, and Goschinski's Fin Feather and Fur along with many others. For more information please visit www.fishowf.club or e mail fishowf@gmail.com. Check us out on FACEBOOK- Ohio Walleye Federation.
The general public is welcome to attend our weigh-ins beginning at 3 pm the day of the event. The OWF promotes "Fishing, Family, Friends and Fun!"
Ohio Walleye Federation-Berlin Lake Tournament:
1st Place $1800 Kevin Kalinowski and Michael Porter
2nd Place $900 Sam Capelli and Ted Jackson
3rd Place $700 Jeremiah James and Adam Momirov
4th Place $500 Jim Gywnn and Matt Whitacre
5th Place $300 Bret Berkey and Nate Arnold
Big Fish $200 Kevin Kalinowski and Michael Porter
Raffle Prizes:
1. $25 Kames gift card
2. Ambassadeur Line Counter Reel
3. Reef Runner Box
4. 2 Mepp's Spinner Combos
5. Bay Rat Lure Box
6. Churches Mini Board with Mini Lock Jaw
7. 2 sets of Redneck weights
8. Fish USA T Shirts
Other:
$50 for 2nd Big Fish
$150 "Thank You for fishing" random draw prize for non money winners
Special Thanks to all of our sponsors:
Ravenna Marine-ILC Title Sponsor
Vic's Sports Center-Lake Erie Title Sponsor
Haine's Marine
Worldwide Marine
Fin, Feather & Fur
Cisco
Canyon Cooler
Reef Runner
Church's Tackle
Traxstech
Mepps
Fish USA
Redneck Outfitters
Rodmaker's Shop
BayRat Lures
RS Nets
Kames