Klepacki, Miller Win 14th Annual Cabela's National Team Championship
Junction City, Kansas—May 30, 2015—Illinois' Ed Klepacki and Jim Miller put together a three-day total weight of 43 pounds, 9 ounces to top the 185-team field battling on Kansas' Milford Lake in the 2015 Cabela's National Team Championship.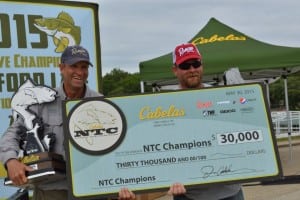 "This is incredible—it's the greatest feeling in the world!" said Klepacki, of Wonder Lake. "It's unbelievable," added Miller, of Angle Side, seconds after claiming the crown in an exciting finish that saw them weigh in last and slip past the hard charging second-place finishers, Nebraskans Scott Willis, of Shelton, and Ben Seim, of Kearney, who brought in 42 pounds, 7 ounces.
For their efforts, Klepacki and Miller collected $30,000 in cash plus a $68,000 Evinrude E-Tec powered 620 Ranger boat.
A three-day event held May 28-30, the Cabela's NTC is widely regarded as the pinnacle of grassroots walleye tournaments. It is comprised of two-person teams that qualified through competition in local tournaments organized by walleye clubs sanctioned by The Walleye Federation.
The full field competed on the first two days. Each team was allowed to bring their best five fish to the scale each day. Competition was intense, as only the top 25 teams would advance to the final round on day three.
Klepacki and Miller rode a crankbait trolling pattern to victory lane, but they didn't start out in pole position. On day one, they brought three fish weighing a total of 11 pounds, 10 ounces to the scale to land in a respectable 11th place. Though they trailed day one leaders Bill Kunze and Greg Belgum, both of Kearney, Nebraska, by more than 12 pounds, they remained optimistic and determined to finish strong.
"We were trolling an old railroad bed, keying mainly on an 8- to 12-foot ledge," Miller reported. "Our top baits were 2¾-inch Berkley Flicker Shads in Cabela's exclusive colors of Reverse Cougar and Chartreuse Growler," added Klepacki. While long-lining their baits behind the boat, the pair experimented with trolling speeds from 1.2 to 3 mph. Klepacki noted that slower speeds produced their biggest fish.
On day two, they tallied a monster 5-fish basket weighing 24 pounds, 2 ounces to rocket up the leaderboard, while Kunze and Belgum faltered with just one fish for 3 pounds, 3 ounces. "Everything fell into place," said Miller.
But there would be no coasting to victory, as a punishing weather system put their fish in a funk headed into day three. "It was tough," Miller added. Indeed, they put just two keepers in the livewell, and were doubtful their catch would be enough to take the crown.
"I honestly didn't think we had enough to win it," Klepacki confided. But when the scale settled a final time in front of a roaring crowd gathered at Milford Lake Marina, he and Miller's 7-pound, 13-ounce day three weight pushed them over the top.
In second place, Willis and Seim pocketed $12,500 in cash. They also brought home a brand-new Evinrude E-Tec powered 620 Ranger boat valued at $68,000 for finishing first in the Ranger Cup contingency program.
Rounding out the top five were:
3rd: Lorin Skipper and Justin Skipper, 33-15, $10,000 cash
4th: Bill Kunze and Greg Belgum, 29-15, $8,000 cash
5th: Jason Lemke and Scott Knouf, 29-12, $7,000 cash
Along with the two Evinrude E-Tec powered Ranger 620 boats valued at $136,000, the Cabela's NTC paid out $121,000 in cash to the top 50 teams, and $14,600 in Cabela's gift cards to the remainder of the field. In addition, the top 25 teams earned the title of "Cabela's All-Americans" and received commemorative rings marking their achievement.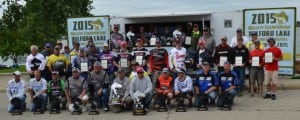 Another $1,000 in Cabela's gift cards were awarded for big fish and big basket honors. On day one, the $250 GEICO Big Basket Award went to Bill Kunze and Greg Belgum for their 23-pound, 15-ounce catch. Shane Sparby and Evan Schatz earned the day one $250 Evinrude Big Fish Award for their 7.14-pound walleye. On day two, Klepacki and Miller won the $250 Ranger Boats Big Basket Award for their 24-pound, 2-ounce limit, while Paul Horwath and Bill Chesslo collected the $250 Pepsi Big Fish Award for a 7.13-pound walleye.
A total of 432 walleyes weighing 1,319 pounds, 6 ounces crossed the scale during the catch-and-release format championship. Adding to the excitement, the event was streamed live on the internet at cabelas.com/ntc and was also filmed for national television, to air in early August on "Americana Outdoors" on NBC Sports, the Pursuit Channel and other regional networks. Exact dates and airtimes will be announced at walleyefederation.com.
A Kid's Fishing Clinic was held immediately following the day one weigh-in; youngsters got to meet NTC competitors and received free rod-and-reel combos courtesy of Cabela's and The Walleye Federation.
The 2015 Milford Lake event marked the 14th edition of the Cabela's NTC. Sponsors included Ranger Boats, Evinrude, Geico, Power-Pole and Pepsi. The Walleye Federation, based in Ponca City, Oklahoma, managed and produced the event, including the qualifying process. For details on this year's festivities or the 2016 championship, visit walleyefederation.com, or call (580) 765-9031
For final results CLICK HERE
For the photo galleries CLICK HERE
LIVE Video of each days weigh ins CLICK HERE