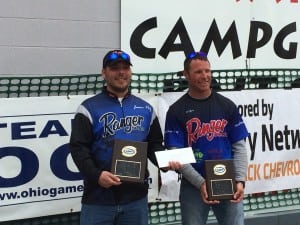 Better late than never at the Cabela's, Crown Battery, Sharpnack Direct, Lake Erie Walleye Trail (LEWT) season opener hosted by "Magee East" Marina and Campground.
After an unusually bitter winter that left thick ice across the western basin of Lake Erie until the end of March, the season opening LEWT event was postponed one week to April 12. "What a group of anglers we have" commented LEWT tournament Director Joe Yingling. "Even after having to reschedule, we still have a full field of 50 teams entered in this tournament."
When the LEWT anglers returned after a generally pleasant and sunny day on the lake, the team of Jason Pelz and Matt Clifton had brought home a giant bag of five fish weighing 46.44 pounds to take the win. Second place went to Gary Bowman and Paul Curmi with 44.01 pounds, Randy Eyre and Corey Miller took the third spot with 43.32 pounds.
The first place Big Fish cash award also went to Pelz and Clifton for landing a 13.17 pound beast. The team of Jeff Graves and Todd Rainigh took second place with a 12.11 pound walleye.
LEWT sponsor Medina Plating once again has sponsored our Early Bird award that goes to the top finishing team that entered all four events before the Early Bird deadline. Pelz and Clifton continued their sweep of the top awards by winning the $150 prize.
Long time LEWT supporter Sharpnack Direct offers a cash prize to the highest finishing LEWT angler who owns a vehicle purchased from Sharpnack. Randy Eyre won the $150 cash award.
Team #24, James Moes and David Gahn took home the $100 cash for the Don "Ole Pete" Peterson Memorial Award.
The top finishers reported that they were slow trolling crankbaits in the southern area of the reef complex. A total of 216 walleye were brought to the scales by 48 teams, with the average weight being 7.40 pounds.
Big thanks to Eric Hirzel, Ted Thomas and their friendly staff at "Magee East" for being a fantastic host. They had a huge job to do in a short period of time to get the docks set and prepare the marina for the tournament. They opened up early on tournament morning and had coffee, donuts, and breakfast sandwiches available to our teams.
The remaining 2013 LEWT schedule is as follows:
May 3 – Lakeside – Lakevue Marina "Waldo Peppers LEWT"
May 17 – Sandusky – City Ramp "Hi-Way Bait, Tackle and Lodging LEWT"
June 7&8 –Huron- City Ramp – "Erie Outfitters LEWT Championship"
The WBSA is a social based club for anglers that fish in the Western and Central Basins of Lake Erie and its tributaries. Membership is open to anyone interested in fishing, no matter their location or skill level. Our goal is to present information in a manner that will help sustain and improve fishing in one of the greatest inland sport fisheries in the world. Scientific information, fishing techniques, locations and presentations are presented at our meetings by expert and knowledgeable speakers and tournament anglers from our group. These anglers are very open
with techniques, and will help any member that is trying to learn new methods.
For more information about the LEWT please visit www.wbsa.us
Please support our 2013 LEWT sponsors: Cabela's, Crown Battery Systems, Sharpnack Direct in Willard, Medina Plating, Waldo Peppers Restaurant, Smooth Moves, Worldwide Marine Underwriters, Reef Runner Lures, Vic's Sports Center, Erie Outfitters, Navionics, Rednek Outfitters, Hi-Way Bait Tackle and Lodging,