The Nebraska Walleye Association held its last qualifying tournament and state championship of the 2014 season at Merritt Reservoir near Valentine Nebraska on July 26 and 27.  The tournament was held in conjunction with the The Bass Federation's high school state championship on Saturday June 26.  Rules meeting for the event were held at Beed's Landing on Friday night June 25.  The rules meeting for this weekend included a fish fry, sides and cold beverages for all the participants provided for by the NWA tournament division.
27 teams participated at the tournament on Saturday June 26.  The weather was very stable and the bite for the entire field was very good.  The 1st place team on Saturday was Green and Anderson with a weight of 25.73 lbs, 2nd place went to the father/son team of Hankla's with a weight of 23.53 lbs. and rounding out the top three were the team of Smutny/Smutny with 23 lbs.  Congratulations to these top teams.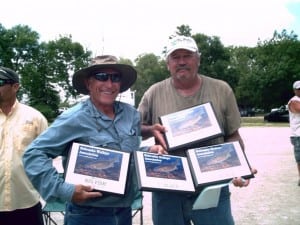 Saturday was the last qualifying points tournament for the NWA.  This year's Top Gun winners were the team of Brandon Shada and Jason Hettler.  Jason and Brandon had a fantastic year and barely beat out the father son team of Rick Smutny and Dalton Smutny.  Congratulations, goes out to these fine men.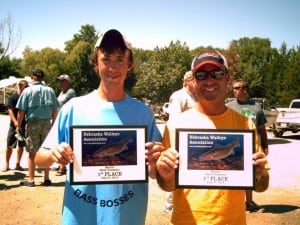 The second day of the tournament was the NWA's state championship.   Sunday brought cooler conditions and a slower bite.  The top team on Sunday was the father son team of Rowland/Rowland, who participated in the bass tournament on Saturday.  2nd place honors went to Chad Warriner and Lane Werner.  Round out the top team were the team of Hankla and Hankla.  Congratulations, goes out to these fine teams.
The first tournament for the 2015 season for the NWA will be held October 5, 2014 at Harlan Reservoir.  Saturday, October 4, at The Beach Bar and Grill will be the rules meeting.
The NWA had a very fun year fishing around the state and nation together but we did have some serious bump in the road.  Two very good friends of the NWA lost their lives this year.  Big prayer for Rick Hesse and Austin Olivier as you both will be missed but never forgotten.  God Bless you two.