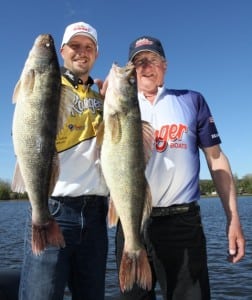 JANUARY 13, 2012—Minnetonka, MN—After a dream season on the Cabela's Masters Walleye Circuit in 2011, the trail's reigning Team of the Year is gearing up for more great tournament action in the months ahead.
"Last year was great, and we're excited about the 2012 season," said Jim Preissner, of Chilton, Wisconsin. He and partner Mike Olson, of Andover, Minnesota, claimed the coveted Cabela's MWC 2011 Team of the Year title with 400.39 points after stellar finishes at the Mississippi River, Illinois River, Lake Erie and Detroit River tournaments.
"It was an exiting year," added Olson. "Winning team of the year was one of the goals we set at the beginning of the season, and achieving it was awesome—especially with all of the great competition on the MWC."
The pair fished a total of six events, including stops at Michigan's St. Mary's River and Big and Little Bays de Noc. Preissner says he enjoyed the challenge of figuring out the bite on so many different systems, and advises anyone wanting to up their walleye game to give the MWC a try in 2012. "This is a fantastic circuit," he grinned. "It's the place to fish if you want to test your skills, compete for great payouts—and have a lot of fun in the process. Mike and I are looking forward to making a run at consecutive titles!"
Preissner and Olson earned $13,000 in cash plus a pair of 14 k gold rings for winning the Team of the Year title, which is awarded to the team accumulating the most points from four tournaments. They also won more than $12,000 at the qualifiers and in divisional races, for a season total topping $25,000 in winnings—plus a free entry into the 2012 Cabela's MWC World Walleye Championship, where they have a shot at a $25,000 first-place paycheck.
Registration opened Jan. 9 for the Cabela's MWC's 2012 season. Two-person teams are signing up to enjoy great walleye fishing while competing for thousands in cash and prizes on world-class walleye destinations from Colorado to Ohio.
The 2012 Cabela's MWC qualifying schedule is as follows:
March 24-25, Illinois River at Spring Valley, Illinois
April 13-15, Detroit River at Trenton, Michigan
April 27-29, Pueblo Reservoir at Pueblo, Colorado
May 18-20, Lake Erie at Huron, Ohio
May 31-June 1, Mille Lacs Lake at Isle, Minnesota (held in conjunction with first two days of Cabela's National Team Championship, which concludes June 2)
June 29-July 1, Lake Winnebago at Oshkosh, Wisconsin
July 27-29, Lake Oahe, South Dakota
Aug. 24-26, St. Mary's River at Sault Ste. Marie, Michigan
Sept 14-16, Cass Lake Minnesota at Stony Point Resort
In 2011, the Cabela's MWC paid out 120 percent of entry fees in cash and prizes. More than $1 million in payouts are up for grabs in 2012. First place at qualifying tournaments pays $30,000 (based on full field). Plus, sponsor contingencies add thousands more at each tournament.
In addition, teams that fish at least three events are in the running for free berths in the Cabela's MWC World Walleye Championship. The top 45 point-accumulating teams from the 2012 season will be invited to the no-entry-fee, $100,000 2013 World Walleye Championship at Bays de Noc, Michigan, which carries a $25,000 first-place check.
Teams that fish four qualifying tournaments also compete for the coveted crowns of MWC Team of the Year. As a result of the MWC eliminating divisions—to give anglers more options in choosing tournaments—even more cash will be available in the 2012 TOTY pot. Overall winners will take home a minimum of $13,500 and the top 10 teams are expected to collect a total of more than $40,000.
Teams that sign up for three or more tournaments before noon (CST) on February 15 enjoy added perks. Considered "Premier Teams," these earlybird entries have great odds of making the Championship, as Premiers are allotted 25 of the 45 total points-based berths (and are eligible for all 45). Premiers are also allowed to use convenient installment billing options, enjoy priority entry in all events, and qualify for the Okuma Premier Contingency, which awards $1,000 in great Okuma tackle packages at each qualifier.
New this season, all Cabela's MWC anglers are eligible to compete for the MWC Recruitment Bonus, which awards a free 2013 tournament entry to the angler credited for bringing the most new teams to each 2012 qualifier. The entry (a full team fee) will be good for any of the Cabela's MWC qualifiers in the 2013 season.
Single-tournament entries—which cost $650 per event—are accepted until midnight (CST) on Sunday the week of each event, although anglers are encouraged to register early to avoid being locked out of a full tournament.
Teams may register by mail, fax, or online. Complete 2012 rules are posted under the "Registration" tab at masterswalleyecircuit.com. Full details, links for online registration and printable registration forms are located there as well. For more information, call toll-free (877) 893-7947 or email: events@masterswalleyecircuit.com.
Cabela's, the World's Foremost Outfitter for hunting, fishing and outdoor gear, is looking forward to its 11th season as title sponsor of the MWC. Official sponsors include: Berkley Gulp!, Ranger Boats, Mercury Marine, MotorGuide, Lowrance, NBC Sports Television Network and the North American Fishing Club. Associate Sponsors include: Berkley Trilene, Okuma, O2 Marine Technologies, Reflections, Worldwide Marine Insurance, The Walleye Federation and RPM Outdoor Sports.