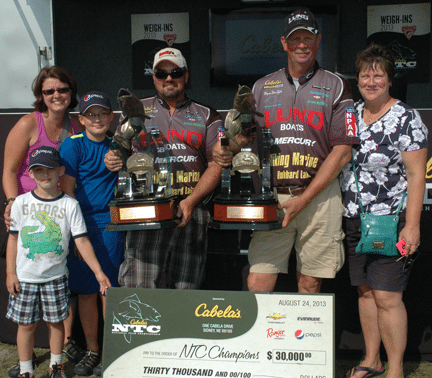 For Immediate Release –
Sault Ste. Marie, Mich.—August 26, 2013—Michigan's Wayne Van Dyke and Erich Carlson survived a comeback attempt by fellow Wolverines Dennis Lantzy and Steve VandeMark to win the Cabela's National Team Championship walleye tournament in front of a large crowd gathered along the St. Marys River at William Gregory Park Aug. 24.
"It was an emotional rollercoaster," said Van Dyke, of Spruce. After amassing a cushion of more than eight pounds on the first two days of the three-day event, held Aug. 22-24, they faltered on the final day, while Lantzy and VandeMark pressed hard on their heels. As walleye fans watched in person and around the world online, the battle for the grassroots national crown turned to a nail-biter.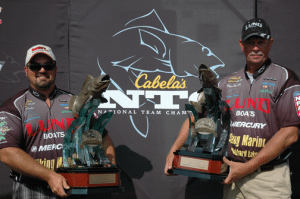 During the first two days of competition, 190 two-person teams from across the United States and Canada battled to make the cut, as only the top 25 teams would move to Day 3. The teams had qualified for NTC bids through competition in local tournaments organized by sanctioned walleye clubs across North America. Van Dyke and Carlson brought a pair of five-fish limits weighing a total of 60 pounds, 2 ounces to the Cabela's NTC scale to lead the event both days, while Lantzy and VandeMark weighed 10 fish for 51 pounds, 13 ounces.
A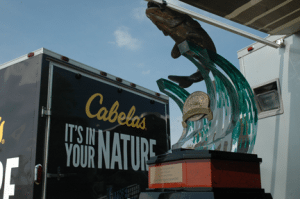 s the remaining 25 teams left the marina on Saturday morning, Van Dyke and Carlson traveled 50 miles downriver. "We were trolling spinner rigs with nightcrawlers and Berkley Gulp. Crawlers over rocky structure rising up to 15 feet from deep water," said Carlson. "The humps had been great the first two days, but on the last day we struggled. We could feel the title slipping away."
After a challenging day on the water, they raced for the check-in area and waited as the other teams weighed their catches. "We had our doubts," said Van Dyke. But when the final basket was tallied, their Day 3 limit of 19 pounds, 3 ounces was enough to maintain the lead and score a win with a total of 79 pounds, 5 ounces.
Lantzy and VandeMark finished second, six ounces behind, with 78 pounds, 15 ounces.
Van Dyke and Carlson claimed the $30,000 first-place cash prize, along with a $60,000 Evinrude E-Tec powered 620 Ranger boat and $5,000 Cabela's gift card through the Cabela's Angler Cash program.
In all, the Cabela's NTC paid out $121,000 in cash to the top 50 teams, $14,600 in Cabela's gift cards to the remainder of the field, and $1,000 in Cabela's gift cards for Day 1 big fish presented by Evinrude E-TEC, Day 1 big basket presented by Chevrolet, Day 2 big fish presented by Pepsi and Day 2 big basket by Ranger Boats awards. Plus, the Ranger Cup contingency winner won a second fully-rigged Ranger 620 worth $60,000. In addition, the top 25 teams earned the title of "Cabela's All-
Americans" and will receive commemorative rings marking their achievement.
The first two days of the Cabela's NTC were held in conjunction with a Cabela's Masters Walleye Circuit qualifier, which pitted 114 teams against each other for a payout topping $65,000. Van Dyke and Carlson also took top honors in that event. Their Cabela's MWC payday included the $14,800 first-place cash purse, plus a $1,000 Cabela's National Team Championship Prize Package featuring a paid NTC entry, travel stipend, team jerseys and plaques. They also won a $1,000 Cabela's gift card from the Cabela's Angler Cash Program, $500 Berkley Tackle Package, $500 Lowrance Electronics award for being the highest-finishing team using a Lowrance HDS Gen2, HDS Gen2 Touch or Elite-7 unit, and $1,100 from the Big Fish Pot for total winnings of $18,900 in cash and prizes.
A total of 846 fish weighing 2,309 pounds, 13 ounces crossed the stage during the three-day Cabela's NTC event, of which 95 percent were released alive back into the St. Marys system. Big fish of the tournament was a 9-pounder caught by Larry and Donna Pachulski of Newaygo, Mich.
Weigh-ins were held riverside at William Gregory Park in Sault Ste. Marie. The Cabela's MWC, National Professional Anglers Association, Pure Fishing and Zippo Outdoor Brands presented a Youth & Family Fishing Clinic immediately after the first day's weigh-in. The first 50 youths received rod-and-reel combos courtesy of the NPAA. The event also was filmed for airing on national television on the NBC Sports Network.
This marked the 12th season that Cabela's, the World's Foremost Outfitter for hunting, fishing and outdoor gear, has conducted the NTC, and the sixth time that the Cabela's NTC and Cabela's MWC have joined forces to host two tournaments in one. Cabela's NTC sponsors include Cabela's, Ranger Boats, Chevrolet, Evinrude and Pepsi. The Walleye Federation, based in Ponca City, Oklahoma, manages and produces the event. Beginning with the 2014 qualifying process, the only way to gain a Cabela's NTC bid is through TWF. For details, visit walleyefederation.com, or call (580) 765-9031.