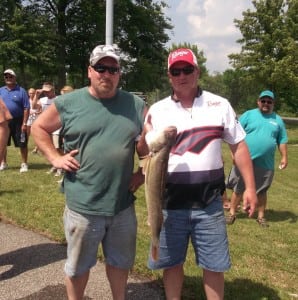 Coming off of a second place finish at the Walleye Madness Tournaments season opener, the father and son team of Erick Williams and his 8 year old son David Williams, pulled a double take in their second tournament together. Not only did the team capture first place in the Lake Milton event held on June 23rd, their 14.05 # five fish limit also earned them their second Lund Boats contingency bonus of the season for being the highest placing team fishing out of a Lund boat.
Second place went to the team of Nathan Arnold and Michael Porter with 13.90 #. They were also the highest placing team in the Cabela's National Team Championship side pot, earning a paid entry and bonuses to the 2014 championship event to be held in Green Bay, WI. The team also captured the Mercury Marine contingency bonus as the highest finishing team using a Mercury outboard.
Third place went to Don and Cheryl Weaver with 12.85 # and 4th place was captured by the team of Rico Mixon and Marina Leydiker with 11.70 #. The events big fish, an 8.35 # Lake Milton trophy walleye, was caught by the team of Andy Birge and Rodney Hartwell.
The top two team's trolled shad style crankbaits on planer boards targeting suspended walleye. The third and fourth place finishers relied on trolling spinner harnesses and were also targeting suspended walleyes. The events big fish was caught using the same method.
Next up on the Walleye Madness Tournaments schedule is their July 20th event on Lake Erie out of Geneva, OH. For more information on Walleye Madness Tournaments visit www.walleyemadness.net or contact the tournament series director, John Csizmadia at 330-881-0994.
John Csizmadia is a north east Ohio based tournament walleye angler. He actively promotes the sport of fishing, organizations related to and that support the outdoors experience, and youth involvement in fishing and the outdoors. For more information please visit www.jcfishing.com, e-mail john@jcfishing.com or call 330-881-0994.