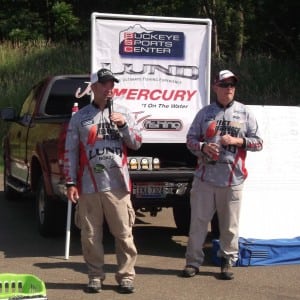 Coming off of a 5th place finish at the Walleye Madness Tournaments Lake Erie – Huron event in May, the team of Scott Geitgey and Jay Gullet, captured a first place finish at the WMT Lake Erie – Geneva, OH tournament held on July 21st.  Their 40.30 # five fish limit also earned them the Mercury Marine contingency bonus for being the highest placing team using a Mercury outboard.
Second place went to the husband and wife team of Mitch and Donna Shipman. With a total weight of 39.70 #, the team just missed capturing their second 1st place finish together to follow up on a win they had during the 2012 WMT season.
Third place went to Kevin Hays and Steve Puruczky with 37.90 #. Fourth place was captured by the father and son team of Travis and David Hartman. Their 37.21# bag netted them the Lund Boats contingency bonus as the highest placing team using a Lund boat. Rounding out the top five was the team of Brett Berkey and Todd Johnson who earned 5th place with 36.95#. The Buckeye Sports Center Big Fish Bonus went to the team of Ken Lynce and Ron Schiavoni with a solid 9.90# Lake Erie walleye.
Due to a small craft advisory the event was pushed back a day, creating a tricky bite.  All big water tactics and programs were in play and the top five teams caught their fish using a variety of methods. The key factor for success during the event was being mobile and matching the presentation to the depths of the suspended fish in various locations and finding the active fish throughout the day.
Walleye Madness Tournaments are operated the Walleye Federation club Walleye Team Six (WT6). For more information on Walleye Madness Tournaments visit www.walleyemadness.net or contact the tournament series director, John Csizmadia at 330-881-0994.
| | | | | | |
| --- | --- | --- | --- | --- | --- |
| Team | | # Fish | Big Fish | Total | Place |
| Geitgey | Gullet | 5 | | 40.30 | 1st |
| Shipman | Shipman | 5 | | 39.70 | 2nd |
| Hays | Puruczky | 5 | | 37.90 | 3rd |
| Hartman | Hartman | 5 | | 37.21 | 4th |
| Berkey | Johnson | 5 | | 36.95 | 5th |
| Bentz | Cueni | 5 | | 36.55 | 6th |
| Cappelli | Jackson | 5 | | 36.45 | 7th |
| Honaker | Kalinowski | 5 | | 34.80 | 8th |
| Murphy | Snow | 5 | | 32.40 | 9th |
| Lary | McKenna | 5 | | 32.05 | 10th |
| Lynce | Sciavoni | 5 | 9.90 | 31.65 | 11th |
| Kopf | Riggs | 5 | | 31.20 | 12th |
| Rhodes | Robinson | 5 | | 30.90 | 13th |
| Kerr | Robinson | 5 | | 30.45 | 14th |
| Morrison | Romano | 5 | | 30.35 | 15th |
| Allshouse | Getto | 5 | | 30.20 | 16th |
| Mixon | Leydiker | 5 | | 29.45 | 17th |
| Dean | Metzgar | 5 | | 28.20 | 18th |
| Zoller | Depinet | 5 | | 27.60 | 19th |
| Birge | Hartwell | 5 | | 25.00 | 20th |
| Beal | Weir | 0 | | 0.00 | 20th |
| Cline | Akerman | 0 | | 0.00 | 20th |
| Kiser | Mooney | 0 | | 0.00 | 20th |
| Masiello | Smith | 0 | | 0.00 | 20th |
| Ritchie | Robertson | 0 | | 0.00 | 20th |