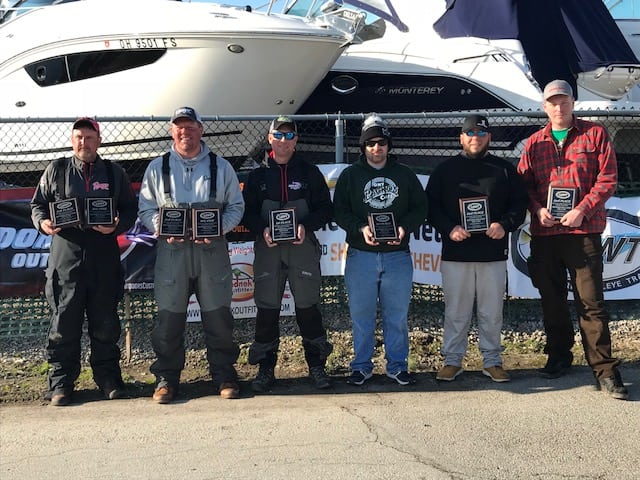 The last weekend of April brought more cold temperatures and wind for the Crown Battery, Sharpnack Direct, Lake Erie Walleye Trail (LEWT) season opener hosted by Hi-Way Bait, Tackle and Lodging.
The sold-out field of 60 teams departed from West Harbor under cloudy skies and 12-15 mph NW winds "It seems like we have a cold front every Friday night before an event, but fortunately this front is mild enough to allow us to still go fishing" said LEWT Tournament Director Jeff Lash. "I am expecting some good weights to come in today".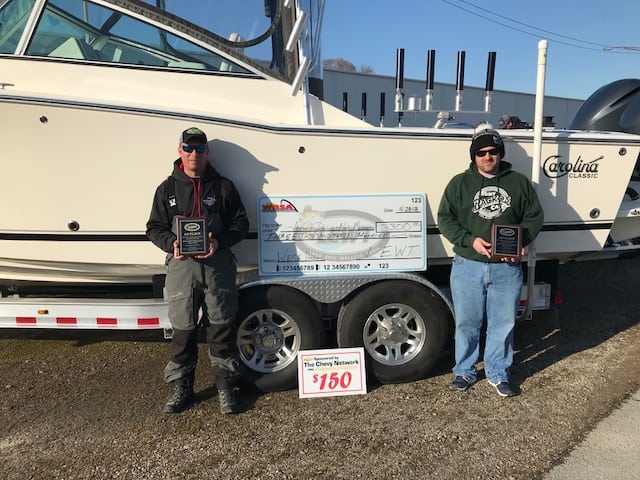 At the end of the day, the big bags came in, and the team of Jerome Dorlack of Northville MI, and Nick Meisner of Swanton OH, used Reef Runner lures for the win, collecting $3300 with five walleye weighing in at 35.03 pounds.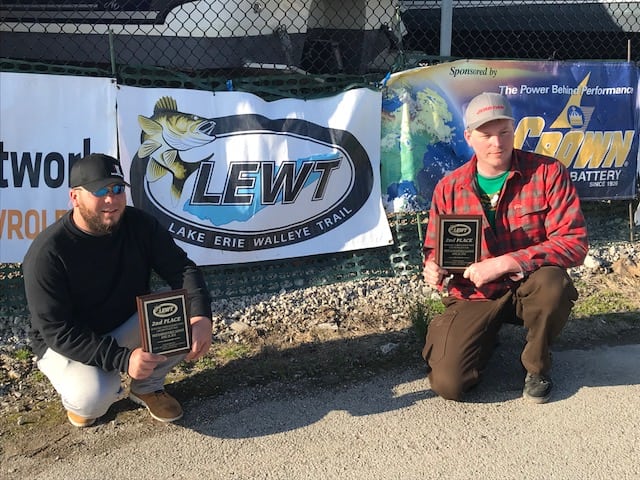 Second place and $1760 went to Dan Debenedictis of Montville OH, and Eric Fraiser of Newbury OH, with five fish at 30.97 pounds. Bob Barnhart of Perrysburg OH, and Erik Vandenk of Luckey OH, grabbed the third spot worth $1350 with five fish weighing in at 27.40 pounds.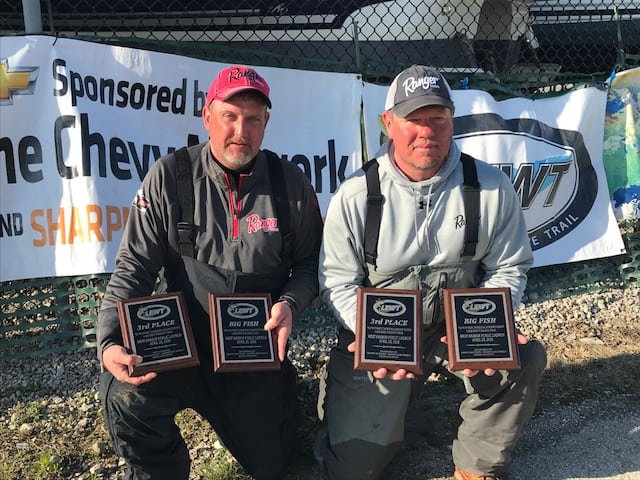 The first place Big Fish plaques and $612 went to third place finishers Bob Barnhart and Erik Vandenk for landing the largest fish of the tournament at 9.88 pounds. First place finishers Jerome Dorlack and Nick Meisner had the second largest walleye of the day weighing in at 8.46 pounds, worth $408.
Long time LEWT supporter Sharpnack Direct in Willard Ohio offers a cash prize to the highest finishing LEWT angler at each event who owns a used or new vehicle purchased from Sharpnack. Dan Langdon of Sandusky OH, won the $150 cash award.
Medina Plating sponsors our Early Bird contingency that goes to the top finishing team that entered all four events before the Early Bird deadline. Jerome Dorlack and Nick Meisner added this $150 prize for a total take on the day of $3858!
Big thank you to Dwight Ritchie from Hi-Way Bait, Tackle and Lodging for hosting our event, and Catawba Island Township for allowing us to use their West Harbor facility.
Most of the LEWT anglers donated their walleye catch, which will be cleaned by Lake Fish in Sandusky. These filets are donated to the Victory Temple Soup Kitchen in Sandusky who uses this resource to feed people in our community who need assistance.
The remaining 2018 LEWT schedule is as follows: May 19 – Sandusky – City Ramp "Ole Pete Memorial LEWT" June 8/9 –Huron- City Ramp – "Erie Outfitters LEWT Championship"
The Western Basin Sportfishing Association (WBSA) is a social based club for anglers that fish in the Western and Central Basins of Lake Erie and its tributaries. The WBSA operates the popular LEWT tournament series on Lake Erie. Membership is open to anyone interested in fishing, no matter their location or skill level. Our goal is to present information in a manner that will help sustain and improve fishing in one of the greatest inland sport fisheries in the world. Scientific information, fishing techniques, locations and presentations are presented at our meetings by expert and knowledgeable speakers and tournament anglers from our group. These anglers are very open with techniques, and will help any member that is trying to learn new methods.
For a complete list of the tournament results, or for more information about the LEWT please visit www.wbsa.us You can also find us on Facebook at https://www.facebook.com/wbsalewt
Please support our 2018 LEWT sponsors, without whom we could not operate the circuit. Crown Battery Systems, Sharpnack Direct in Willard, Medina Plating, Magee East Campground and Marina, Ranger Boats, Waldo Peppers Restaurant, Smooth Moves, Worldwide Marine Underwriters, Reef Runner Lures, Vic's Sports Center, Erie Outfitters, Rednek Outfitters, Hi-Way Bait Tackle and Lodging, and Domka Outdoor.