With the ice nearly gone on local inland lakes and still 60-70% of ice cover on, Ohio's big Fish Producer, Lake Erie, the 2015 Tournament Season has been on the minds of Northeast Ohio walleye anglers. Walleye Madness Tournaments title sponsor Buckeye Sports Center had a solution to the winter blues, their annual Open House inviting all anglers and boat enthusiasts to come and enjoy the weekend long event. Professional walleye anglers were in attendance sharing their knowledge holding seminars along with GPS/Sonar education classes.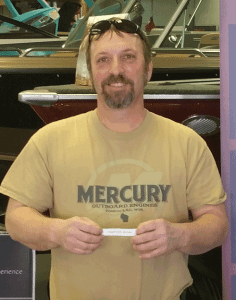 The Walleye Madness Team was on site registering teams for the upcoming tournament season. Walleye Madness Tournaments and their officially sanctioned Walleye Federation club – WT6, drew for one lucky WT6 member and their partner to win a paid entry to the 2015 WMT tournament of their choice. Michael Robertson just happened to be in attendance when his name was drawn. Mike was ecstatic when hearing his name "I'm champing at the bit to get on the water" says Michael, "I'm looking forward to another exciting year."
WT6 is the officially sanctioned Walleye Federation club for Walleye Madness Tournaments (WMT). The Walleye Federation is the exclusive national organization for Cabela's National Team Championship qualifying. All official Walleye Madness Tournaments/WT6 events are the exclusive property of WMT/WT6 and their sponsors.
Official events are published at www.walleyemadness.net
Adam Momirov
President: WT6 – Assistant Director: Walleye Madness Tournaments
(330) 904-6446
info@walleyemadness.net
www.walleyemadness.net