Presented by Berkley Gulp!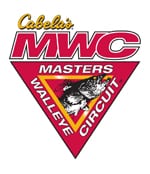 For Immediate Release –
Ponca City, Okla.—February 12, 2013—The Cabela's Masters Walleye Circuit qualifying tournament set for legendary Devils Lake, North Dakota, offers anglers an exciting new "artificial-only" twist to the trail's proven team format—along with extra cash incentives.
Set for August 2-4, the tournament features two days of competition, with a third day reserved in case of bad weather. And thanks to a partnership between the Circuit and Berkley Gulp!, anglers will enjoy testing their walleye fishing skills in a special artificial-baits-only format, while competing for increased cash prizes.
In a departure from walleye tournament norms, no natural, live or prepared baits—including minnows, leeches or nightcrawlers—will be allowed for the tournament. Only man-made baits will be fair game, including soft plastics, Berkley Gulp!-type products, crankbaits, spinners and other artificial presentations. Wildly popular on the bass tournament scene, the artificial-only approach promises to raise the bar in excitement during the Devils Lake walleye competition.
Thanks to its booming walleye fishery and abundance of presentational options, Pure Fishing field marketing manager Cody Roswick believes Devils Lake is the perfect proving ground for an artificial-only walleye tournament. "I'm very excited about this event," Roswick says. "This is a major step forward for competitive walleye fishing, and we're willing to add cash to the prizes to support it. Tournament anglers will likely catch as many walleyes as they would have with natural baits, and be pleasantly surprised by the size of the fish as well."
Based on 100 teams, the tournament will pay out $52,000 plus sponsor bonuses including Cabela's Angler Cash and Ranger Cup. Plus, presenting sponsor Berkley Gulp! is contributing an extra $3,000 in cash to the pot, boosting the payout to $55,000 plus contingencies. As an added incentive, the first-place team wins a $1,000 Cabela's National Team Championship Prize Package including paid NTC entry, travel stipend, team jerseys and plaques.
Based in Ponca City, Oklahoma, the Cabela's MWC is open to two-person teams regardless of club or sponsor affiliation. Entry fees are $650 per tournament, of which more than 100 percent is returned to anglers at the qualifiers, World Championship and Team of the Year races. Registration remains open through the Sunday night prior to each tournament. For more information, visit masterswalleyecircuit.com, email info@masterswalleyecircuit.com, or call (580) 765-9031.