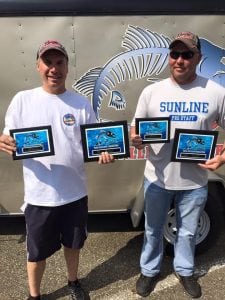 MILTON TOWNSHIP, Ohio – The Ohio Walleye Federation held its third tournament of the 2016 season on Sunday, May 22 at Lake Milton located in Mahoning County, just west of Youngstown, Ohio.  Twenty seven teams searched the 1600 acre scenic lake shoreline looking for the big bag of walleye that would earn them a share of the $4,300 in prize money.
The team of Paul Kerr of Lowellville, Ohio and Brian Davies of North Canton, Ohio found just that.  The duo earned 1st place weighing in 5 fish at 12.19 lbs., including big fish of the day at 5.12 lbs.  Brian Davies stated that "Our fish were caught pitching jigs down steep banks. We were sitting in 10-13 feet of water, with our bites coming at the 6-7 foot range.   Our biggest fish was caught around a laid down tree; we thought it was snag," but it in fact was a 25" walleye.   Their jigging efforts earned them $1900 in prize money.
Second place honors were earned by Anthony Naples and Christopher Durkin with 12.12 lbs.  Third place went to John Rubesich and Patrick Hovance with a creel of 10.26 lbs.  The team of Mike Landsberger 10.07 lbs. and family team of Amanda and Joe Yackmack 8.89 lbs. completed the top five.  The second big fish of the day belonged to Mike Landsberger weighing in at 3.20 lbs.
Mother Nature once again kept anglers off balance by providing a Saturday cold front that dropped temperatures from 72 degrees on Friday to 54 degrees on Saturday with a cold, light all day drizzle. Tournament day greeted anglers with overcast skies turning into sunny and warm 70 degree temperatures.  Most teams reported catching a lot of undersize walleye during pre-fishing.  The shallow water jig bite was rumored to be the ticket as water temperatures hovered at 62 degrees.
The top five teams reported catching their fish either jigging or trolling the south end of the lake.  The top two teams caught their jig fish using 1/16 oz. custom made Samantha's jigs.  Green and chartreuse jigs won the honor; jigs were tipped with crawlers.    Hovance and Rubesich trolled an 8-10 foot flat using AC Shiners at 2.1 mph.  Mike Landsberger trolled the same area and targeted 2.1 mph as well, but used Firetiger Rapala Shad Raps.  Joe and Amanda Yackmack jigged up their fish.  "Dad wanted to troll and I wanted to jig" Amanda Yackmack proudly proclaimed, and jigging won the day!
The Ohio Walleye Federation will hold its 2 day Championship on Pymatuning Lake June 11th and 12th at New Bowers Launch.    The OWF events are possible because of our sponsor support from Ravenna Marine, Vic's Marine, Haine's Marine, Worldwide Marine Insurance, Canyon Cooler, and Goschinski's Fin Feather and Fur along with many others.  For more information please visit www.fishowf.club or e mail fishowf@gmail.com.  Check us out on FACEBOOK- Ohio Walleye Federation.
The general public is welcome to attend our weigh-ins beginning at 3 pm the day of the event.  The OWF promotes "Fishing, Family, Friends and Fun!"
Ohio Walleye Federation-Berlin Lake Tournament:
1st  Place $1700  Brian Davies and Paul Kerr                           12.19 lbs
2nd Place $850    Anthony Naples and Chris Durkin             12.12 lbs
3rd Place $650     John Rubesich and Patrick Hovance         10.26 lbs
4th Place $450     Mike Landsberger                                           10.07 lbs
5th Place $350     Amanda Yackmack and Joe Yackmack        8.89 lbs
Big Fish  $200      Brian Davies and Paul Kerr                              5.12 lbs
Raffle Prizes:
$25 Fish USA gift card
$20 Goschinski's Fin, Feather and Fur gift card
Snakebite snap weights system box
Reef Runner Box
2 Mepp's Spinner Combos
Bay Rat Lure Box
Church's TX-22 with tournament series upgrade kit
2 sets of Redneck weights
Fish USA T Shirts
Other:
$50 for 2nd Big Fish
$150 "Thank You for fishing" random draw prize for non money winners
$100 "Big Cat Bounty" picture only
Special Thanks to all of our sponsors:
Ravenna Marine-ILC Title Sponsor
Vic's Sports Center-Lake Erie Title Sponsor
Haine's Marine
Worldwide Marine
Fin, Feather & Fur
Cisco
Canyon Cooler
Reef Runner
Church's Tackle
Traxstech
Mepps
Fish USA
Redneck Outfitters
Rodmaker's Shop
BayRat Lures
RS Nets
Kames