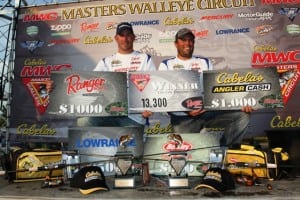 –Presented by Ranger Boats
SEPTEMBER 15, 2012—CASS LAKE,MN—The Pierre, South Dakota, team of Travor Diegel and Paul Steffen weighed in 32.88 pounds to win top honors and $13,300 in cash at the Cabela's Masters Walleye Circuit's Cass Lake tournament.
They brought in a Cabela's MWC 10-fish limit to top the field of 82 two-person teams competing in the two-day event. The win earned them the $13,300 first-place cash purse, plus $1,000 from the Ranger Cup Program, a $1,000 Cabela's gift card from the Cabela's Angler Cash program, $500 Lowrance HDS Bonus, $500 in Berkley products for being the highest-finishing team using Berkley Baits, a pair of Okuma Dead Eye rod-and-reel combos worth $350, and U2 Bonus worth $60 in U2 product. Big fish on Day Two added $770 in cash, pushing their total to more than $17,400 in winnings.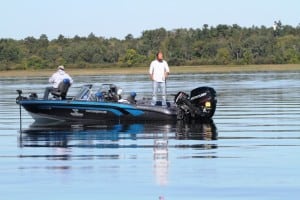 A stellar achievement in itself, their victory was even more special because a year ago, they won the Cabela's MWC qualifier on the Cass Lake Chain. "Winning two in a row here, against the phenomenal local anglers and traveling teams in the field, is incredible," Steffen grinned moments after topping the field of 164 anglers from 15 states in a wild, come-from-behind win in front of a great crowd gathered at scenic Stony Point Resort.
"It's a great feeling," added Diegel. He explained the team targeted breaklines on the main lake and inPikeBaywith a variety of tactics, including trolling Berkley Flicker Shads on snap weights, crawler harnesses, and vertical jigging.
"We owe a lot to our Lowrance DownScan sonar system," he added. "With two hours to go on Day Two, we were about to leave a spot when it showed us four fish along a break in 40 feet of water, where regular sonar wouldn't mark them. We caught two of the fish, and they ended up being our biggest of the day."
The second-place team, Minnesotans Mark Christianson, of Walker, and Harold Lueck, of LaPorte, took home $6,100 for their weight of 32.51 pounds, plus $770 from the Big Fish Pot for their 8.82-pounder on Day One, which turned out to be the biggest fish of the tournament. In third, Don Olson, ofAndover,Minnesota, and Randy Caroll, ofOswego,Illinois, weighed in 30.28 pounds, good for $3,900 plus the $100 Oxygenator Bonus and a pair of Okuma Dead Eye rod-and-reel combos worth $350. In all, the top 16 teams shared more than $42,650 in cash, plus sponsor bonuses and over $3,000 in additional Big Fish Pot winnings.
Held Sept. 14-16, the event offered two full days of competition on Friday and Saturday, with Sunday reserved in case foul weather prevented teams from fishing either of the first two days. Teams were allowed to bring their best five walleyes to the Cabela's MWC scale each day in the catch-and-release format, which penalized teams presenting non-releasable fish for weigh-in.
The Cabela's MWC donated $15 per boat, for a total of $1,230, to the Bemidji State Bass Club for its efforts to promote fisheries conservation and protect sport fishing. In exchange, the club's volunteers assisted with tournament operations. Since 1992, the MWC Conservation Fund has donated more than $300,000 to such projects.
Weigh-ins were held at Stony Point Resort, and were hosted by the resort, Cass Lake Chamber of Commerce, and the Palace Hotel and Casino. The Cabela's MWC, National Professional Anglers Association, Pure Fishing and Zippo Outdoor Brands presented a Youth & Family Fishing Clinic immediately after the Day One weigh-in, giving away free rod and reel combos, and a Zippo Outdoor Family Camping Pack valued at more than $100.
This was the ninth and final qualifier of the Cabela's MWC's 2012 season. Open to diehard anglers regardless of club or sponsor affiliation, the schedule included the Illinois River at Spring Valley, Illinois, March 24-25; the Detroit River at Trenton, Michigan, April 13-15; Lake Pueblo at Pueblo, Colorado, April 27-29; Lake Erie at Huron, Ohio, May 18-20; Mille Lacs Lake at Isle, Minnesota, May 31-June 1; Lake Winnebago at Oshkosh, Wisconsin, June 29-July 1; Lake Oahe at Pierre, South Dakota, July 28-29; the St. Mary's River at Sault Ste. Marie, Michigan, August 24-26; and Cass Lake, Minnesota, out of Stony Point Resort, Sept. 14-16.
With the regular season wrapped up, the Circuit moves on to the Cabela's MWC World Walleye Championship, set for Oct. 18-20 on Pools 9 and 10 of the Mississippi River at Prairie du Chien, Wisconsin. The no-entry fee event offers a $101,000 cash purse plus sponsor bonuses, and carries a $25,000 first-place paycheck. The invitation-only event will feature the top 48 teams in the season's overall and Premier (earlybird) points races, based on best three finishes.
The Cabela's MWC registration costs $650 per tournament per two-person team, and remains open through the Sunday prior to each event. Payouts are based on the number of teams fishing each event. Overall last season, the Circuit paid back more than 120 percent of entry fees in cash payouts, team of the year awards, sponsor contingencies and winnings in the no-entry-fee Cabela's MWC World Walleye Championship. For details, call (877) 893-7947 ext. 4; visit masterswalleyecircuit.com, or email events@masterswalleyecircuit.com.
Founded in 1984, the Cabela's MWC is the oldest team tournament circuit in the walleye world. It has a rich history of intense competition on top destinations, plus youth outreach and a lasting legacy of conservation. Cabela's, the World's Foremost Outfitter for hunting, fishing and outdoor gear, is in its 11th season as title sponsor of the MWC. Official sponsors include: Berkley Gulp!, Ranger Boats, Mercury Marine, MotorGuide, Lowrance, Zippo, NBC Sports Television Network and North American Fisherman. Associate sponsors include: Berkley Trilene, Okuma, O2 Marine Technologies, Reflections, The Walleye Federation, Gemini Sport Marketing and RPM Outdoor Sports.