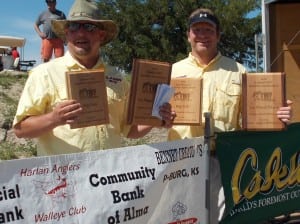 6/2/13
By Sandi Hoard
With minimal wind and gentle waves, the 2013 Harlan Anglers Walleye Club's fishing tournament was a success. Forty-three two person teams competed this year. 134 Walleye were caught and weighed in at 381.73 pounds.
The Big Walleye, reeled in by Josh Cederburg of Axtell and netted by his partner Jason Martin of Texas, tipped the scale at 10.3 pounds.
Josh and Jason won first place with their total weight of fish at 23 pounds. The Big Walleye award was worth $430. First Place paid out $1850.
Second place went to Keller and Steve Koch of Campbell.  They caught between them 19.02 pounds of fish; their biggest Walleye weighed in at 7.28 pounds. Second place paid out $1150.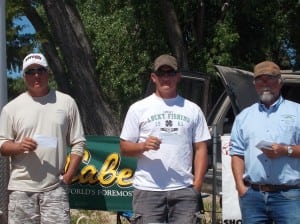 Bill Anderson and Tim Long of Holdrege came in at third place. Total weight of fish caught between Bill and Tim came in at 18.68 pounds; their largest Walleye weighed in at 6.80 pounds. Third place netted Bill and Tim $740. HAWC paid out 100% of tournament registration fees collected to the top nine spots.
Congratulations to this year's winners.
To fish for the Nationals the team members fishing the tournament have to be a member of the Harlan Anglers Walleye Club and register in advance of the tournament. The winners of the tournament fishing for the Nationals were Bill Anderson and Tim Long of Holdrege Nebraska.
We want to say "Thank you!" to all the teams participating and  to all the volunteers who helped with this year's tournament.
The Nebraska Game and Parks Commission in conjunction with Cabela's gives  away ½ Price Youth Lifetime Fishing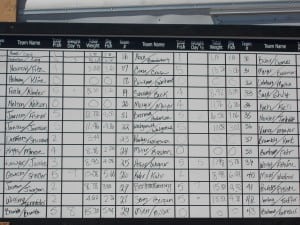 Permits to those interested in promoting Youth Fishing. The Harlan Anglers Walleye Club qualified for three of these permits with one being given away at each of the Harlan Anglers Walleye Tournaments. The Harlan Anglers Walleye club has the kids sign up for a free raffle drawing and the Club pays for the other ½ of the permit so the winner receives a  Free Lifetime Youth Fishing Permit. The Club   would also like to  extend a "Thank You" to all the area businesses for their generous donations for the tournament. These donations allowed HAWC to give out to date two free Youth Lifetime Fishing permits to date . Winners of the free Youth Lifetime Fishing permits were Jadon J. Harrold, age three, of Kearney and Kyler Schroeder, age two, of Bertrand.
2013 HARLAN WALLEYE ANGLERS TOURNAMENT
TEAM

NAME

TOTAL #

OF FISH

TOTAL

WEIGHT

BIG    FISH WT

FINAL

TOURN PLACE

32

Josh Cederburg

5

23.0

10.3

1

32

Jason Martin

5

23.0

10.3

1

34

Keller Koch

5

19.02

7.28

2

34

Steve Koch

5

19.02

7.28

2

2

Bill Anderson

5

18.68

6.80

3

2

Tim Long

5

18.68

6.80

3

5

Bruce Fiala

5

18.30

7.36

4

5

Tim Norder

5

18.30

7.36

4

25

Derek Wagner

5

17.98

5.78

5

25

Derek Rossen

5

17.98

5.78

5

21

Dustin Beerman

5

16.58

7.06

6

21

Tyler Anderson

5

16.58

7.06

6

27

Mark Bentrand

5

15.80

4.92

7

27

Robert Greening

5

15.80

4.92

7

 
 

Total fish all teams

Total Weight Caught all teams

Big Fish 10.3

 

 
 

134

381.73lbs