The Harlan Anglers Club walleye tournament (1 day)  was held Sunday June 1,2014  on the Harlan County lake located near Alma & Republican City Nebr. with forty nine two man teams fishing the tournament. Although the fishing was fantastic the thunderstorms made it interesting to say the least. A big Thanks to Patterson Beach Bar for allowing all the fisherman to file in to the beach bar for shelter as the rain and wind became severe and allowing the Harlan Anglers Club to give  out all the awards to the winners.
The Club would also like to Thank the area businesses for their donations as these items are used for Raffle items and the club was able to give away two free lifetime fishing permits in a free drawing for all kids under the age of sixteen at the rules meeting which was held at Simmy's bar and Grill.  There were 153 fish caught in the Harlan Anglers one day Walleye  tournament for a total weight of 501 lbs and all fish were released back in to the lake.
There were ten walleye checked in that were 8lbs and above with the biggest weighing 9.05 lbs. All of these fish would have made the criteria for Master Angler in Nebraska and were released back in to the lake.
The first Place team winners were Ryan Miller from Holdrege Nebr and Bryan Nickelson from Kansas with a total weight of 23.40 lbs and had a big fish of 8.35lbs.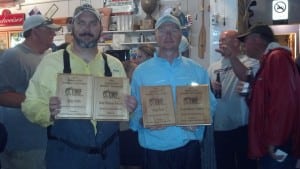 2nd Place Jeremy Meyers Hastings Ne. & Jeremy Suck Kenesaw Ne. with 21.90 lbs and a big fish of 8.10 lbs.
3rd Place Jermy Collins and Luke Hendersons from Doniphan Ne. with 21.50lbs and a big fish of 9.05 lbs. Their big fish won the big fish award for the tournament.
4th Place Karl Detmers and Gus Stunkard 21.50 lbs with big fish of 8.05 lbs
5th Place Bill and Dick Nelson 21.45 lbs big fish 7.45 lbs
6th Place Chris Wissing & Randy 20.40lbs big fish 8.45 lbs
7th Place Bryan Bashore & Chris Augastine 20.05lbs big fish 8.05 lbs
8th Place Greg Belgum & Greg Mekelburg 19.20 lbs. big fish 8.0 lbs
9th Place Sean Temashek & Byeen Gillming 18.60 lbs big fish 7.50 lbs
10th Place Rod Hoard & Bo Land 18.60lbs big fish 6.70 lbs
In event of a tie the tie breaker is broke by which teams has the biggest big fish.