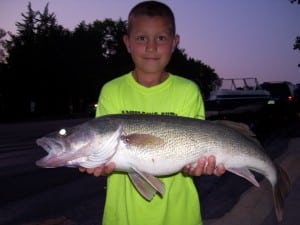 The Harlan Anglers Walleye Club also holds a fishing tournament every Tuesday from 5:00 PM to 9:00PM. The Tuesday night tournaments start in April and end the last Tuesday in September. These Tuesday nights are to promote family fishing and here is a picture of Breck Miller age 9 who has been fishing Tuesday nights with his Dad Ryan Miller.
Breck let us know he chose his own lure tied it on and caught this big walleye. This fish helped his Dad Ryan Miller, their partner Steve Maurer and Breck win the tournament on July 2, 2013.
Breck's walleye weighed 7.48lbs and was 27.5 in. long, just a half inch shy of Master Angler. Breck reeled the fish in himself and was very proud of his fish, rightfully so.