Windy conditions, intermittent rain, and a tough bite at the Cabela's, Crown Battery, Sharpnack Direct, Lake Erie Walleye Trail. (LEWT) The second straight sold out tournament of the 2014 season was hosted by Waldo Peppers Restaurant at Lakevue Marina.
After several previous days of unstable weather conditions, anglers were confronted with breezy southwest winds, plenty of muddy water and intermittent rain. "If these winds were out of the north we would have postponed the tournament" said LEWT tournament Director Joe Yingling. "Once again, the requirement of adapting to difficult and changing conditions is what makes walleye tournament fishing such a challenge."
Club members Bryan Huff and Amy Santus who were tragically lost in a recent boating accident were remembered by ceremonially releasing their boat number 42 first at the takeoff. This was followed by a moment of silence to honor our lost friends.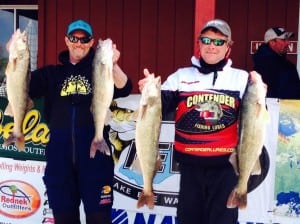 The team of Ronnie Rhodes and Joe Whitten fought through the conditions to bring home a bag of five fish weighing 35.30 pounds for the win. Second place went to James Moes and David Gahn with five fish and 31.48 pounds, Jay Gullett and James Ludban took the third spot with five fish weighing 30.13 pounds.
Shane and Luke Solomy weighed in a 10.09 pound walleye to win the Big Fish cash award. The team of Shawn Ritchie and John Wagner took second place with a 9.58 pound walleye.
James Moes and Davis Gahn won the Medina Plating Early Bird award that goes to the top finishing team that entered all four events before the Early Bird deadline.
LEWT title sponsor Sharpnack Direct offers a cash prize to the highest finishing LEWT angler who owns a vehicle purchased from Sharpnack. Randy Eyre took home the $150 cash award.
The winning team of Rhodes and Whitten employed crawler harnesses in the area of North Bass Island to pull their winning bag. Rhodes and Whitten also dedicated their win to our lost club members. Other teams that cashed a check reported using a mixed bag of harnesses and deep diving crankbaits. A total of 111 walleye were brought to the scales by 50 teams, with the average weight being 5.08 pounds.
The remaining 2014 LEWT schedule is as follows:
May 17th – Sandusky – City Ramp "Hi-Way Bait, Tackle and Lodging LEWT"
June 7th and 8th –Huron- City Ramp – "Erie Outfitters LEWT Championship"
The WBSA is a social based club for anglers that fish in the Western and Central Basins of Lake Erie and its tributaries. Membership is open to anyone interested in fishing, no matter their location or skill level. Our goal is to present information in a manner that will help sustain and improve fishing in one of the greatest inland sport fisheries in the world. Scientific information, fishing techniques, locations and presentations are presented at our meetings by expert and knowledgeable speakers and tournament anglers from our group. These anglers are very open with techniques, and will help any member that is trying to learn new methods.

For more information about the LEWT you can visit www.wbsa.us

Please support our 2014 LEWT sponsors: Cabela's, Crown Battery Systems, Sharpnack Direct in Willard, Magee East Campground and Marina, Medina Plating, Ranger Boats, Waldo Peppers Restaurant, Smooth Moves, Worldwide Marine Underwriters, Reef Runner Lures, Vic's Sports Center, Erie Outfitters, Navionics, Rednek Outfitters, Hi-Way Bait Tackle and Lodging.