Challenging fishing started the day for the 80 anglers entered in the Walleye Madness Tournaments Mosquito Lake event in north east Ohio on April 27th. A full 40 boat tournament field held high hopes of capturing the spotlight along with their share of the 100% tournament payout and sponsor contingency bonuses. The tournament also featured a Cabela's NTC side pot with 15 teams in contention to win a paid entry and bonuses to the 2015 Cabela's National Team Championship.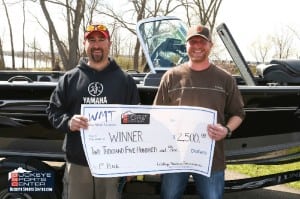 First place was earned by Chris Duffus and Collin Hill with a 13.00 # five fish tournament limit that also captured first place in the Cabela's NTC side pot. Second place went to David Conant and Scott Geitgey with 12.70 # that simultaneously captured the Mercury Marine Bonus and the WT6 contingency Bonus.  Third place was awarded to Bret Berkey and Nate Arnold. Fourth place was captured by Rico Mixon and Marina Leydiker, with Sam Cappelli and Ted Jackson rounding out the top five teams for the event. The Lund Boats Bonus was awarded to Amanda Yackmack and Joe Yackmack and the Buckeye Sports Center Big Fish bonus went to Chad Fenstermaker and Thomas Brenkert.
Water temperatures hovered around 54 degrees and the primary bite consisted of trolling shad style crankbaits on leadcore line along with tactics targeting suspended fish. The first place team of Chris Duffus and Collin Hill concentrated their efforts north of the causeway in 8 to 13 feet of water. After losing a big fish early, they stayed with their primary pattern while the majority of the field moved south to deeper water.  The final hour of the event was a hot bite flurry of doubles and triples with several teams racing the clock to upgrade their catch right up to the last available minute of fishing time.
Walleye Madness Tournaments are sponsored by Buckeye Sports Center, Lund Boats and Mercury Marine. The series offers no-membership fee required 100% payout tournaments, plus $700 per event in sponsor bonuses. Cabela's National Team Championship qualifying is provided by the series affiliation with the national organization The Walleye Federation. Next up on the Walleye Madness Tournaments schedule is the June 28th Lake Erie event out of Geneva State Park.  For more information please visit www.walleyemadness.net.