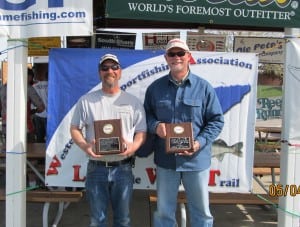 A very tight finish at the Cabela's, Crown Battery, Sharpnack Direct, Lake Erie Walleye Trail (LEWT) tournament hosted by Hi-Way Bait, Tackle and Lodging.
Teams fishing in the third LEWT tournament of the 2013 season were met with mostly sunny skies and 10-15 knot east winds as they arrived at the Sandusky boat launch facility. "The weather has been stable the past few days" commented LEWT tournament Director Joe Yingling. "But the persistent east and northeast winds usually indicate a tougher bite for the walleye fishing."
Topping the weights coming to the scales was the team of Mike Robertson and Joe Horstman with five fish weighing 36.18 pounds to take the win. Less than one half pound behind them with five fish weighing 35.73 pounds was Joseph Bird and Bret Berkey. Ryan Wall and Rob Hoover took third place with five fish weighing in at 35.15 pounds. Only 1.29 pounds separated first place from fifth place. Father and son duo David and Travis Hartman brought in a huge 11.53 pound walleye to win the Big Fish cash prize. Mike Naughton and Scott Hosier had the second largest fish of the day at 10.81 pounds.
Robertson and Horstman also cashed in on the the Medina Plating Early Bird award that goes to the top finishing team that entered all four events before the Early Bird deadline.
LEWT title sponsor Sharpnack Direct pays a cash prize to the highest finishing LEWT angler who owns a vehicle purchased from Sharpnack. Bud Wehrly came away with the $150 cash award.
The 48 teams brought 171 walleye to the scales that averaged 3.56 pounds. The general area north of Kelley's island was the spot most mentioned by the anglers. The tournament winners used Reefrunner crankbaits to pull their winning bag, while the rest of the teams that cashed checks were using crawler harnesses. Many teams commented that Saturday was a much tougher bite than the day before the tournament, despite the stable weather pattern.
Special thanks to Hi-Way Bait, Tackle and Lodging in Marblehead for sponsoring this event. They also provided some great pizza at the weigh in for our anglers and spectators.
The final remaining 2013 LEWT tournament will be held: June 1st and 2nd –Huron- City Ramp – "Erie Outfitters LEWT Championship" The Western Basin Sportfishing Association is a social based club for anglers that fish in the Western and Central Basins of Lake Erie and its tributaries.
Membership is open to anyone interested in fishing, no matter their location or skill level. Our goal is to present information in a manner that will help sustain and improve fishing in one of the greatest inland sport fisheries in the world. Scientific information, fishing techniques, locations and presentations are presented at our meetings by expert and knowledgeable speakers and tournament anglers
from our group. These anglers are very open with techniques, and will help any member that is trying to learn new methods.
For more information about the LEWT you can visit www.wbsa.us
Please support our 2013 LEWT sponsors: Sharpnack Direct in Willard, Cabela's, Crown Battery, Medina Plating, Waldo Peppers Restaurant, Happy Hooker Bait and Tackle, Blue Water Fishing Products, Smooth Moves, Reef Runner Lures, Vic's Sports Center, Erie Outfitters, Ole Pete's Tackle, Navionics, Rednek Outfitters, Hi-Way Bait Tackle and Lodging, Hi Tech Custom Painted Baits.