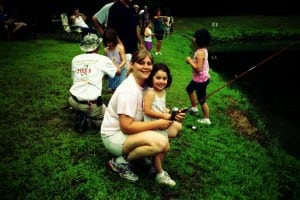 Michiana Walleye Association in Mishawaka, IN put on a Fishing Derby for kids on Saturday, July 23, 2011. They had 26 kids' fish this year.
We split the group in 2 by age groups, 7 and under fished for the first hour and while they were fishing the pond the kids 8 and up participated in a casting contest. We had some great volunteers that with the rain we had had that morning set up some great targets!! The older group had some extra time so they had a contest at 30' and 50'. The same two kids won both 1st and 2nd place on both 1st place Cody Chupp  & 2nd place Jordan Kintigh. They tried Flipping and Mason Kintigh prevailed at that. That was a tougher one. 
The kids switched after the first hour and the little kids tried the casting. They did a great job!
There was a total of 39 fish caught. They all had a wonderful time and hopefully we can get them more and more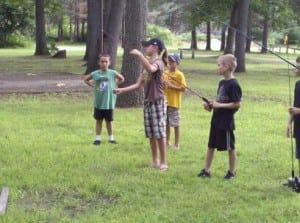 interested in fishing each year they come. We had a lot of kids that have come in the past.
I would like to send out a thank you to Ron Hipsher for being our photographer for the day!!
I would also like to thank Cabela's for donating giveaways as well as all of the club members who donated funds! Beaver Bait Company out of Winamac, Indiana donated bait.
In the end it was a wonderful day of fishing and fun.
Story provided by Angie and Shawn Kintigh
(If your walleye club has any news you would like to share, please email your stories and pictures to tisha@bassfederation.com and we will post on our website!)