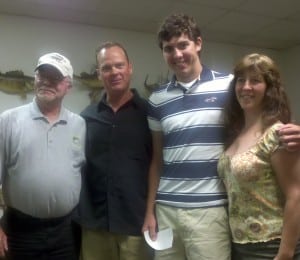 The Michiana Walleye Association (MWA) in Mishawaka Indiana is proud to announce this year's recipient of the Ukele Memorial Scholarship Fund which is given to a student in good standing through a series of selection processes whom plans to study within the vast field of fish & game such as code enforcement, preservation, ecology, etc. to name a few. 
The MWA is proud to announce Steven Szymczak as the 2011 recipient, shown here with his Parents Ed & Tara and Ukele Memorial Scholarship Champion Barry Ukele.  Stephen plans to study for a career in code enforcement and is very excited about his future in that field. A special congratulation goes to Stephen and his family for all their hard work and we wish you the best in your studies starting this fall.
Additionally we would like to extend a big thank you to all our members and Peffley's Canadian Wilderness Camp (www.peffleyscamp.com) for making this program a success each an every year and it couldn't be done without all of you.  The MWA finds it very important to give back to the community and is proud of this tradition of helping to educate our youth in preserving and maintaining the future of our great fisheries and we look forward to seeing next years applicants.