Lewis and Clark Day 1 and 2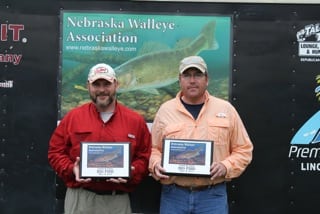 Day 1 at Lewis and Clark had a 30 boat field and the bite was absolutely on fire.  Fish were caught anywhere and everywhere.  People were live baiting and pulling plugs to bring their 5 fish limit.  The team of Block and Hoppe brought in a 5 fish limit from the river that went right under 20lbs, they also won big fish and Cabela's Angler's Cash. to win day 1.  Shada and Hettler took second, Kallhoff brothers took third and 4th place went to the team of Ulrich and Neiman.  Day 1 winners of the TWF side pot went to Royer and McCallister.  John and Jim with their TWF win get a free entry to next years NTC, NTC qualifier plaques and a gas stipend.  When all was tallied the 1st through 4th place teams cashed checks and contingency monies for over $5000.00.  Good job to these teams.
Day 2 saw the bite get even better.  Lane Werner and his son took first place with 16.47 pounds.  Second place with 16.45 pounds went to the Kahlloff brothers and also won Cabela's Angler's Cash.  3rd place went to the team of Means and Warriner with 16.1 pounds and 4th place went to Scheckler and Geweke with 13.87 pounds.  I have never seen 1-3rd place so close.  Good job to these teams.  Means and Warriner won the side pot from the TWF for a NTC slot.  Big fish went to the team of Royer and McCallister for day 2.  Day 2 cash prizes and contingency monies were again at $5000.00.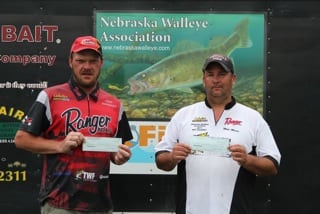 Thank you needs to go out to Bear at CJ's for holding the rules meeting and contributing a $100 for big fish each day.  Also the tournament help from Chad Warriner, Rick and Dalton Smutny, Lane and Tate Werner, Marcia and Karen Kallhoff, Rick Hesse/Steve Hankla and Chuck/Will Pavelka is really appreciated.
Our next tournament will be held Father's Day weekend at Big Mac, cannot wait to see everyone out there.
| | | | |
| --- | --- | --- | --- |
| Team # | Names | Day 1 Big Fish | Day 1 Weight |
| 16 | Block/Hoppe | 7.12 | 19.98 |
| 10 | Hettler/Shada | 3.42 | 14.45 |
| 11 | Kallhoff/Kallhoff | 3.56 | 14.32 |
| 7 | Ulrich/Neiman/Edwards | 3.85 | 13.15 |
| 23 | Olivier/Bessert | 4.3 | 12.38 |
| 18 | Howell/Hermannson | 4.63 | 12.14 |
| 19 | Simonsen/Sundleaf | 3.88 | 12.05 |
| 30 | Lueckenhoff/Madson | 2.84 | 11.74 |
| 20 | Brandon/Hanslip | 2.62 | 11.73 |
| 8 | Seffron/Seffron | 2.68 | 11.02 |
| 6 | Royer/McCallister | 2.39 | 10.56 |
| 1 | Means/Warriner | 2.49 | 10.42 |
| 12 | Scheckler/Geweke | 3.2 | 10.34 |
| 22 | Tomich/Miles | 3.14 | 10.29 |
| 13 | Portillo/Olivier | 2.23 | 10.26 |
| 15 | Oliver/Schroeder | 2.78 | 9.89 |
| 28 | Kellen's | 2.5 | 9.8 |
| 4 | Smutny/Smutny | 2.41 | 9.73 |
| 24 | Hochstein/Hochstein | 2.97 | 9.62 |
| 27 | Domeier/Newman | 2.8 | 9.07 |
| 2 | Hesse/Hankla | 2.22 | 8.86 |
| 21 | Mascarello/Mutanko | 2.34 | 7.25 |
| 9 | McShane/Glasshoff | 3.19 | 6.36 |
| 26 | Horine/Sinsel | 1.9 | 5.9 |
| 3 | Pavelka/Pavelka | 2.42 | 4.66 |
| 29 | Waring/Novotny | 1.79 | 4.12 |
| 5 | Clayton/Clayton | 1.84 | 1.84 |
| 25 | Steele/Molcek | 0 | 0 |
| 17 | Werner/Werner | 0 | 0 |
| | | | |
| --- | --- | --- | --- |
| Team # | Names | Day 1 Big Fish | Day 1 Weight |
| 17 | Werner/Werner | 5.07 | 16.47 |
| 11 | Kallhoff/Kallhoff | 4.14 | 16.45 |
| 1 | Means/Warriner | 5.55 | 16.1 |
| 12 | Scheckler/Geweke | 6.44 | 13.87 |
| 6 | Royer/McCallister | 6.71 | 13.5 |
| 15 | Oliver/Schroeder | 3.16 | 13.11 |
| 7 | Ulrich/Neiman/Edwards | 3.45 | 12.86 |
| 2 | Hesse/Hankla | 4.12 | 12.65 |
| 16 | Block/Hoppe | 2.96 | 12.36 |
| 22 | Tomich/Miles | 4.4 | 12.34 |
| 28 | Kellen's | 2.57 | 12.32 |
| 4 | Smutny/Smutny | 2.79 | 12.04 |
| 10 | Hettler/Shada | 2.5 | 12.01 |
| 8 | Seffron/Seffron | 2.68 | 11.82 |
| 26 | Horine/Sinsel | 2.39 | 10.93 |
| 27 | Domeier/Newman | 2.36 | 10.48 |
| 23 | Olivier/Bessert | 2.83 | 10.34 |
| 9 | McShane/Glasshoff | 2.54 | 10.2 |
| 13 | Portillo/Olivier | 2.66 | 9.86 |
| 25 | Steele/Molcek | 2.5 | 9.4 |
| 18 | Howell/Hermannson | 2.99 | 9.12 |
| 29 | Waring/Novotny | 2.37 | 9.08 |
| 24 | Hochstein/Hochstein | 1.73 | 8.64 |
| 19 | Simonsen/Sundleaf | 1.78 | 8.23 |
| 21 | Mascarello/Mutanko | 1.9 | 4.62 |
| 5 | Clayton/Clayton | | 4.47 |
| 3 | Pavelka/Pavelka | 2.34 | 2.34 |