New Indiana Walleye Club and Tournament Series, Crossroads Walleye Trail, has its first ever event at Brookville Lake!
Brookville Lake – August 9, 2020 – Crossroads Walleye Trail (www.crossroadswalleye.com) embarked on their first ever Brookville Lake walleye tournament this past Sunday. The event drew 24 teams of walleye anglers from all over Indiana and Ohio, some traveling from as far away as the IN / IL border! However, it was Connorsville, IN father and son team Luke & Mark Isaacs that were crowned the champions of the August 9th event. Luke and Mark weighed in 3 of 5 walleye for 12.38lbs! They also won the "big fish" prize with a 5.51 Brookville Lake walleye! Luke & Mark made a clean sweep of the event and also earned a sidepot bid at the Bass Pro Shops / Cabela's National Team Championship in 2021. Second place went to Rushville, IN brother team Mike & Bobby Chandler who brought in 6.88lbs. Third place was captured by Brookville, IN team Leroy Arvin & Matt Brennan. See the full results below.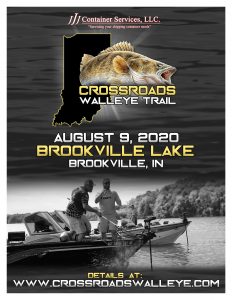 Founded in 2019, Crossroads Walleye Trail, LLC (CWT) is a sanctioned club member of national organization The Walleye Federation. Wanting to build something fresh with a focus on its club members and state level walleye biology, CWT's founding members set out to create a club that offers a new option to anglers throughout Indiana and the Midwest region. "We are dedicated to professionalism, great camaraderie, and exceptional competition," says PR Director, Joey Buttram. The organization aims to help bridge the gap between area anglers and the Indiana Department of Natural Resources. In their first year this series has averaged 21 boats per event, and have registered over 70 members from 4 states to their club.
CWT has completed its regular season leading up to the August 9th Brookville event with tournaments at Prairie Creek Reservoir – Muncie, IN on May 31st, Winona Lake – Warsaw, IN on June 14th, and Summit Lake – New Castle, IN on July 19th. You can visit their website at crossroadswalleye.com to see those results.
The next CWT event is their 2-day championship at Brookville Lake on October 10th & 11th, which is an invitational only event. The championship will have a live weigh in on Facebook, but the series encourages interested parties to come be a part of the festivities. Weigh times and more information can be found on their website.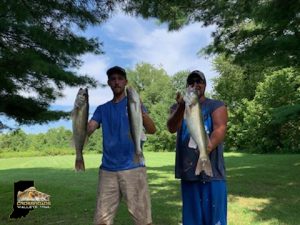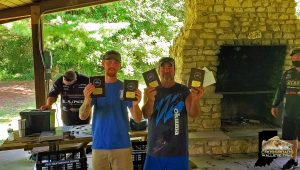 If you are interested in joining CWT or learning more about their organization, please send a message to crossroadswalleyetrail@gmail.com, or visit their website at crossroadswalleye.com
Contact Info: Crossroads Walleye Trail, LLC, Attn: Joey Buttram, PR Director, 317.691.3470, crossroadswalleyetrail@gmail.com, www.crossroadswalleye.com