Oshkosh, Wisc. —Sept 30, 2020—Weighing the tournament's largest bag of fish on day-2 set Jason Schine (Antioch, IL) and Bradley Mikeska (Genoa City, WI) on a course to win nearly $101,000 in cash and prizes and the Bass Pro Shops and Cabela's National team Championship, September 24-26th on Wisconsin's Lake Winnebago.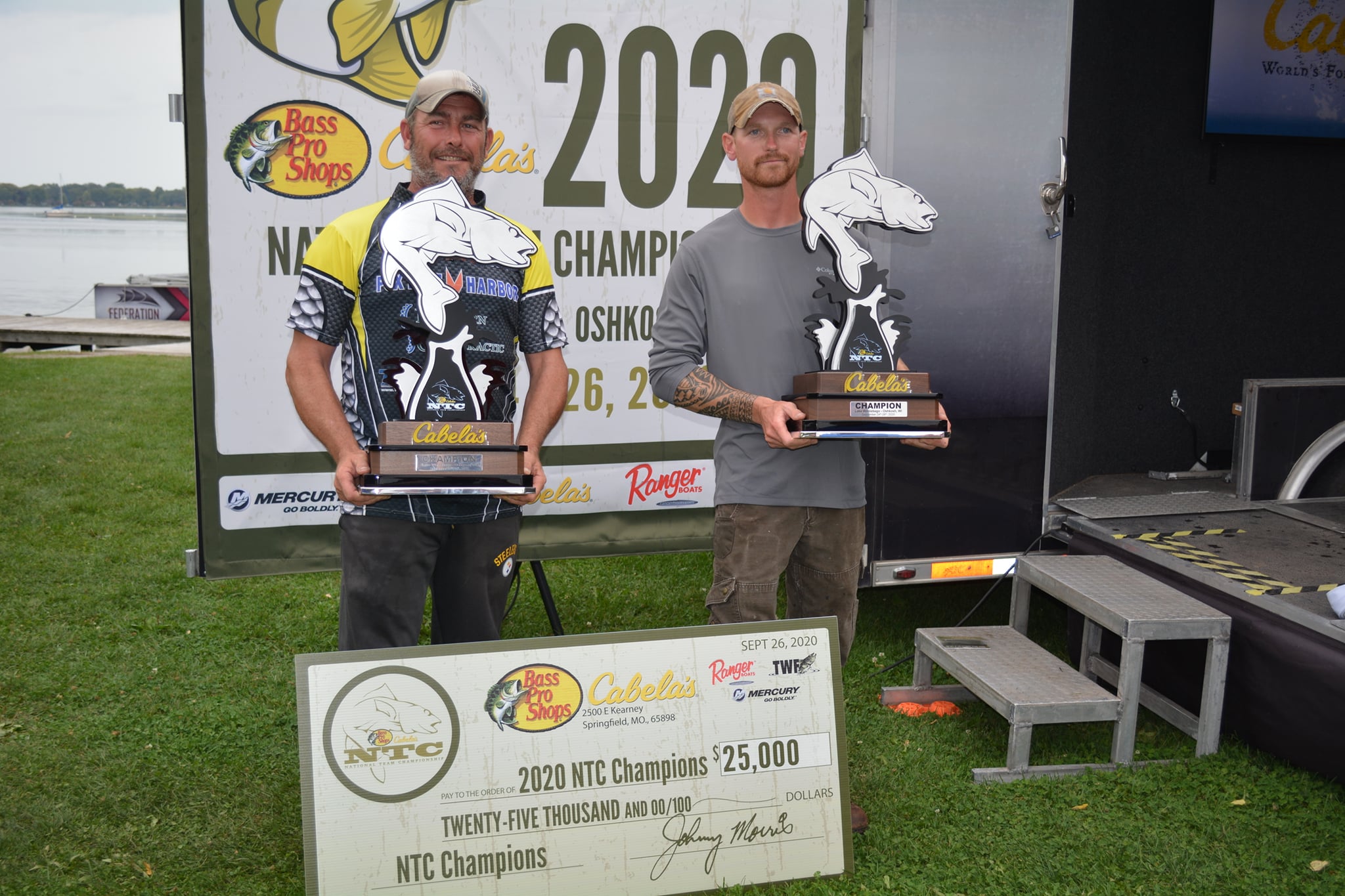 Presented by Bass Pro Shops and Cabela's and hosted by the Oshkosh CVB, the three-day championship showcased over 440 of North America's finest walleye anglers competing in two-person teams that qualified for the event through local walleye tournaments organized by clubs and circuits sanctioned by The Walleye Federation.
After a sunny and calm day one, Schine and Mikeska found themselves with 6-12 and in 16th place. It was day two that set them apart from the rest of the field.
The second day of competition saw breezy conditions across the Lake Winnebago system that included the Fox and Wolf rivers and upper lakes of Poygan and Butt des Morts. Jason and Brad rode out the wind and waves on the main lake securing the events largest 5-fish weight of 10-04. With at total weight of 17-00 headed into the final day, the team had a near 3-pound advantage over 2nd place, Robert Claus (Green Bay, WI) and Jason Noworatzky (Fond Du Lac, WI).
Claus and Noworatzky had strong outings in both of the first two days of the tournament securing 14-04 after two days of fishing. Loaded with local knowledge of the waters and consistent weights, they once again gave no room for error at the final weigh-in, placing 9-01 on the scale for total weight of 23-05.
As Schine and Mikeska walked up to the stage for the final time they needed their basket of 5 fish to weigh at least 6-06. The team eclipsed the mark weighing 7-01 for a total weight of 24-01 and solidifying their names forever as National Team Champions.
For the hard-earned win, Schine and Mikeska took home over $100,995 in winnings, including the $25,000 first-place cash paycheck, a brand-new Mercury 250-powered Ranger 621 valued at $75,995 and the $250 Day Two Mercury Big Basket Award.
Robert Claus and Jason Noworatzky finished the weekend in second place with 23-05. They earned $10,000 cash for their efforts.
Rounding out the top five were:
3rd: Nicholas Kotowski and Zachariah Workman, 22-03, $8,000 cash, Ranger Cup Bonus Ranger 620/Mercury 250 $75,995, $250 Day One Ranger Big Basket
4th: Jesse Proffitt and Ron Turner, 20-04, $6,000 cash
5th: Josh and Don Wiesner, 20-03, $5,000 cash
The Bass Pro Shop and Cabela's NTC offers a lucrative payback of more than 425% of entry fees. Teams shared $256,492 in cash and prizes, plus 50 custom Bass Pro Shops and Cabela's All-American rings, trophies, plaques and more.
Another $1,000 in Bass Pro Shops and Cabela's gift cards were awarded for big fish and big basket honors. Joseph Jennings and Marlon Trible took home Big Fish honors on day one with a 5-02 Winnebago walleye while as mentioned before Nicholas Kotowski and Zachariah Workman won for Big Basket. On day two as noted above winners Jason Schine and Bradley Mikeska had the Big Basket but bringing in a respectable 5-03 fish was Chantry Cunning and Aaron Rachel earning them the $250 Walleye Federation Big Fish award.
A total of 649 walleyes weighing 973-06 graced the scales in Oshkosh, WI at beautiful Menominee Park.
The 2020 event marked the 19th edition of the prestigious Bass Pro Shops and Cabela's NTC, which annually draws hundreds of avid walleye anglers from across the U.S. and Canada.
Adding to the excitement, weigh-ins were streamed live online at walleyefederation.com and facebook.com/thewalleyefederation. The action was also filmed for national television airing on "Americana Outdoors" and the Pursuit Channel. Dates and airtimes will be announced at walleyefederation.com.
Bass Pro Shops and Cabela's NTC sponsors include Cabela's, Bass Pro Shops, Ranger Boats, Mercury and TWF.
Based in Ponca City, Oklahoma, The Walleye Federation manages the qualifying process and co-produces the event alongside the Bass Pro Shops Cabela's Corporate Brand Partnership Team. Qualifying for the 2021 Bass Pro Shop and Cabela's NTC is now under way. For details, visit walleyefederation.com, or call (580) 765-9031.