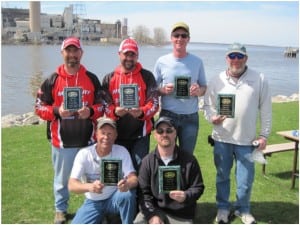 As many of us began looking forward to our Second Cabela's Qualifier on the lower Bay of Green Bay, we had visions of 4, 5, 6, and even 8 pound Walleye jumping into the boat. Mainly because the post spawn fish from the lower Bay were beginning to put on the feed bag as we began the week heading toward our May 5th event. Unfortunately, as seems to be the norm, more times than not in a spring outing, Mother Nature had somewhat of a different idea throwing strong NE winds at us 4 of the 5 days leading into our event. Water temperatures dropped nearly 8 degrees in most of the lower Green Bay locations and sending those picky Walleye into another lock jaw pattern. Many boats that pre-fished Saturday reported the same resounding story…. No fish! A few teams managed to find a single hungry Walleye, but that just left many of us scratching our heads without a solid pattern.
The lone good news, as 32 boats launched to begin the tournament, was that the temperatures were supposed to continue a slight warming trend as we moved through the day and that would possibly trigger some feeding activity. The ride out into the bay was a choppy one for most with NE winds still blowing, but many of the brave members of the SWC pushed on heading out in search of a tournament limit of 5 nice Walleye to bring back to the scales.
As the day warmed, the bite in some areas did get better and even though we cannot truly say the fishing was on fire, several teams did manage to pull limits in true SWC fashion…. I mean come on- we are the Sheboy-gan Walleye Club and we do have some of the best Walleye fishermen in the state right here!
Crank baits seemed to be the bait of choice for almost the entire field of fishermen with the exception of a few river anglers than did manage to pluck off some nice fish in the lower Fox River with jigs.
We did see several fish topping the 7 pound mark cross the scale, but only one took home the big fish check and that was caught by Bruce Nel-son and Al Zimermann. That 7.3 pound fish anchored their nice 5 fish limit and their total weight of 21.34 pounds securely locked them into third place for the event. Coming to the scale with a 5 fish limit weighing 23.78 pounds and landing in 2nd place was last year's Club champs, Bob Claus and Jason Noworatzky. The team pulled cranks close to and in the river to manage 6 solid bites early in the morning. They stated they had their 5 weigh fish by 8:30AM, and they did it without any Cheeseballs in the boat! The polar opposite of an early bite came from the 1st place team of Jeff Hanson and Nick Ross. They worked water near the boundary to the north on the lower bay, and had a long day until making a couple calculated moves deeper and finding a pair of nice 7 pound Walleye to anchor their 5 fish limit weighing 23.79 pounds. They did say that color made all the difference for them. In case anyone is keeping track Jeff and Nick's first place bag bumped Jason and Bob down to second by .01 pounds! This is the second year in a row Jason and Bob were knocked down a spot by .01 pounds. Good thing they are such nice guys and also so darn good looking! Next up for the SWC is Mighty Lady Bago, I know we are all looking forward to that one.