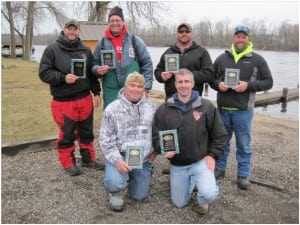 The birds were chirping, the sun was shining, the crisp air was warming -as we all launched our boats on April 17th to fish the first SWC Cabela's Qualifier of the season….. Spring was in the air……OK I am a big fat Liar!!!! Someone upstairs decided to play games on us and turn that winter feel back on! Anyone who was on the water Saturday either Pre-fishing or fishing the Fort Fremont Spring Classic on the mighty Wolf can attest to it being one heck of a frigid day, but at least there was no snow. Skip forward to the end of our tournament day for the SWC, and what we did we have was SNOW!!! But we are all hearty WI Walleye Anglers and we can take what-ever Mother Nature and the big man upstairs dish out.
32 teams climbed into their boats and at 7AM motors were roaring up river… OK more like rattling up river as the no wake restriction was still being enforced on the entire river. Never the less, we eventually hit some stretches where we could work some fuel through our engines and get on plane.
With the fish spawning activity in high gear way up river, most teams hunkered down in stretches from Weilands all the way back to Fremont looking for the first waves of post-spawn down run Walleye to move through. Some pre-spawn fish were also caught throughout the day, but for the most part the majority of the fish brought in to weigh at 2PM were post spawn.
The tough weather mixed with the spawning activity way up in the marshes made the bite tough for most teams and the results showed it. 14 teams did not catch a fish to weigh, and only 2 teams actually brought a 5 fish limit to the scale.
SWC Veteran Mike Behm and his new partner Dan Wheaton were one of the 5 fish limit teams weighing 13.88 pounds good enough to lock in 3rd place. Brett Leitl and Chris Ringenoldis hauled in a heavy 5.96 pound fish with minutes to go to boost their 4 fish bag to 15.26 pounds and push them into second place. The winners held another one of the few 5 fish bags for the day as they also landed the tournament big fish weighing 7.46 pounds, with minutes to go before the boat ride back to the dock. Adam Adler and Andy Zegers weighed 20.97 pounds to lock in the victory for the Wolf River Event. We all left Fort Fremont with hopes and dreams of Green Bay Walleye for our second Qualifier action only 2 weeks removed from the mighty Wolf kicking our butts. If only we had a psychic in the club!!!