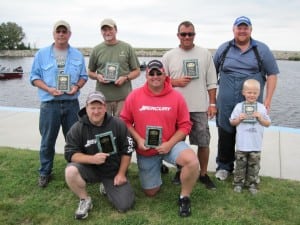 As the days on the calendar approached July 21st, you could almost hear the anticipation building across the SWC members. Fishing Green Bay for big Walleye, in our final Cabelas Qualifying tournament of the season, with a Cableas NTC paid entry on the line through the TWF Side Pot. The 3 days prior to our event, the AIM boys and girls had been out on the Bay hauling in quality fish after quality fish weighing big CRR bags of weight. I think many of the members were anticipating a dog fight with big baskets of golden glistening walleye tipping the scales…… Well thank you once again Mother Nature! Big time cold front conditions set in and cold water and heavy current changed water temps and turned the Bay upside down and inside out, shutting off many of the areas that held schools of tournament Walleye from the previous week.
As many of you are well aware by now, the membership of the SWC always has some guys rising to the top and figuring out a winning pattern. Cranks and harnesses were straining water from Larsons reef to Oconto Shoal and all the way south to Geanos reef. The teams that adjusted best and searched out the warmer water areas caught fish, many of us just washed off our lures for the day. Al-most 1/2 the field of anglers flat out burned fuel and just cleaned their baits off. That is a tough day of fishing.
For the other 1/2 of the crew, as always 3 teams rose to the top. The team of Randy Krueger and Rick Navis (Previous NTC Qualifiers) collected their first SWC Wood by weighing a solid bag of 21.85 pounds. Edging them out by less than a pound was the new SWC Team of Nate Provost and Rick Franklin with a firm bag of 22.06 pounds. Ultimately the team that once again laid a beat down on the Green Bay Walleye and the rest of the SWC was long time SWC member Pat Schuette and his partner (long time BotB participant) Kevin Adams. Their bag weighing 23.91 pounds contained the day's big fish, a beast, at 10.92 pounds. Pat and Kevin were also the highest placing sidepot anglers so they walked away with a paid entry package into the 2104 NTC to be held on Green Bay, where they seem to know their stuff!!
2013 NTC Points for Team of The Year – Best of 3 of 4 Events
Place
Team:
4/21/2013
5/5/2013
6/23/2013
7/21/2013
Total
1
Adam Adler & Ryan Dempsy
100
90
100
0
290
2
Brett &  Kelcey Leitl
98
0
98
88
284
3
Bob Claus & Jason Noworatzky
90
98
88
0
276
4
Bill VanOrnum & Travis Wagner
88
0
86
92
266
5
Jeff Hanson & Nick Ross
74
100
0
80
254
T-6
Bob & Jason Bach
92
78
0
82
252
T-6
Denny Fox & Jason Brauch
84
0
92
76
252
7
Mike Behm & Dan Weaton
96
68
76
0
240
8
Paul Schumacher & Dave Jankowski
76
76
80
0
232
9
Chris Gasser & Chris Medinger Jr.
0
94
62
74
230
10
Jeff & Terry Tuscel
94
82
50
0
226
11
Jay Petermann & Larry Vogel
72
70
0
72
214
12
Eric Carlson & Dan Roth
80
0
96
33
209
13
Tom & Matt Koepke
66
0
58
84
208
14
Kevin Resop & Bryan Wiese
86
33
70
0
189
15
Jason Seaman & Troy Krause
0
66
33
86
185
16
Carl Althaus & Jim Hodge
70
33
78
0
181
17
Tony Erdman & Don Larimar
0
88
54
33
175
18
Brad Korth & Andy Kenisler
33
92
48
0
173
19
Bob Schneidewind & Matt Metke
82
0
52
33
167
20
Jerry & Brandon Ruffolo
0
0
66
90
156
21
Paul Haasl & Norb Wisnewski
33
33
46
0
112
22
Pat & Joe Mertens
33
0
0
78
111
23
Andrew Schultz & John Schultz
33
33
44
0
110
24
George Freeman & Gary Anderson
0
80
0
0
80
T-25
Bruce Keller & Chris Waala
33
33
0
0
66
T-25
Justin Brefczynski & Jordan Kurkowski
0
33
33
0
66
T-25
Scott Vallesky & Justin Powolisz
0
0
33
33
66
26
Tim Rasmussen and Tracy Virnoche
0
33
0
0
33