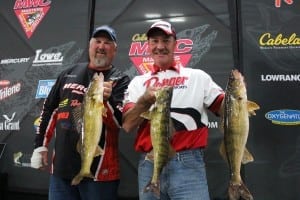 Escanaba, Mich.—Oct. 19, 2013—Wisconsin's Dan Zwick and Tony Kobriger reclaimed their title as World Walleye Champions by scoring an impressive victory against the country's top walleye anglers at the Cabela's Masters Walleye Circuit's 2013 World Walleye Championship.
"It's an unbelievable feeling," said Kobriger, of Chilton. "Any one of the teams fishing here could have won this." Held on mighty Lake Michigan's Big and Little Bays de Noc out of Escanaba, Michigan, Oct. 17-19, the event pitted 47 elite two-person teams against one another for $100,000 in cash and prizes, plus thousands more in sponsor contingencies. Teams qualified for the no-entry-fee event by earning points during the 2012 Cabela's MWC season at world-class walleye destinations from the Great Lakes to Pueblo, Colorado.
Incredibly, Kobriger and Zwick, of Wrightstown, took the title without weighing a single five-fish limit. Their dogged determination produced in a trio of solid catches during the three-day event, including 18 pounds, 1 ounce on Day One, 17 pounds, 11 ounces on Day Two, and 19 pounds, 7 ounces on Day Three for a 55-pound, 3-ounce total more than 10 pounds ahead of their closest rivals. It was their second Cabela's MWC Championship crown, after winning the title in 2011. The victory also capped a great season that included a win at the Circuit's Lake Michigan qualifier in late May.
"Words can't explain how happy we are," added Zwick. "Through the years, a person dreams of winning an MWC Championship, but taking two of them is amazing." Along with ultimate bragging rights in the walleye world, he and Kobriger collected $20,000 for first place, plus the $1,000 Cabela's Angler Cash contingency, $1,000 Ranger Cup bonus, $500 Lowrance HDS Gen2/Elite-7 award and $500 Berkley Baits prize package.
Zwick and Kobriger explained their go-to tactic was trolling spinner rigs 1 mph over the top of a weedbed near Round Island in Big Bay de Noc. "The water was 13 to 14 feet deep, and the weeds were about six feet tall," said Zwick. Kobriger used an underwater camera to find the greenest cabbage available, and said the weeds held yellow perch, which in turn attracted hungry walleyes.
Another key to the presentation, Kobriger noted, was tipping the first hook of the crawler harness with a ¼-inch section of Berkley Gulp! Crawler, for extra scent. He also credited fellow MWCer Wayne Butz and other friends with whom they fish for helping dial in the bite.
A total of 257 walleyes weighing 741 pounds, 15 ounces crossed the Cabela's MWC stage during the three-day event, which was filmed for national television airing on Federation Angler TV, on the NBC Sports Network. Teams were allowed to bring their best five walleyes to the scale each day. Under the Circuit's catch-and-release format, a full 97 percent were released back into Bays de Noc. Big fish of the tournament was a 10-pound, 12-ounce walleye caught by Ohioans Matt Davis, of Marion, and Dan Gies, of Huron.
Weigh-ins were held at the U.P. State Fairgrounds in Escanaba, and streamed live to walleye fans worldwide on the Internet. Immediately following Friday's weigh-in, the Cabela's MWC, National Professional Anglers Association, Pure Fishing and Zippo Outdoor Brands presented a Youth & Family Fishing Clinic. Youths received rod-and-reel combos courtesy of the NPAA.
The Cabela's MWC World Walleye Championship was the final Cabela's MWC tournament of 2013. The season included 10 qualifiers: the Illinois River at Spring Valley, Illinois, March 23-24; the Detroit River at Trenton, Michigan, April 12-14; Pueblo Reservoir, Colorado, May 17-19; Lake Erie out of Huron, Ohio, May 17-19; Lake Michigan at Oconto, Wisconsin, May 31-June 2; Lake Oahe at Spring Creek, South Dakota, June 7-9; Lake Winnebago at Oshkosh, Wisconsin, June 28-30; Devils Lake, North Dakota, August 2-4; the St. Mary's River at Sault Ste. Marie, Michigan, August 22-23; and Cass Lake, Minnesota, out of Stony Point Resort, Sept. 13-15.
Cabela's, the World's Foremost Outfitter for hunting, fishing and outdoor gear, marked its 11th season as title sponsor of the MWC. Official sponsors include: Berkley Gulp!, Lowe Equipment Attachments, Lowrance, Mercury Marine, MotorGuide, Ranger Boats, The Walleye Federation and Zippo Outdoor Brands. Associate sponsors include: Berkley Trilene, Church Tackle, Optima Batteries, O2 Marine Technologies and Sea Grant.
Based in Ponca City, Oklahoma, the Cabela's MWC is oldest running national walleye circuit in America. Cabela's MWC is owned by The Walleye Federation and is open to two-person teams regardless of club or sponsor affiliation. Entry fees are $650 per tournament, of which more than 100 percent is returned to anglers at the qualifiers, World Championship and Team of the Year races. Plans are under way for the 2014 tournament season, with details on locations, registration and more expected shortly. For more information, visit masterswalleyecircuit.com, email info@masterswalleyecircuit.com, or call (580) 765-9031.
###
For FULL results of the tournament click the following link: WWC Final Results
For the Final Day Photo Album CLICK HERE!