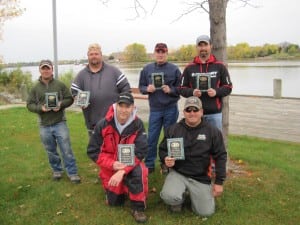 On Sunday October 20 23 SWC teams hit the Fox River in DePere WI with high hopes of nabbing 5 nice Walleye to potentially secure a victory and one last chance at an NTC bid through our last Side Pot.  Also at stake was the SWC Club Championship, and once again this was a tight battle to the end.
The teams seemed to split fairly evenly with about half the boats heading up to the Dam and half heading down river to fish other areas.  In the end teams were successful in most areas, both jigging bridges and the river channel and casting crank baits up in the rocks at the dam.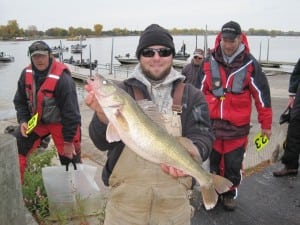 The team of Tom Kemos and Nate Curell jigged their way to a fist place finish working several bridge spots throughout the day.  Their 18.35 pound limit also nabbed them the Side Pot victory and the last bid to the NTC here on Green Bay through the SWC this season.
Second place was the team of Bob Claus and Scott Williams with a hard fought limit of 16.31 pounds.  Their success was a product of casting crank baits in current breaks up at the dam.  Their second place finish was also enough points to lock in the SWC Club championship for Bob Claus and Jason Noworatzky (Scott Williams  substitute partner) this is their 3rd SWC Club championship in the last 3 years. Congrats Bob and Jason!
Third place was also nabbed by a team casting crank baits up at the dam although their plan of attack was to hunker down in some current and work that pocket until the end.  It paid off however as Scott Rolloff and Troy Gabriel bagged 16.21 pounds for the 3rd place spot.
The big fish for the day was a gorgeous 6.74 pound Walleye caught by the team of Brad Korth and Andy Kneisler.