October 6, 2013
Falling Rock, Wisconsin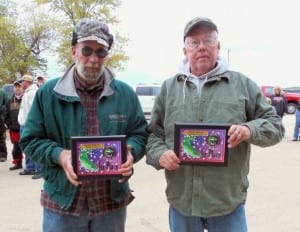 The last regular season WAT tournament of the 2013 season was held at Falling Rock, WI on October 6, 2013 with 34 teams competing for more than $5,000 in cash & prizes.
Tournament statistics:
Air Temperature: Cloudy, 58 degrees
Water Temperature: 65 degrees.
Number of Teams: 34
Number of Fish to Scale: 111
Total Weight = 310 lbs.
Average weight = 2.79 lbs.
All forms of presentations were employed by the anglers (Pulling raps, jigging, pitching & rigging).
The tournament champion was the team of Art Lehrman of Dubuque, IA & Dale Kruger of Cassville, WI who weighed in a 5 fish limit at 26.15 lbs. They received a check in the amount of $2,160 for their exemplary efforts. The second place team of Kevin Withey of LaCrosse, WI & Ed Egstad of Prarie du Chien, Wi also had a 5 fish limit weighing in at 24.50 lbs. earning them a check for $1,080. They also
were awarded the Big Fish check of $340 for a 7.65 lb. whopper. Third place was captured by Marty Berns & Jason Hancock both of Dubuque, IA with a 5 fish basket weighing in at 20.55 lbs. and a check for $540. The Berns & Hancock team earned the coveted WAT 2013 Team of the Year Award and a check in the amount of $ 660 for their impressive consistency during the 2013 season.
The WAT pays back to 30% of the field. Teams 4th thru 10th all received a check in the amount of $230:
4th. Place – Jeff Schneeberger & Jack Renner of Prarie du Chien, WI – 19.35 lbs.
5th Place – Harry Miller, Bellevue, IA & Rob Lampman, DeSoto, WI, IA – 16.50 lbs.
6th Place – Bruce Brye, Westby, WI & Bob Von Ruden, Westby, WI – 17.75 lbs..
7th Place – Tom Beck, Genoa, WI & Tom Brye, Westby, WI – 13.25 lbs.
8th Place – Mickey Stuefen, Cedar Rapids, IA & Carl Holten, Cedar Rapids, IA – 13.00 lbs.
9th Place – Gary White,Prarie du Chien, WI & David Siegele, Patch Grove, WI– 11.25 lbs..
10th Place – Jerry Eiben, Dubuque, IA & BJ Eiben, Dubuque, IA – 10.75 Lbs.
Also, the teams were competing for a spot in the WAT – Diamond Jo River King's Championship to be held in June of 2014. The top 30 teams (based on leader board points) at the conclusion of the 2013 season will be invited. This is a no entry fee tournament with in excess of $16,000 in prize money. All places will receive a check (Everyone wins). Catch, photo, release format.
SPONSOR PARTNERS
Diamond Jo Casino – Bird Chevrolet – Bob's Marine – Ranger Boats – Miller Electric – WalleyeFirst.com – Walleye Central – Hutch's Tackle & Guide Service – Victory Ford – The Bait Shack – Northern Battery – National Professional Angler's Association