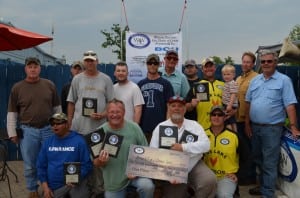 World Walleye Association (WWA) held it's first Illinois qualifier Sunday June 9th. The qualifier was also a TWF NTC side pot event. Brian Wilson (Gages Lake, IL) and Bruce Cobb (Spring Grove, IL) took first place in both the qualifier and the NTC side pot with their 6 fish limit totaling 15.55 Lbs. Wilson and Cobb also had the big fish of the qualifier weighing 6.98 Lbs.  In addition to the prize money for 1st place and big fish, the guys, through the NTC side pot, have won a paid entry and are already looking forward to the 2014 NTC tournament on Green Bay. Complete WWA qualifier results are available at www.worldwalleye.com
World Walleye Association is running two individual series of events in 2013 (Illinois and Wisconsin). All qualifiers are low entry fee events with a guaranteed payout over 100% for the whole series along with sponsor prizes from Power Pole, Wrangler Rugged Wear and Optima Batteries. Top teams from each series will qualify for the WWA championship and all qualifiers in both Illinois and Wisconsin are TWF NTC side pot events.
WWA is sponsored by Wrangler Rugged Wear, Power Pole, Optima Batteries, Lund Boats and Mercury Marine.
| | | | | | | | | |
| --- | --- | --- | --- | --- | --- | --- | --- | --- |
| Team# | Team Members | | Place | Total Fish | Total Wt. | Big Fish | Palce Pts. | Total Pts. |
| 124 | Brian Wilson – BCU | Bruce Cobb – BCU | 1 | 6 | 15.55 | 6.98 | 400 | 460 |
| 101 | Jasen Shine | Ed Michniewicz | 2 | 6 | 12.73 | 5.07 | 398 | 458 |
| 113 | Jerry Urbanozo | Tony ( Edward) Klepacki | 3 | 6 | 10.53 | 0.00 | 396 | 456 |
| 126 | Jeff Haddick | T.J. Abell | 4 | 6 | 10.42 | 0.00 | 394 | 454 |
| 114 | Don Winslow | Ed Schuld | 5 | 5 | 10.17 | 4.83 | 392 | 442 |
| 118 | Nick Ingoglia | Anthony Ingoglia | 6 | 6 | 9.57 | 0.00 | 390 | 450 |
| 108 | John Mikeska – BCU | Bradley Mikeska | 7 | 6 | 8.80 | 0.00 | 388 | 448 |
| 131 | Don Reichenberger | Mark Bega | 8 | 6 | 8.69 | 0.00 | 386 | 446 |
| 121 | Anthony Boris | Sean Pettibone | 9 | 6 | 8.68 | 0.00 | 384 | 444 |
| 104 | Derek Aniolkowski | Don Permainian | 10 | 6 | 7.63 | 0.00 | 382 | 442 |
| 123 | Ray Wirtz | Jon Milani | 11 | 5 | 7.53 | 0.00 | 380 | 430 |
| 120 | Marc Dunn | Bill Adcock | 12 | 6 | 7.52 | 0.00 | 378 | 438 |
| 105 | James Steiskal – BCU | Robert Schaefer | 13 | 5 | 7.24 | 1.82 | 376 | 426 |
| 106 | Kevin Willis | Keith Volkmar | 14 | 6 | 7.08 | 0.00 | 374 | 434 |
| 107 | Janice DeWaal | Tiffany Goralski | 15 | 6 | 6.76 | 0.00 | 372 | 432 |
| 122 | Mark Wojtkiewicz | David Jachym | 16 | 4 | 5.74 | 0.00 | 370 | 410 |
| 110 | Donald Hahn | Keith Hahn | 17 | 5 | 5.71 | 0.00 | 368 | 418 |
| 115 | Rich Rehm | Ken Martin | 18 | 4 | 5.25 | 0.00 | 366 | 406 |
| 103 | Lincoln Buchanan  – BCU LN | Jeff Greene | 19 | 4 | 4.82 | 0.00 | 364 | 404 |
| 128 | Bill Damron | Tim Andrews | 20 | 4 | 4.79 | 0.00 | 362 | 402 |
| 125 | Mike Wall | Scott Falkanger | 21 | 4 | 4.55 | 0.00 | 360 | 400 |
| 116 | Tom Ingoglia | Luke Krengiel | 22 | 4 | 3.59 | 0.00 | 358 | 398 |
| 129 | Mike Beja | Gary Beja | 23 | 3 | 3.50 | 0.00 | 356 | 386 |
| 127 | Bob Galladora | Al Dams | 24 | 2 | 3.03 | 0.00 | 354 | 374 |
| 102 | James McDonald | Ross Hosking | 25 | 2 | 2.93 | 0.00 | 352 | 372 |
| 130 | Trevor Wood | Kenny Allgyer | 26 | 2 | 2.69 | 0.00 | 350 | 370 |
| 109 | Allan Gordon | Eric Heinz | 27 | 2 | 2.66 | 0.00 | 348 | 368 |
| 119 | Karl Wenckebach | Rick Wenckebach | 28 | 2 | 2.49 | 0.00 | 346 | 366 |
| 117 | Ron Levin | James Passo | 29 | 2 | 2.27 | 0.00 | 344 | 364 |
| 132 | Paul Fallaw | Dekota Fallaw | 30 | 1 | 1.22 | 0.00 | 342 | 352 |
| 111 | Bill Craig | John Jilly | 31 | 1 | 0.92 | 0.00 | 340 | 350 |