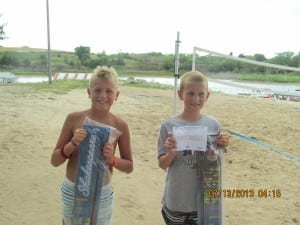 The Nebraska Walleye Association Kids Fishing Clinics Charity, Inc. held the 3rd & 4th tournaments of the year on July 13th & 14th, 2013 at the Harlan County Reservoir near Republican City, Nebraska.
Two different days of weather presented challenges for the tournament teams and both days the winning teams used different presentations to overcome that.  On Saturday the warmest day of the year with an air temperature of 107 degrees and bright sunshine proved challenging not only staying cool, but also finding fish that had gone deeper out of the sun.  However this didn't prevent Jason Hettler and Brandon Shada from weighing in 23. 53 pounds, with their big fish at 8.22 pounds.  A cold front developed overnight and even a brief shower greeted the teams on Sunday with lower temperatures but the fish were still hot waiting to be caught. The team of Rob Hadan and Steve Hankla weighed in 16.67 pounds with a big fish of 7.72 pounds.
The top three  positions after this four tournament format are: Jason Hettler/Brandon Shada, Mike Means/Chad Warriner, and Roger Scheckler/Ken Gewecke.  Congratulations to these teams and they will be offered the opportunity to fish in the 2014 NTC at Green Bay.
This organization is a 501 (c) (3) public charity that promotes fishing education and conservation in Nebraska to over 2000 youth annually.  Fishing is Fun! is the catch phrase used to conduct 15-20 kids fishing clinics across the state.  Each participant receives hands on fishing instruction from state certified volunteers and is given a free rod/reel/tackle box combination to take fishing.  The only entry required to fish in these tournaments is to volunteer at the kids fishing clinic held at the tournament site. The Harlan Kids Clinic proved challenging both to the kids and adult volunteers with the air temperature of 107 degrees and several of them being overcome with the heat on the beach at Patterson Harbor.  Still 59 kids learned how to fish and two of them won youth lifetime Nebraska hunting/fishing permits.
Fishing is Fun! in Nebraska.