02.Dec.2011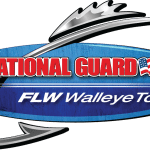 MINNEAPOLIS — FLW today announced the 2012 National Guard FLW Walleye Tour schedule and the return of the Walleye Tour Championship to the Mississippi River at Quad Cities. The 2012 season will feature four nationally televised regular-season events on America's premier walleye fisheries as well as the no-entry-fee, nationally televised championship event on NBC Sports as part of the "FLW" show that airs every Sunday. Priority registration is now open.
Kathy Fennel, President of FLW Operations Division stated: "We've listened to our walleye anglers and are confident that the 2012 schedule features fisheries that will provide quality fishing opportunities and exciting weigh-ins. We are also pleased to be able to add significant money to the National Guard FLW Walleye Tour Championship purse."
April 19-21, Mississippi River; Red Wing, Minn.
May 10-12, Lake Erie; Port Clinton, Ohio
July 12-14, Lake Oahe; Pierre, S.D.
Aug. 2-4, Bays de Noc; Escanaba, Mich.
Championship
Oct. 25-28, Mississippi River; Quad Cities, Iowa & Ill.