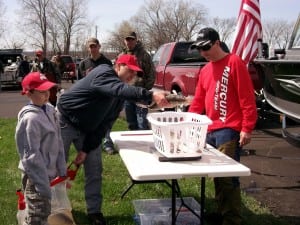 Frigid temperatures and post cold-front fishing conditions faced the two-angler teams entered in the Walleye Madness Tournaments event held on Sunday, April 21st at Mosquito Lake in north east Ohio. Anticipation filled the frosty morning air as 38 boats launched to test their skills and to compete for rewarding prizes. The excitement level was especially high for the 15 teams entered in a side pot bracket who were vying for a berth to the 2014 Cabela's National Team Championship.
Mosquito Lake lived up to its reputation of being Ohio's inland walleye factory, with the majority of the field bringing a five fish tournament limit to the scales. What was impressive were the larger than expected weights given the weather conditions leading up to the event. The warmer afternoon weather for the weigh in and awards ceremony helped to attract a crowd of spectators who waited anxiously to view the bags of walleyes coming to the scales.
First place was captured by the team of Chad Fenstermaker and Phil Berg weighing an impressive total of 18.05 pounds. Their largest walleye of 6.60 pounds won the Buckeye Sports Center Big Fish Bonus and they also netted the Mercury Marine bonus award. Second place went to the team of Erick Williams and his eight year old son David with a fantastic performance in their first tournament together weighing in 17.40 pounds and capturing the Lund Boats bonus award. Third place went to the team of Mitch and Chris Shipman with 16.25# pounds. Fourth place finisher's Brandon Morrison and Chris Romano weighed in 14.70# and were the highest placing team in the side pot bracket earning them a fully paid entry and bonuses to the 2014 Cabela's National Team Championship. Fifth place went to Mark Drotar and Travis Bowen with a total weight of 13.85#.
Sponsorship commitments from Buckeye Sports Center, Lund Boats and Mercury Marine allow Walleye Madness Tournaments to offer 120% or larger guaranteed payouts and bonus rewards for Lund boat and Mercury engine owners. Proceeds from the Buckeye Sports Center Big Fish Bonus benefit On Target Outfitters, a non-profit youth outdoors group from Canfield, OH. Refreshments for the Mosquito Lake event were provided by Kerr's Automotive and Captain PJ Kerr's – Eye Candy Charters.
Next up on the WMT schedule is the May 25th event on Lake Erie out of Huron, OH. For information on Walleye Madness Tournaments visit www.walleyemadness.net or contact the series director, John Csizmadia at 330-881-0994.
###

John Csizmadia is a north east Ohio based tournament walleye angler. He actively promotes the sport of fishing, organizations related to and that support the outdoors experience, and youth involvement in fishing and the outdoors. For more information please visit www.jcfishing.com, e-mail john@jcfishing.com or call 330-881-0994.