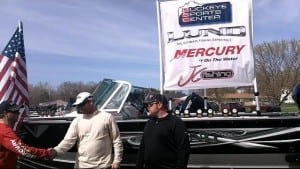 Walleye Madness Tournaments (WMT) in conjunction with their official TWF Club WT6 (Walleye Team Six) held its first TWF NTC side pot event on April 21st at Mosquito Lake in north east Ohio. The tournament attracted 38 teams overall with 15 teams entered in the first of four NTC side pot tournaments slated to run in conjunction with the 2013 Walleye Madness Tournaments schedule.
"We're excited to see the TWF concept and the new NTC side pot tournaments catch on" stated tournament director John Csizmadia. He added, "The side pot entries were slow at first, but once teams learned that someone would be winning a paid entry and bonuses to next year's Cabela's NTC, we wound up with 15 side pot entries and it attracted more teams overall to the tournament."
The excitement level was high as the 38 boat field returned to the ramp for the weigh-in. It was even higher amongst the 15 teams entered in the side pot bracket who were vying not only for their share of a guaranteed 126% tournament payout, but also for a birth to the 2014 Cabela's National Team Championship.
Finishing in fourth place overall Brandon Morrison and Chris Romano weighed in 14.70# and were the highest placing team in the side pot bracket earning them a fully paid entry and bonuses to the 2014 Cabela's National Team Championship. "Chris and I have been friends and fishing buddies for years" stated Morrison. He added, "This is our first year tournament fishing. To take 4th overall and to win the NTC side pot in our first WMT tournament was an incredible experience for our team."
Walleye Madness Tournaments are sponsored by Buckeye Sports Center, Lund Boats and Mercury Marine. The series offers a low entry fee with a guaranteed 120% or larger payout percentage for all events along with sponsor bonuses for big fish, highest placing Lund boat and highest finishing Mercury outboard.
All 2013 WMT events are open tournaments and include NTC side pots which are open to all TWF members. Next up on the WMT schedule is the May 25th event on Lake Erie out of Huron, OH. For more information on Walleye Madness Tournaments visit www.walleyemadnes.net or contact the series director, John Csizmadia at 330-881-0994.
###

John Csizmadia is a north east Ohio based tournament walleye angler. He actively promotes the sport of fishing, organizations related to and that support the outdoors experience, and youth involvement in fishing and the outdoors. For more information please visit www.jcfishing.com, e-mail john@jcfishing.com or call 330-881-0994.